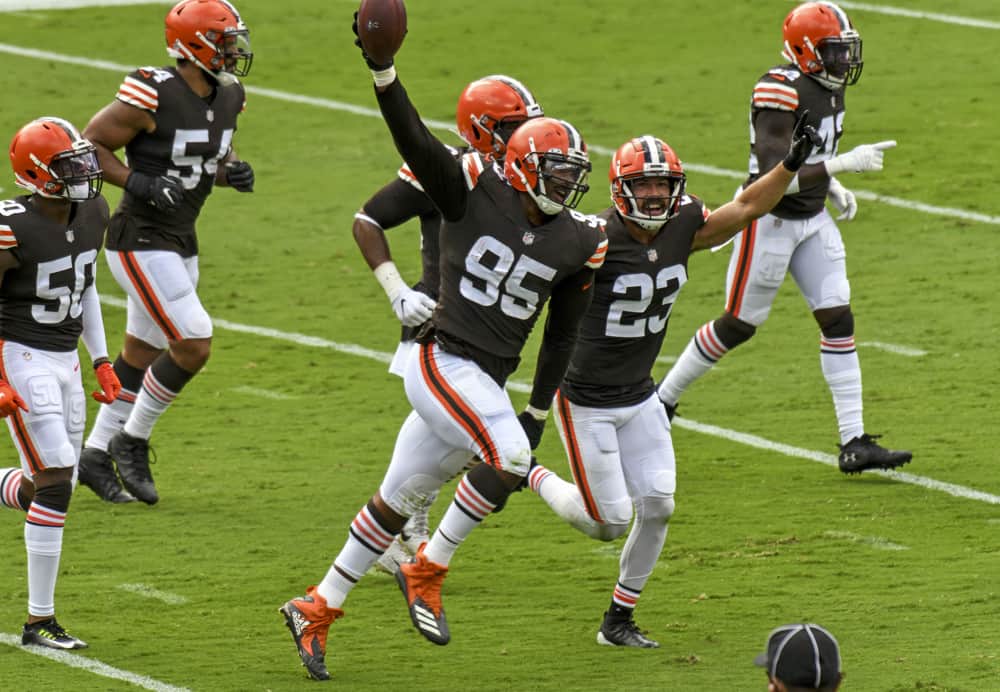 No NFL player should feel good after a pounding like the one Pittsburgh put on the Cleveland Browns last week.
And it is natural for fans to jump on the obvious contributors to such a beating.
Baker Mayfield set a tone early with an opening drive pick-six.
Nothing short of a Browns victory would save him from the wrath of his detractors.
Baker Mayfield is holding the Cleveland Browns back: @ColinCowherd: He's the problem now. You cannot build a franchise if you have the 4th most talented QB in the division: pic.twitter.com/refvtLqtXw

— Herd w/Colin Cowherd (@TheHerd) October 19, 2020
Odell Beckham's sideline antics are never a good look, especially to those already expecting a meltdown.
Cleveland getting outcoached and outclassed by Pittsburgh is nothing new.
But to those who follow the Browns closely, there is something very different about this team.
There were the usual promises of getting better from many in the locker room.
While the words might sound familiar, Cleveland is still 4-2 and in the thick of a playoff race.
It might be hard to imagine them beating the Steelers or Ravens for the division title.
But just like the Ravens game showed signs of promise amid disaster, there are seeds of optimism after Week 6.
And I can't help but think Baker Mayfield and the Browns are just fine… for now.
The Biggest Reason for Optimism: Kevin Stefanski 
Kevin Stefanski stood up and took the inevitable questions about effort and readiness after the tough loss.
He returned fire with the usual coach-speak about learning from the loss and being proud of his team's effort.
That might sound like a run-of-the-mill post-game interview to fans of other teams.
But after last season's debacle in the coaching room, it was calming to longtime Browns fans.
#Browns HC Kevin Stefanski: "There's plays we ran yesterday that I wouldn't run again. I learned a lesson in a hard way."

— Keith Britton (@KeithBritton86) October 19, 2020
When the Browns floundered last season, you could count on Freddie Kitchens to deflect blame to the players.
Even when he defended someone, he would mention he expected them to better execute his erratic game plan.
Stefanski showed himself to be different right from his first press conference when he spoke of maximizing Mayfield's strong points and teaching him new footwork.
His first analysis and explanation of the Pittsburgh loss was the coach's own play-calling.
When he said he had to do better, you could sense Stefanski was already reviewing the game in his mind and crafting next week's comeback effort.
There is a sense of responsibility and responsiveness coming from the coach's room this season that the last few Cleveland coaches did not project.
Another Reason for Optimism: Andrew Berry
Love him or hate him, John Dorsey brought some good players to Cleveland.
Few would argue Andrew Berry also brought in some good players.
But the difference is in how the decisions were made.
Dorsey would sell the farm to get a player he thought would help the team.
Berry is more likely to evaluate the impact of a player lost in the deal and think twice.
Shoutout to Andrew Berry who came in to Cleveland and didn't jettison all the talented players that weren't "his guys." Imagine the Browns without Wyatt Teller, Odell Beckham, Kareem Hunt, and Nick Chubb. Finally the Browns have a GM who puts winning above his own ego. pic.twitter.com/gSwd5OOjQy

— Nick Karns (@karnsies817) October 16, 2020
Kevin Zeitler is probably still a Brown if Berry was the GM last year.
And that doesn't necessarily mean Beckham is not.
After 6 games, it appears Berry pulled off a difficult balancing act between rebuilding and winning now.
He signed good young players for the foreseeable future and added important pieces on one-year terms.
Berry is building a long-term winning franchise and allowing fans to immediately enjoy the process.
When is the last time you heard so many Cleveland fans complain about the Browns being 4-2?
When the Weak Link is Your Franchise Quarterback 
Baker Mayfield is inarguably the most polarizing player across all Cleveland sports teams.
You either love him and his competitive spirit or hate his expressiveness and recklessness.
My money would bet against Mayfield being a franchise quarterback.
But that doesn't mean the Browns can't go very far with Baker behind center.
Cleveland (@Browns) fans need to calm down about Baker.

Baker's 35 starts vs Cleveland previous QBs combined 35 starts: pic.twitter.com/32mCczjpRz

— Jacob Major (@JakeMajor25) October 19, 2020
Cleveland is far from the only NFL city with this quandary.
Eli Manning retired after last season, prompting debate over whether he deserves a Hall of Fame plaque.
Two Super Bowl victories are a good argument, even as his detractors point to some mediocre statistics like his  .500 career won-loss record.
Would Browns fans take two Super Bowl victories amid 15 seasons of Baker Mayfield debates?
It is no sure thing that Baker Mayfield is the Browns' quarterback for the long haul or even next season.
But Berry and Stefanski will give him plenty of opportunities to earn the privilege.
That includes the rest of this season and an important second shot at the Steelers.
Post Game Optimism From the Players
Baker Mayfield's words haven't always been the problem as much as the tone he uses to say them.
But listen to the rest of the team to get a better feel on how the locker room changed since last year.
Cleveland's offensive line is supposed to be a strength of their offense.
It is not fair to expect a group playing together for the first time to dominate every game.
But the players up front are among those with such unrealistic expectations.
#Browns Denzel Ward doesn't think there's a big gap with #Steelers and #Ravens: "We can definitely compete with these teams"

— Mary Kay Cabot (@MaryKayCabot) October 19, 2020
Joel Bitonio spoke to the press after the Pittsburgh game and gave a frank assessment of their performance.
He did not just talk about himself but rather assessed the line as a whole.
Bitonio noted that on every play, a different offensive lineman either got beat or did not react fast enough.
He gave due credit to what is probably the best defensive front seven in all of football.
But he never mentioned how much Cleveland missed Wyatt Teller or offered any other excuse.
This is consistent across other players' groups, too.
No excuses, accountability for self, and fair critique of the group as a whole without finger-pointing…
That might sound normal in some other NFL cities, but here, it is refreshing.
The Browns Are Fine… But When Does Great Come? 
Optimistic Browns fans hope the team will sneak into a Wild Card game this year.
Many others feel an 8-8 season is a more realistic goal.
Even at 4-2, neither of those goals can be taken for granted by a team with the history of the Browns.
But it certainly looks like they are on track to take that first big step toward NFL credibility.
Cleveland Browns 4-2 😢 pic.twitter.com/2rcQx2bMZg

— Browns Hound (@BrownsHound) October 18, 2020
Berry has a long-term plan, but don't understate the impact of reaching the playoffs this season.
Cleveland's brain trust, including Paul DePodesta, prefers to build a long-term winner through the draft.
But they will sign free agents they feel can accelerate the Browns' Super Bowl destiny.
Cleveland has not traditionally been on many players' shortlist of desired prime-career playing locations.
But the way things are going, Browns fans won't have to worry about Jadeveon Clowney-type aversions to playing in Cleveland much longer.
And let me go on the record now in predicting a Browns victory over the Steelers in Week 17.