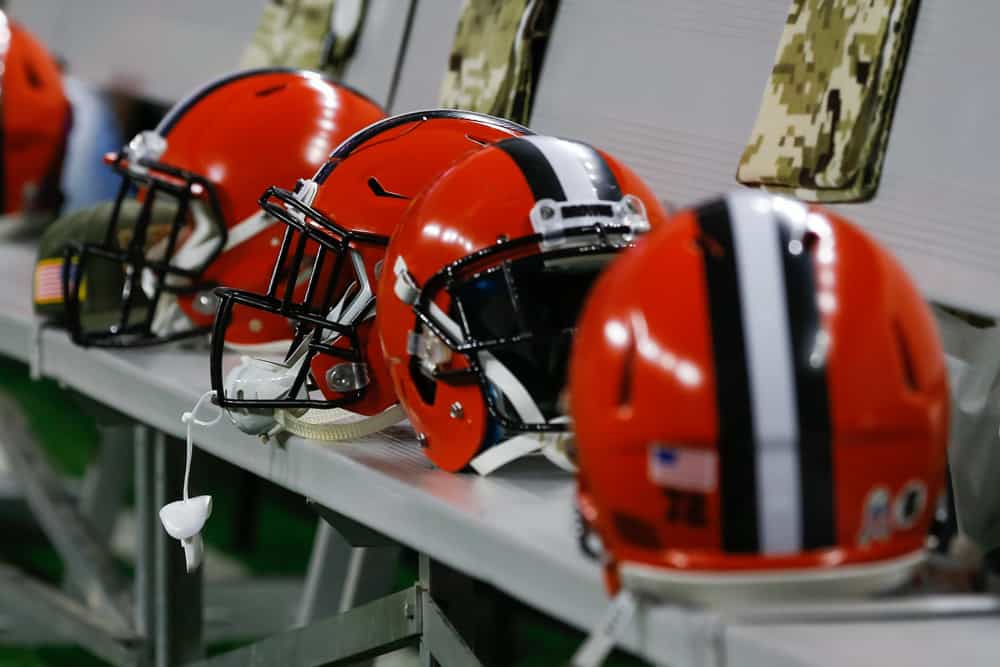 After the Cleveland Browns came through 2020 free agency with flying colors by signing offensive tackle Jack Conklin and tight end Austin Hooper, it was hard to fathom that the team could top that.
However, GM Andrew Berry managed to do it.
With the 2021 focus on defense, Berry went about his business with a nice financial cushion given the carryover cap dollars from 2020.
The Browns arguably had the best free agency in the NFL in 2021 and could realistically run a master class on how to do it.
Roster holes were addressed, and overspending did not happen.
The only AFC North team that's meaningfully improved in free agency is the Cleveland Browns. pic.twitter.com/x1Gc0btwMd

— Nick Karns (@karnsies817) March 21, 2021
Let's look at a few of the high points.
John Johnson III – Safety
Many believe the Browns struck gold with safety John Johnson III.
He is young, smart, and talented.
JJ3 played for the Los Angeles Rams, the NFL's top-ranked defense in 2020.
Being the defensive signal-caller gave him added on-the-field responsibility which he handled extremely well.
JJ3 was the first and potentially best free agent signing for the Browns in 2021.
Troy Hill – Cornerback
Keeping with the theme of filling defensive holes, Berry went after another lynchpin of the Rams defense, cornerback Troy Hill.
The Browns secured both JJ3 and Hill with multi-year contracts which is telling since there are a lot of 1-year contracts in the NFL in 2021 because of the salary cap crunch.
Troy Hill wanted to sign with Cleveland because he is a native of Youngstown, Ohio.
Hill has big plans both on and off the field now that he is back in Ohio.
"What other place would I want to be rather than home when they go win that Super Bowl."

"I want to open up a charter school to give back to the community as much as possible and being close to the city, that's going to help me a lot more so I can see what's going on. I've been gone for 10-plus years. Now that I'm closer to the city, I feel like that's one of the purposes that I came back home to, to bring this community back up."
Jadeveon Clowney – Defensive End
The Browns have wanted Clowney in the orange and brown uniform since 2020.
At that time, the Titans signed him to a one-year $13 million deal.
Unfortunately, Clowney suffered a knee injury so he did not enjoy a full season of his usual dominance.
GM Berry is bringing Clowney into the fold, opposite Myles Garrett, with a $10 million one-year deal, $8 million guaranteed.
Offensive coordinators will have their hands full trying to figure out how to stop the 2014 (Clowney) and 2017 (Garrett) first overall picks of their prospective NFL Drafts.
DE Takk McKinley, DT Malik Jackson, and LB Anthony Walker also appear to be solid defensive additions.
Rashard Higgins – Wide Receiver
Fan-favorite Rashard "Hollywood" Higgins was re-signed by the Browns.
Higgins has good chemistry with Baker Mayfield and proved to be a steady target when OBJ went down.
Pro Football Focus:

Least favorite decision made by all 32 NFL teams in free agency…

CLEVELAND BROWNS: NONE

😀👍👏

— BrownsFreak51 (@BrownsFreak51) March 24, 2021
The Browns signed smart, versatile, and talented players with a strong desire to play in Cleveland even if it meant taking a pay cut from what other teams were offering.
That is how free agency was won in Cleveland.