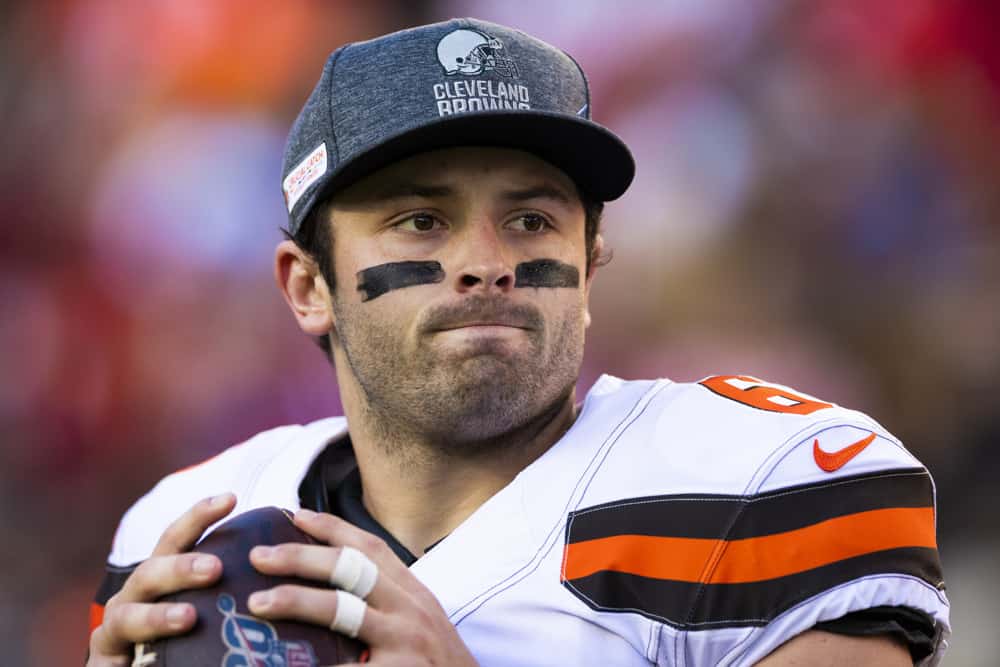 The former first overall pick from the 2018 NFL Draft certainly has had his ups and downs during his first three years in the NFL.
The Cleveland Browns selected Baker Mayfield with that pick because they believed he could be the franchise quarterback of the organization.
However, the 25-year-old has not exactly blown anyone away with the way he has performed thus far.
The Oklahoma product isn't set to become a free agent until after the 2021 season.
Which means, the Browns have time to decide if they want to stick with Mayfield in the long term.
Although, has Mayfield done enough to warrant a new contract or should the team wait?
Mayfield's NFL Career
It didn't take long for Mayfield to adjust to the NFL during his rookie campaign.
He threw for 3,725 passing yards with a rookie record 27 touchdowns and 14 interceptions through 14 games in 2018.
That wasn't a perfect season, but it was certainly a solid start to his career in Cleveland.
Sadly, that came to a crashing halt when Freddie Kitchens took over as head coach in 2019.
Mayfield finished the following season with 22 touchdowns and 21 interceptions through 16 games.
It was a rough year for both the Browns and for Mayfield, but things got better in 2020.
The QBs who started/finished 4 games in the month of November without throwing an interception:
* Deshaun Watson
* Baker Mayfield

— Jake Trotter (@Jake_Trotter) December 1, 2020
Through 11 games this year, Mayfield has 2,108 passing yards with 17 touchdowns and seven interception on the season.
It certainly seems like Mayfield has bounced back under new head coach Kevin Stefanski.
Mayfield has made an argument for himself to get a contract extension, but we'll see if the Browns decide to make an offer this offseason.
Time To Extend Mayfield?
The good news is, Mayfield is not eligible for free agency until after next season.
That gives the organization time to decide if Mayfield is their franchise quarterback moving forward.
There are still some tough matchups ahead this season for Mayfield and the Browns roster.
Even he knows that it's not time to celebrate even with a positive record to this point.
I know I can be better… and I will be. Job isn't finished, lot of ball left. We're 8-3 and not satisfied. That's the best part about this team.

— Baker Mayfield (@bakermayfield) November 29, 2020
For the sake of it, we'll assume that Mayfield does play well through the rest of the regular season.
It's likely the Browns take their time in deciding on a contract extension with Mayfield.
The front office probably wants to see what he can do in the playoffs before committing anything long term.
Hopefully, Cleveland will make the postseason this year and again next season, which will give Cleveland a decent idea of what Mayfield can do in the big moments.
To be fair, Mayfield has looked like the best Browns quarterback in quite some time.
Cleveland Browns-

The 41 games prior to Baker Mayfield playing: 2-28-1

The 41 games with Baker Mayfield playing: 21-20 pic.twitter.com/bKfw4jJTrv

— Jacob Major (@JakeMajor25) November 30, 2020
However, that doesn't mean a lot when the Browns have been drafting quarterbacks like Brady Quinn and Colt McCoy.
The front office should not feel pressured into giving Mayfield a long term deal.
Just because he is better than the quarterbacks prior to him does not mean he is their long term answer.
The Browns front office needs more time to evaluate Mayfield before making a big deal like this one.
Mayfield has not done quite enough yet to earn himself a new contract from Cleveland.