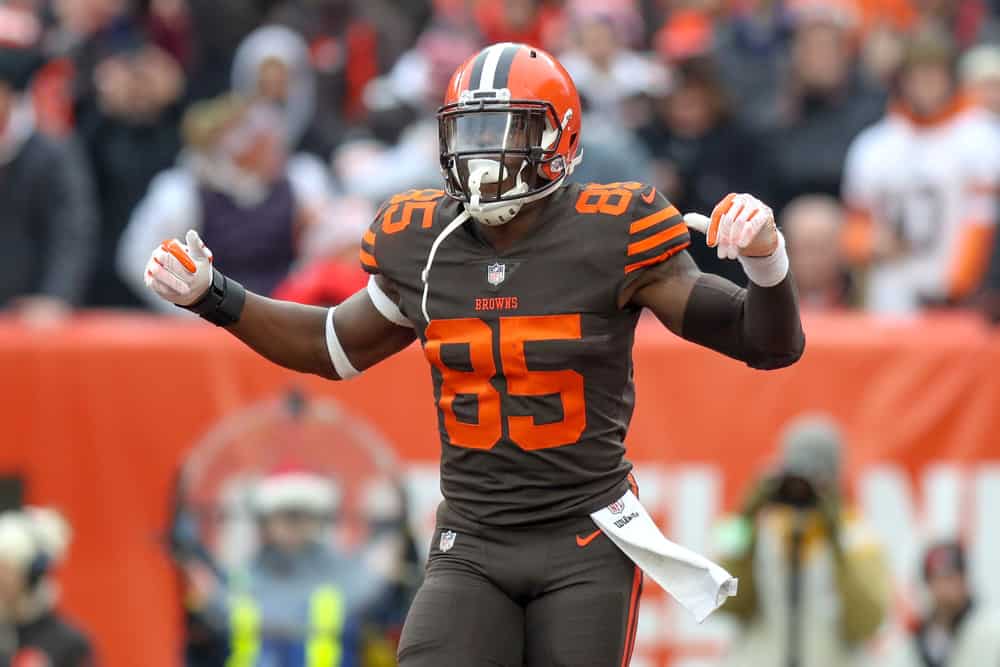 Cleveland Browns tight end David Njoku is on the 2021 roster.
The 24 year old David Njoku was a Browns first round pick (29th overall) in the 2017 NFL Draft.
In 49 career games, he has 11 touchdowns and over 1,200 yards receiving.
While he is a Brown now, does David Njoku have a long term future in Cleveland?
Though he does not always act like an enthusiastic member of the team, he could have a long term future with the Browns.
Here's why.
1. His Fifth Year Option Is Guaranteed
TE David Njoku's $6.013 million, 5th-year team option tender became fully guaranteed at 4 pm today.

He will remain with the @Browns. Welcome back, @David_Njoku80! pic.twitter.com/lH1OLEVN2k

— Everything Cleveland (@everythingcle_) March 17, 2021
On March 17, Njoku's fifth year option worth $6.013 million became guaranteed.
That speaks to the fact that the Browns want Njoku on the team.
Honestly, they could have traded, cut, or dealt him long before now but seem committed to him.
2. Multiple TE Schemes Is A Stefanski Staple
Part of Njoku's dissatisfaction with the Browns is because they signed Austin Hooper to a big contract in 2020.
Multiple tight ends is a Stefanski staple.
There are plenty of opportunities should Njoku want them.
3. Stefanski and Berry Have Positive Comments About Njoku
Only Njoku himself is vague or negative about his stint with the Cleveland Browns.
Coach Stefanski and GM Andrew Berry talk highly of Njoku.
Stefanski is not aware of any issues with Njoku from the Browns side.
#Browns Kevin Stefanski on TE David Njoku sounding like he's not sure he wants to be here pic.twitter.com/6h7s6vLlYp

— Mary Kay Cabot (@MaryKayCabot) March 2, 2021
"David is somebody that I respect and value. I know I have had a lot of conversations with a lot of players over the course of the season, over the course of many seasons, so I will continue to have that dialogue with all of our guys to see where they are. But I am not aware of anything in particular with David."
#Browns Andrew Berry said he likes the current TE room and the play of David Njoku. Also said the team would explore any avenue to add talent, including Kyle Rudolph. pic.twitter.com/fYQSLTAXmt

— Fred Greetham (@FredGreetham) March 3, 2021
"We're really pleased with our tight end group. That group did a nice job for us this past year. That position, is obviously, a focal point in Kevin's offense. I thought David played really well for us last year. He did a nice job with his teammates. He did a nice job in his role in the offense. He's a very young, productive player."
Njoku himself has not always been a tremendous advocate or cheerleader for a long-term career in Cleveland.
Last offseason, his new agent Drew Rosenhaus demanded a trade for Njoku before training camp.
Obviously, that did not happen.
Njoku has been vague in the past, but one thing is clear, he enjoys winning seasons way more than the losing ones he endured early in his career.
I been here w/ the 0-16 team along with a couple of my teammates. We've seen this ship turn around completely and y'all think I'm contempt w/ reaching the playoffs and 6 million? U got me bent if u think I'm happy w that. F outta here

— Chief David Njoku (@David_Njoku80) March 25, 2021
David Njoku, despite all the theatrics, worked hard and played well last season.
He improved his blocking game tremendously.
The biggest detractor for Njoku's long-term future in Cleveland is David Njoku himself.
He is playing for a contract this year so we can expect him to play at an even higher level.
Less talking and improved play is his ticket to a long term career in Cleveland.