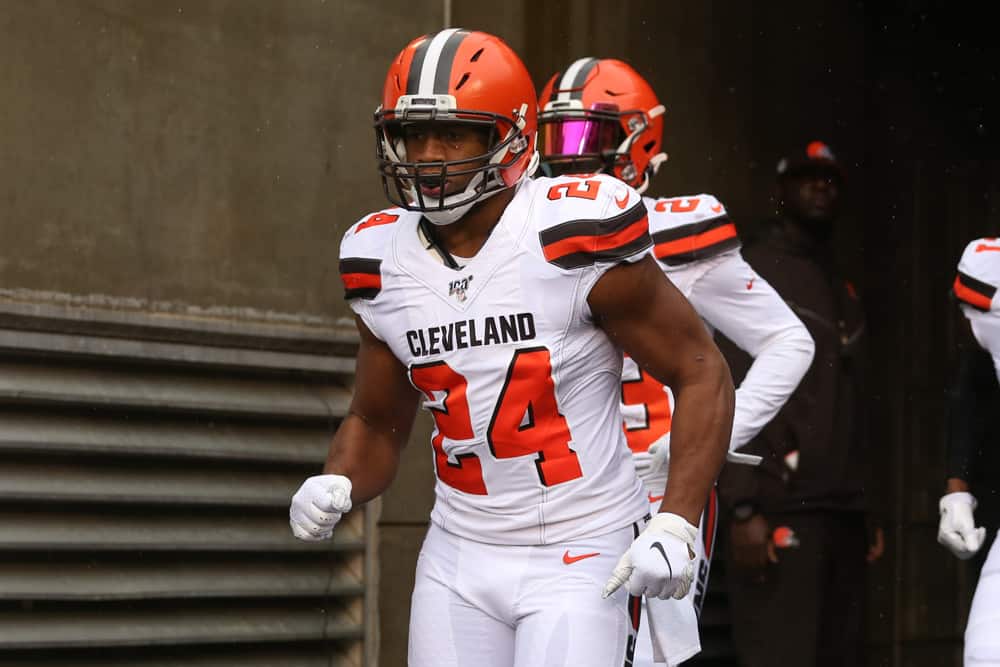 Cleveland Browns running back Nick Chubb took to Twitter to ask for support of his alma mater, Cedartown High School's football program.
The players are selling popcorn to raise funds for a Wing-T summer camp, and Chubb's involvement should certainly help.
Please consider purchasing to help my former high school and middle school football teams to camp in June. If you can't purchase, please forward the link to someone who may be interested.

Go Dawgs! https://t.co/0jVYwTcl89

— Nick Chubb (@NickChubb21) May 11, 2021
This is not the first time Chubb has advocated for his high school; he does what he can to help the kids in the community he grew up in.
I'm in cedartown for the #Team11 game of the week. #Browns rb nick chubb donated 65 helmets to his high school alma mater pic.twitter.com/k34ATASjTN

— Alex Glaze (@Alex_Glaze) August 24, 2018
Coached a high school soccer game against Cedartown High a few years ago and while we are warming up Nick Chubb was back at his alma mater helping coach the track team. Very impressive guy not forgetting where he came from.

— Kudzu Vine Radio (@kudzuvine) January 11, 2021
The Twitter Link
Chubb's Tweet links directly to Jamie Abram's store.
It looks as though each player has his own store, and each player has a goal of selling $2,000 of items.
The site says that 50% of the proceeds are directed to the player/team.
It is no surprise since Chubb is involved that Jamie Abrams is the top seller with $1,514 in sales.
There are 90 players in total involved in this fundraising effort.
Several of the players have sold just $21 in items so it is important to note that people who are hungry for popcorn and want to help can click on any of the players' names on the right of the screen and go into those stores to help each of them.
Nick Chubb's High School Career
Chubb was not surprisingly a star athlete at Cedartown High School during his high school years.
He played both football and track.
In his junior season, he led the entire state of Georgia with 2,721 rushing yards and 38 touchdowns.
He followed up that performance with an equally impressive senior season.
Chubb had 2,690 yards and 41 touchdowns in his senior year; his career stats included a mind boggling 102 touchdowns and nearly 7,000 yards rushing.
Chubb in 2021
There has been so much talk about the Browns improving the defense between free agency and the draft that Nick Chubb's contract extension has not been discussed recently.
The Browns should lock up Nick Chubb to a contract extension 💰

🗣️ @AkronJackson pic.twitter.com/HSfVIBcSrL

— PFF Fantasy Football (@PFF_Fantasy) March 1, 2021
No doubt, it is a priority for the Berry/Stefanski team as Chubb is in his fourth and final year of the rookie contract he earned after being drafted in the second round of the 2018 NFL Draft (35th overall).