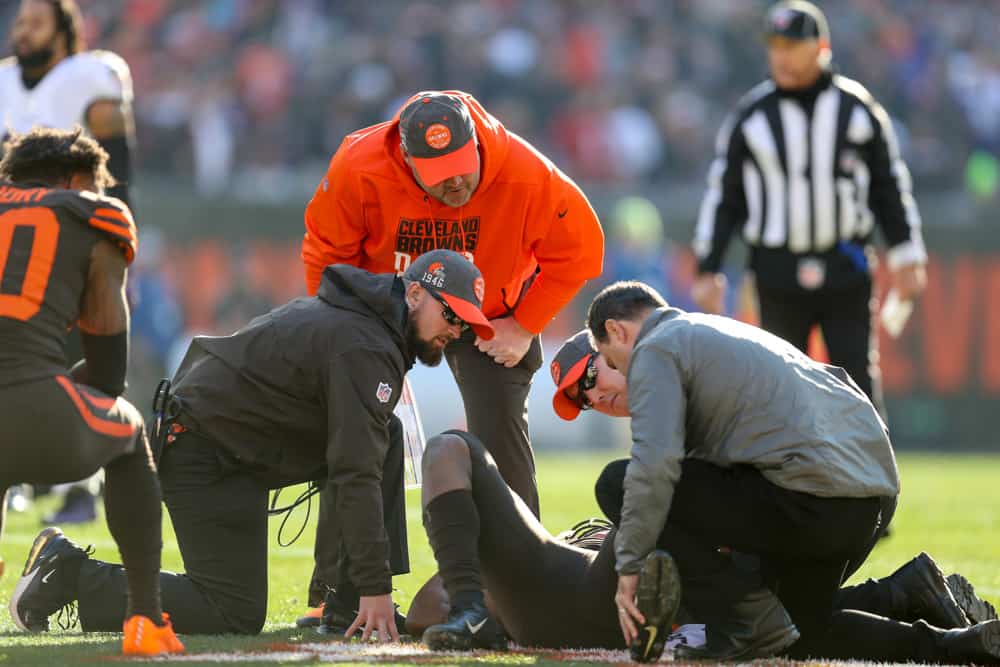 Baker Mayfield has been under some heat this past week.
Of course, the second-year quarterback has received criticism all year long in this lackluster play as well this season.
This includes poor throws, bad decision making, questionable leadership, the list could go on.
Sunday, however, his poor decision making led to the injury of a teammate in Dontrell Hilliard.
The Dontrell Hilliard Marcus Peters collision …#BALvsCLE pic.twitter.com/KszGeiiJaR

— René Bugner (@RNBWCV) December 22, 2019
The play-design is a simple misdirection that starts with play-action motion with Nick Chubb.
Dontrell Hilliard and Odell Beckham Jr. come from the opposite side on leveled drag routes, with Hilliard being the safe underneath option.
Unfortunately, the throw was anything but safe.
Mayfield leaves Hilliard completely out to dry in front of Ravens cornerback Marcus Peters, a notorious big hitter.
Hilliard is blown up following a minimal gain.
Dontrell left the game and exited the stadium on crutches. 
#Browns Dontrell Hilliard just walked out on crutches with a left knee brace. Looks bad

— Mary Kay Cabot (@MaryKayCabot) December 22, 2019
This week Hilliard was placed on the injured reserve list.
This is simply a pass you cannot make if you are Baker Mayfield.
Tony Romo of CBS pointed it out immediately on the broadcast, explaining that Mayfield should know Peters' responsibility in the flat.
Throwing a touch pass as Mayfield did is just asking for trouble.
Hockey refers to this type of play as a "suicide pass", and for good reason.
Leaving the receiver as vulnerable as Mayfield did, just cannot happen as, clearly, the result is not a good one. 
If you are Hilliard, there is next to nothing you can do about this.
He has no idea that Peters is burying in on him in the flat.
His job is to simply catch the football and try to make a play.
As mentioned, it's Mayfield's job to understand the coverage and avoid getting his tailback killed.
Mayfield did not do that. 
Looking at the replay a few times, Peters should actually get some respect for not making the hit as vicious as it could have been.
Often times, defensive players see these types of plays as golden opportunities to not break stride and smack someone full speed.
Peters actually slows up, gets his shoulder in front of him, and just sort of naturally lets the hit occur.
The fact that this hit was still monstrous despite Peters slowing up, should tell you all you need to know about the throw from Baker. 
Does Baker need criticism all off-season for this throw?
Absolutely not.
This happens often in football, even to some of the great quarterbacks.
Think about how many times Brett Favre laid his receivers out to dry in Lambeau over the years. 
However, this further goes to show that Mayfield has much to learn about being a top NFL quarterback.
This play did not lose them the game, but it wound up injuring a teammate.
Not to belittle Dontrell Hilliard, but he is not Jarvis Landry or Odell Beckham Jr. in terms of importance to this offense.
Now, imagine if it was one of those two in this position.
Then we could be talking about some off-season criticism for Mayfield.
Understanding coverages and defensive concepts better should be a priority for Mayfield after this season.
The regression he has faced this year is concerning, and the Browns need him to be the guy they thought they had after 2018.