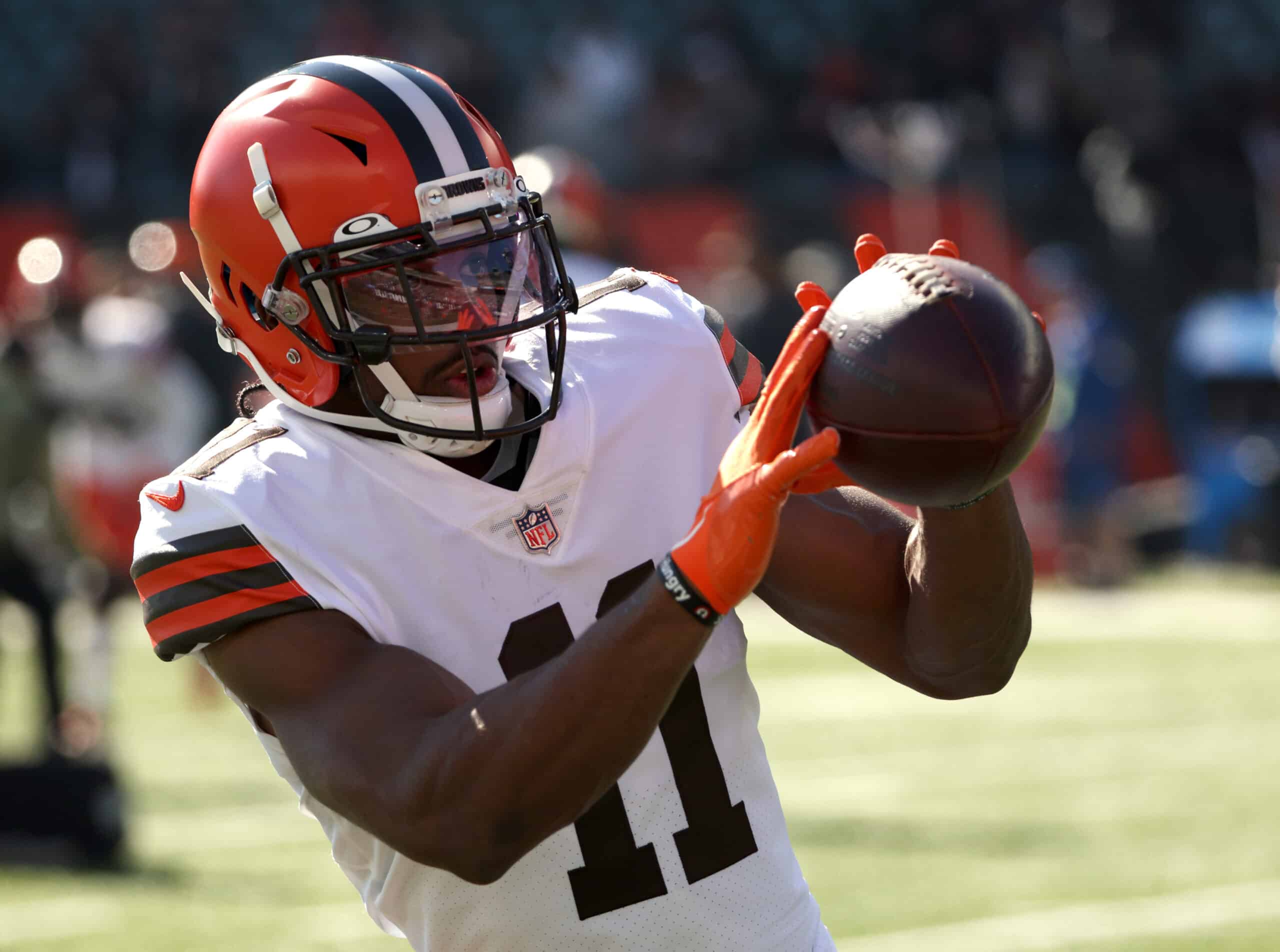 It is common knowledge among Cleveland Browns fans that wide receiver Donovan Peoples-Jones is an impressive up-and-coming star.
His 2021 preseason was outstanding so it was particularly disappointing when he got injured and missed time.
DPJ returned in Week 9 against the Bengals and caught a 60-yard touchdown pass from Baker Mayfield.
DPJ. 60-YARD TOUCHDOWN. @dpeoplesjones

📺: #CLEvsCIN on CBS
📱: NFL app pic.twitter.com/4h6TSu8WTs

— NFL (@NFL) November 7, 2021
He is also the proud owner of this amazing statistic.
.@dpeoplesjones leads all NFL receivers in 2021 with 20.9 yards per reception.

— Cleveland Browns (@Browns) November 9, 2021
Known in Berea as "Mr. Dependable", DPJ leads all NFL receivers with 20.9 yards per reception.
No Sophomore Slump
Coach Stefanski talked in preseason about how prepared Peoples-Jones was for his first "normal" training camp.
At training camp, it was very obvious that DPJ was ready to take the next step in his NFL career.
"Donovan Peoples-Jones is absolutely lighting up training camp. Look at the size, the strides, the way he extends to make tough plays in traffic. The Browns got this guy in the sixth round, and it will be no surprise if Peoples-Jones eventually ends up being a legitimate star."

— Jarad Evans (@PFF_Jarad) August 5, 2021
Most believed he would be a future star.
With OBJ gone, the future is now for DPJ.
He is certainly aware of the buzz around him but approaches his work with a humble heart.
Check out his reaction to the Browns' tweet about his NFL-leading stat.
🙏🏾 Blessings https://t.co/aVU0jE3CWW

— Donovan Peoples-Jones (@dpeoplesjones) November 9, 2021
A prayer hands emoji with the word "Blessings" typed behind it is what he tweeted.
Sixth Round Draft Pick
The Browns have to be pinching themselves with their good fortune in getting him in the sixth round of the 2020 NFL Draft.
He played college football at Michigan after breaking former Ohio State head coach Urban Meyer's heart.
Meyer heavily recruited him only to see him go to Ohio State's archrival Michigan.
DPJ is in the second year of a four-year contract; the Browns had better take good care of him because Meyer is now in the NFL.
It is pretty likely that Meyer would love to have him down in Jacksonville working with Trevor Lawrence.
Of course, it is early in DPJ's career.
Plenty can happen though if he stays healthy, the sky is the limit.
He could be another one of those extremely successful and motivated sixth-round draft picks like the most famous sixth-round pick in NFL history and fellow Michigan alumnus, Tom Brady.