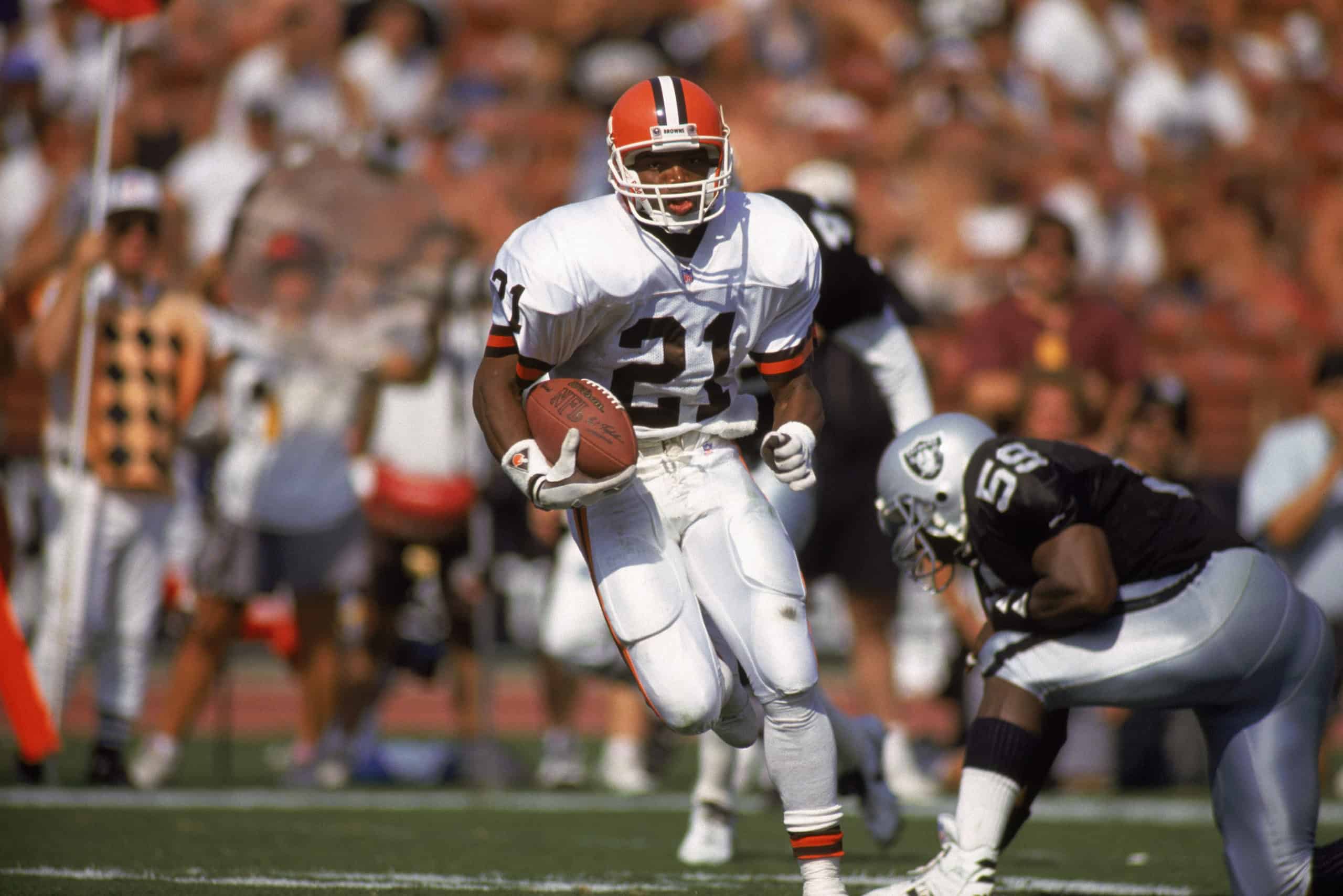 (Photo by Ken Levine/Getty Images)
Versatility is a characteristic of many great athletes.
In the NFL, versatility is especially valued because a player who can perform multiple tasks can save a team a roster spot to add another player.
One of the most versatile Cleveland Browns in the team's history was Eric Metcalf.
As a running back, wide receiver, kick returner, and punt returner, Metcalf, described as "a Swiss army knife in an offensive coordinator's tool box", was a star for the Browns for six seasons from 1989 to 1994.
We take a look at the life of Eric Metcalf before, during, and after his Cleveland Browns career.
The Early Years Through High School
Eric Quinn Metcalf was born on January 23, 1968 in Seattle, Washington.
Metcalf's father, Terry, played in the NFL from 1973 to 1977 for the St. Louis Cardinals (invited to three Pro Bowls) and in 1981 for the Washington Redskins.
As was to be the case with his son with the Browns, Terry was versatile (accumulating all-purpose yards as a runner, receiver, kickoff returner, and punt returner) and wore the uniform number "21".
As a young boy, Metcalf was able to watch his father's NFL career, and it strongly influenced him.
Metcalf said, "I never really thought about Terry Metcalf as my dad.  I thought of him as a football player and that's what I wanted to be".
Terry and Metcalf's mother, Christina Jefferson, never married and stayed together for about the first three years of Metcalf's life.
Terry remembers that Metcalf would only eat for Terry when Metcalf was a baby.
Growing Up in Seattle
While Terry pursued his NFL career, Metcalf grew up in Seattle with Christina.
She remembered, "Eric was not only a great athlete but a great kid.  The worst trouble he ever got in was when he pulled a little girl's hair in fifth grade.  I told him it was because he liked her, but he said no.  Eric always got A's and B's in school and everybody liked him.  He used to have friends at our house all the time".
Metcalf started playing football at the age of seven in pee wee and little leagues in Seattle and immediately showed talent.
Playing in a league for eight-year-olds, when he was seven, Metcalf scored 10 touchdowns in a game.
Besides his father, Metcalf's hero growing up was track and field star Carl Lewis.
Metcalf devoted a wall in his room to Lewis.
Metcalf attended O'Dea High School (a Catholic all-boys high school) in Seattle for one year.
Metcalf played freshman football and ran track, once helping his relay team go from fifth place to first place by making up 100 yards.
High School in Virginia
Metcalf then transferred to spend his remaining high school years at Bishop O'Connell High School (a Roman Catholic high school) in Arlington County, Virginia.
While there, Metcalf lived with his father.
However, Terry took a "hands-off" approach to his son at Bishop O'Connell High School.
Although Terry coached the offense and special teams in high school, he never coached the running backs or his son.
Metcalf was a star at Bishop O'Connell High School, scoring 35 touchdowns in his last two years there.
He also excelled in track and field events, setting school records in the 100, 200, and 400 meter runs, and in the long jump and triple jump.
Metcalf graduated Bishop O'Connell High School in 1985 and headed to college, where he was recruited by schools all across the country.
The College Years
Metcalf verbally committed to go to school at Miami (where he would have played with his future Browns quarterback, Bernie Kosar).
However, Metcalf's parents wanted him to continue his Catholic school education by going to Notre Dame.
Ultimately, Metcalf chose the University of Texas at Austin and became a Longhorn record-setter in both football and track and field.
🥇 June 6, 1986: Texas freshman Eric Metcalf earns the 1st of his 2 NCAA men's outdoor long jump titles by 5 1/2″ with a 27′ 1⁄2″ mark. 🤘 #HookEm pic.twitter.com/4Iyt6pSUCd

— HornsSportsPast (@hornssportspast) June 6, 2020

As a freshman, in 1985, Metcalf ran the ball 53 times for 260 yards (for an impressive 4.9 yard average) and one touchdown, and caught nine passes for 265 yards (for an even more impressive 29.4 yard average) and two touchdowns.
Metcalf also returned 13 kickoffs for 253 yards and 41 punts for 381 yards.
In 1986, Metcalf expanded his rushing and receiving totals, with 92 rushes for 310 yards and four touchdowns and 42 receptions for 556 yards and three touchdowns.
Metcalf also had two kickoff returns for 21 yards and 25 punt returns for 228 yards.
In a 30-10 Longhorn victory over Houston on November 8, 1986, Metcalf scored three touchdowns and had 211 all-purpose yards.
Eric Metcalf at Texas in the 80's pic.twitter.com/CBhspci1u7

— JGB (@JosephGBranson) March 2, 2020

1987 was Metcalf's breakout season as a Longhorn.
He ran 241 times for 1,256 yards (a gaudy 5.2-yard average) and 11 touchdowns and caught 37 passes for 285 yards.
Metcalf also had 11 kickoff returns for 202 yards and 26 punt returns for 337 yards and one touchdown (a 59-yard return against Baylor).
In addition, further expanding his versatility, Metcalf threw two touchdown passes.
Metcalf had many great games for the Longhorns in 1987, as he exceeded 100 yards rushing in four games and 150 all-purpose yards in eight games, and scored multiple touchdowns in three games.
On November 14, 1987, Metcalf rushed for 206 yards on 36 carries and scored two touchdowns (he had 280 all-purpose yards), as Texas defeated TCU 24-21.
For his efforts in 1987, Metcalf was named Southwest Conference Offensive Player of the Year and a second-team All-American.
As a senior in 1988 (playing only 10 of the 11 games), Metcalf finished his Longhorn career, running 218 times for 932 yards and eight touchdowns and catching 42 passes for 333 yards and two touchdowns.
Metcalf also returned seven kickoffs for 117 yards and 24 punts for 192 yards.
Metcalf rushed for over 100 yards in five games, had over 150 all-purpose yards in four games, and scored multiple touchdowns in two games in 1988.
In a 47-0 shutout of New Mexico on September 17, 1988, Metcalf had 285 all-purpose yards, including 21 rushes for 133 yards and two touchdowns, five receptions for 86 yards and one touchdown, and two punt returns for 47 yards.
Longhorn Legacy
Metcalf is the only person ever to lead the school in all-purpose yards in each of his four years as a Longhorn.
Great clip from the 12th Man documentary I just tweeted out. tu scholarship athlete Eric Metcalf vs The all walk-on 12th Man Kickoff team. pic.twitter.com/t5apAjX6UT

— #BTHOoffseason (@TamuHighlights) June 17, 2017

He also holds Texas records for career punt return yards, and season and career pass receptions by a running back.
His coach, junior and senior year, David McWilliams, has described Metcalf as the best player he ever coached and said, "Eric could play any skill position you wanted.  He could return punts, return kicks.  He could have been a defensive back.  He could pass-block.  He was tough".
World-Class Long Jumper
Metcalf did not just excel on the gridiron at Texas; he was also a world-class long jumper.
Metcalf says he liked going out for the long jump because he was thereby able to avoid spring football practice, and the risk of getting hurt.
Metcalf was the U.S. Track and Field champion in the long jump in 1988 and won the NCAA National Long Jump championship in both 1986 and 1988.
He also was in the United States Olympic trials in the long jump in 1988 and finished in 8th place (competing against his hero, Carl Lewis).
However, Metcalf's immediate future was on the football field, and he headed to the NFL.
The NFL Years
The Browns moved up seven spots in the 1989 NFL draft, and traded four draft picks (first round, second round, fifth round, and ninth round) to the Denver Broncos, to draft Metcalf with the 13th pick in the first round.
With pick 13 in the 1989 NFL Draft, the #Browns selected Eric Metcalf, RB, Texas.

He posted a good #RAS with v.poor size, elite speed, good explosiveness, at the RB position.

He went to three pro bowls.

Posted as a correction as he was incorrectly listed as a WR earlier. pic.twitter.com/0cdoatkXsu

— Kent Lee Platte (@MathBomb) May 23, 2019

Metcalf was not enamored at the thought of playing on a grass field in Cleveland Municipal Stadium (he had played on AstroTurf in college).
He was also not happy thinking about playing in cold weather in Cleveland; his weather concerns only increased when it snowed during his first Browns mini-camp in May, 1989.
It also did not help that Metcalf went through a contract holdout before his rookie season and played only one preseason game.
Metcalf also had some initial growing pains with his teammates.
When Metcalf first came to the Browns, he remembers Kevin Mack and Reggie Langhorne, in particular, not liking him for having too much swagger and cockiness.
Metcalf just calls it confidence.
However, the situation quickly improved for Metcalf in Cleveland.
First, it helped that the Browns were generally winning games, making the playoffs and advancing to the AFC championship game his rookie season.
Second, over time, Metcalf won over his teammates with his play on the field and them getting to know him, including hanging out after the games.
It helped that Thursday night was haircut night at Metcalf's townhouse.
A little-known fact is that Metcalf had a barber chair in his basement and brought in a barber.
Teammates such as Leroy Hoard, Jerry Ball, Terry Taylor, and Lawyer Tillman would come to visit for a haircut and play video golf.
Metcalf also remembers he and his teammates bonding from appearing on each other's Tuesday radio shows.
Despite his initial misgivings against Cleveland, Metcalf now wishes that he would have played his entire NFL career there.
He thinks the Browns fans are special for their diehard loyalty to the team, supporting the team regardless of whether the Browns win or lose.
Among his favorite Browns memories are scoring a touchdown and then running through the end zone, up the hill, and into the "Dawg Pound", where Metcalf would get mobbed by fans.
1989
While Metcalf played in every game his rookie season, he scored his first NFL touchdown (on a five-yard pass from Bernie Kosar) in a 21-14 loss to the Cincinnati Bengals on September 25, 1989.
Metcalf scored his first NFL rushing touchdown (on an eight-yard run) on October 8, 1989 in a 13-10 defeat to the Miami Dolphins.
As his rookie season progressed, Metcalf scored two touchdowns (on a three-yard pass from Kosar, and a seven-yard run) in a 27-7 victory over the Chicago Bears on October 23, 1989, and two touchdowns (on a 24-yard pass from Kosar, and a 43-yard run) in a 42-31 win over the Tampa Bay Buccaneers on November 5, 1989 (Metcalf had 233 all-purpose yards in the game).
Flashback: Browns vs Bucs November 1989. Eric Metcalf shines with two TD's. Not to be outdone, Felix Wright added a pick six. Browns win 42-31 at Tampa #Browns pic.twitter.com/24VFbd5OgF

— CleWest (@erjmanlasvegas) August 23, 2019

Metcalf also completed his only NFL pass in his rookie season, throwing a 32-yard touchdown to Reggie Langhorne, which helped the Browns defeat the Houston Oilers 28-17 on October 29, 1989.
On January 6, 1990, Metcalf timely picked his first playoff game (a 34-30 divisional-round victory over the Buffalo Bills) to score his first NFL kickoff return touchdown on a 90-yard return.
Bills vs. Browns – January 6, 1990
– GAMEDAY Program
– Felix Wright hit on Don Beebe
– Eric Metcalf 90-yard kickoff return
– Clay Matthews game clinching pick pic.twitter.com/quy6vVP12h

— Ed_in_Columbus (@ed_in_columbus) February 27, 2019

Metcalf calls the return his favorite play in Cleveland Municipal Stadium.
Overall, 1989 was a solid rookie season for Metcalf.
He started 12 games, rushed for 639 yards and six touchdowns on 194 carries (Metcalf's best NFL rushing season), caught 57 passes for 412 yards and four touchdowns, and returned 41 kickoffs for 995 yards and one touchdown.
1990
In 1990, Metcalf ran 80 times for 248 yards and one touchdown, and caught 57 passes for 452 yards and one touchdown.
However, the key statistic for Metcalf in 1990 was kickoff returns.
Metcalf led the NFL in 1990 with 1,052 yards on 52 kickoff returns, with two touchdowns.
Eric Metcalf was so elusive that after making one cut opposing linebackers had to stop and put their spikes back on. Example in photo below. #Browns pic.twitter.com/vdN6tolFZs

— Vintage Browns (@VintageBrowns) May 30, 2020

Metcalf's first kickoff return touchdown (98 yards) came during a September 16, 1990 24-21 Browns loss to the New York Jets (one of four kickoff returns for a total of 160 yards).
Metcalf also had nine receptions for 54 yards in the game.
On December 9, 1990, Metcalf's second kickoff return touchdown (101 yards) was one of the few bright spots for the Browns in a 58-14 defeat to the Houston Oilers (one of four kickoff returns for 165 yards).
Metcalf also scored the only other touchdown for the Browns (a 31-yard pass from Bernie Kosar) in the game.
1991
1991 was a disappointing season for Metcalf as he only played eight games because of injury.
Metcalf rushed 30 times for 107 yards, caught 29 receptions for 294 yards, and returned 23 kickoffs for 351 yards.
Perhaps the key for Metcalf in 1991 was the decision by new Browns head coach Bill Belichick to start using Metcalf to return punts.
Metcalf had not returned punts his first two NFL seasons.
While Metcalf's punt return numbers were fairly pedestrian in 1991 (12 returns for 100 yards), Belichick's decision was to prove very successful for Metcalf's remaining NFL career.
1992
1992 was a bounce-back year for Metcalf.
Metcalf had 73 rushes for 301 yards and one touchdown, 47 receptions for 614 yards and five touchdowns, and nine kickoff returns for 157 yards.
Metcalf led the NFL in 1992 with 44 punt returns, which he brought back for 429 yards and one touchdown (for 75 yards in a 27-14 Cleveland win over the Chicago Bears on November 29, 1992).
It began a streak of Metcalf scoring a punt return touchdown for four consecutive, and five of the next six, years.
Metcalf's best game in 1992 (arguably the best game of his career) was in a 28-16 Browns victory over the Los Angeles Raiders on September 20, 1992.
Metcalf scored all four of the Browns touchdowns and was voted AFC Offensive Player of the Week.
He scored three touchdowns on passes from Browns backup quarterback Todd Philcox (four yards, 69 yards, and 63 yards), and one touchdown on a six-yard run.
For the day, Metcalf caught five passes for 177 yards.
After the game, Browns owner Art Modell hugged Metcalf and stated, "This is as good a game as any I've seen from a player on the Browns in many, many years, including the Leroy Kelly and Jim Brown days".
Another superb game for Metcalf was in a 37-21 Cleveland triumph over the Cincinnati Bengals on December 6, 1992.
Metcalf had 210 all-purpose yards, including nine rushes for 53 yards, six catches for 73 yards and one touchdown (a 35-yard pass from Bernie Kosar), and five punt returns for 75 yards.
1993
1993 featured what is considered Metcalf's most memorable game as a Brown.
In a 28-23 Browns win over the rival Pittsburgh Steelers on October 24, 1993, Metcalf first returned a punt for a 91-yard touchdown up the sideline in the second quarter.
Metcalf then struck again with just over two minutes left in the game, cutting through traffic and returning another punt for 75 yards and the winning touchdown.
A little-known fact about the game is that Metcalf had missed most of practice that week with a knee injury.
It obviously did not affect his performance, as Metcalf also had seven rushes for 53 yards and three catches for 18 yards in the game (for 237 all-purpose yards in the game).
Metcalf was AFC Special Teams Player of the Week for his performance in the Steelers game (as well as AFC Special Teams Player of the Month for October, 1993).
For the second straight year, Metcalf also had a special game, or at least play, against the Los Angeles Raiders in a 19-16 Browns victory on September 19, 1993.
Metcalf scored the winning touchdown on a one-yard run with only two seconds left in the game.
Raiders week, September 1993. Down 13-0, Kosar is benched in favor of Testaverde who leads the Browns to a 19-16 win. Eric Metcalf scores the game winning TD with just 2 seconds left in the game #Browns pic.twitter.com/BZi0TPthql

— CleWest (@erjmanlasvegas) September 25, 2018

Metcalf took a handoff from Vinny Testaverde, swept around the left side, and high-stepped into the end zone.
Overall, Metcalf led the NFL in 1993 with 1,932 all-purpose yards.
He had 129 rushes for 611 yards (both most since his rookie season) and one touchdown, 63 receptions for 539 yards and two touchdowns, 15 kickoff returns for 318 yards, and 36 punt returns for 464 yards and the two above-described touchdowns against the Steelers.
Metcalf was invited to his first Pro Bowl and was voted "First Team All-Pro".
He also won the AFC NFL Players Association Special Teams Player of the Year.
1994
Metcalf received a return invitation to the Pro Bowl in his final season with the Browns in 1994 (and again won the AFC NFL Players Association Special Teams Player of the Year).
Metcalf rushed for 343 yards and two touchdowns on 100 carries, caught 49 passes for 454 yards and three touchdowns, and returned 15 kickoffs for 325 yards.
Once again, it was in the area of punt returns that Metcalf especially excelled.
In the first game of the season, on September 4, 1994, Metcalf had the longest punt return of his NFL career, a 92-yard touchdown, helping the Browns defeat the Cincinnati Bengals 28-20.
Metcalf had four punt returns for 115 yards in the game and was AFC Special Teams Player of the Week.
Metcalf was also AFC Special Teams Player of the Week after another Cleveland win over the Bengals 37-13 on October 23, 1994.
In this game, Metcalf returned three punts for 83 yards, including a 73-yard touchdown.
Overall, in 1994, Metcalf returned 36 punts for 349 yards.
Post-Browns NFL Career
On March 25, 1995, as part of a trade also involving an exchange of first-round draft picks, Metcalf was traded to the Atlanta Falcons.
After the trade, Metcalf played seven more seasons in the NFL – with the Falcons in 1995 and 1996 (catching 112 passes and scoring another punt return touchdown in 1995), the San Diego Chargers in 1997 (again being invited to the Pro Bowl and voted "First Team All-Pro" after scoring three punt return touchdowns), the Arizona Cardinals in 1998, the Carolina Panthers in 1999, the Washington Redskins in 2001 (where at age 33, Metcalf scored yet another punt return touchdown), and the Green Bay Packers in 2002.
Metcalf's 10 punt return touchdowns rank second in NFL history to only Devin Hester (who had 14).
In addition, he is in 16th place in NFL history, with 17,230 all-purpose yards.
Metcalf's versatility was matched by his "big-play" ability.
19 of his 57 NFL touchdowns covered more than 50 yards, with an average length of 36.3 yards.
In discussing Metcalf's NFL career, a recent description appears right on point – "With a football in his hands, Metcalf was electricity in cleats".
The Years After the NFL
Metcalf and his wife, Lori, have three children, a daughter, Mekeil, and twins, Mekhi and Misha.
After his retirement from the NFL, Metcalf returned to Seattle.
His post-NFL life has been heavily focused on track and field.
During his football offseason, in 1999, Metcalf established the Seatown Express Track Club.
The initial concept was to create an all-boys, high school track club that would interest athletes in track and encourage them to pursue track as a way to get a college scholarship.
As described by Metcalf, "If [the athletes] took care of their grades and were serious about track, I could help them by utilizing my connections with college track programs as well as helping them compete to the best of their abilities".
The Seatown Express Track Club became an elite track and field club, composed of some of the top sprinters and jumpers in the Puget Sound, Washington area.
It expanded to include junior high schoolers and girls.
Metcalf has done other coaching.
He coached track (as well as football) at Rainier Beach High School in Seattle.
In 2013, Metcalf became a volunteer assistant coach at the University of Washington, working primarily with long jumpers and triple jumpers.
In 2016, Metcalf was formally hired as sprint coach at the University of Washington.
Metcalf has coached Mike Berry, who was an NCAA 400-meter champion and also participated in the 400-meter finals at the 2016 U.S. Olympic Trials.
Metcalf also has had coaching success at University of Washington with the men's and women's 4 x 400-meter relay teams, and various sprinters, long jumpers, and triple jumpers.
Metcalf was nominated to coach the 2013 Pan American Junior Athletics Championships.
In describing his coaching goals, Metcalf said, "I just want to make sure that when someone comes to me, they walk out better than they came.  My main focus is to make kids better, whether than be on the track or field or off".
Metcalf has also done some consulting work in track and field for Nike.
Connections to NFL and NFL Legacy
In terms of the NFL, Metcalf has served as a Browns ambassador, helping the team with public speaking appearances.
Metcalf also appears on "Cleveland 19" television as part of the "Tailgate 19" crew, commenting about the Browns.
Metcalf wishes that he could play in the NFL now, based on today's higher salaries and "spread-out" offenses.
However, he does not miss getting hit.
He does not watch much NFL football today, and actually enjoys watching college football more than pro football.
In 2017, Metcalf was inducted in the Texas Sports Hall of Fame.
There he is!! Tonight he will be enshrined into the Texas Sports Hall of Fame!! He will be forever a Texas legend!! #2 Eric Metcalf! pic.twitter.com/KFaiNWnVUJ

— Anthony Geronimo (@ATXANT10) February 21, 2017

In 2019, Metcalf was one of 102 nominees for the NFL Hall of Fame, but he did not make the list of 28 semifinalists.
As his NFL legacy, Metcalf wants Browns fans to remember him that "he could do anything . . . he could do it all . . .that's what makes you a football player . . . the fact that you can play more than one position".  Browns fans will definitely recall the special versatility of Eric Metcalf as one who "could do it all".