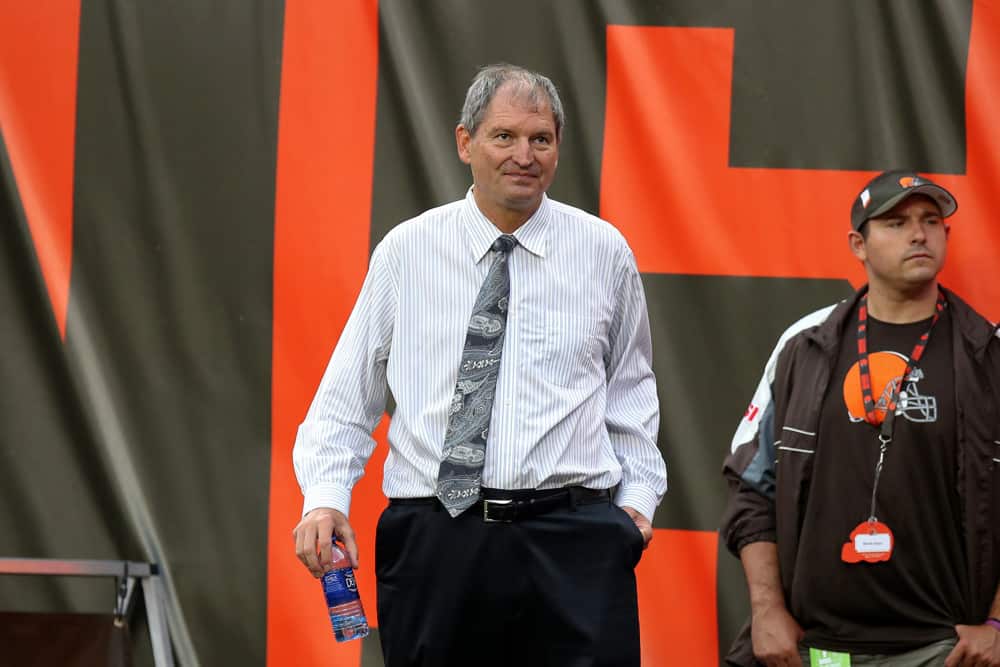 Nobody wanted to be a Cleveland Brown more than Bernie Kosar.
After his redshirt sophomore season of college football, and with a national title already under his belt, Kosar graduated from Miami a year early in the spring of 1985 to enter the NFL's Supplemental Draft.
Kosar had an elite football IQ and was most often able to decipher a defense quicker than his coaches
In the late 1980s, Kosar was one of the best quarterbacks in football.
Bernie Kosar was an overachiever, who made the most of his relatively limited athletic ability and his awkward-looking sidearm throwing motion.
We take a look at the career, life, and legacy of one the most beloved Cleveland Browns players of all-time.
Bernie and Boardman
Bernard Joseph Kosar was born on November 25, 1963 in Youngstown, Ohio.
From a young age, he was a Browns fan.
Not only was he a Browns fan, he knew, growing up, that he wanted to be a quarterback for the Browns.
In a 2019 interview with "Club 46" on the Cleveland Browns website, Kosar mentioned how he would run around his yard, envisioning himself in an NFL stadium.
"It's easy to say right now, but absolutely," Kosar said.
As he grew into his eventual 6'5" frame, he began to excel at sports.
Overcoming his lanky stature with intelligence, Kosar took Boardman High School by storm.
By the time he was a sophomore, Kosar was a starter for the basketball team, eventually becoming their leading scorer and rebounder.
He was also a deft baseball player, handling duties as a pitcher and third baseman.
Kosar's father and other Boardman coaches thought baseball was his best sport.
However, football was Kosar's favorite sport.
Cleveland Browns legend Bernie Kosar (@BernieKosarQB) seen here during his playing days at Boardman High School in Youngstown. (1980s) pic.twitter.com/sOpfYWnLdV

— Vintage Youngstown (@Youngstown_His) May 22, 2017
With the steel industry in Youngstown in decline by the late 1970s, there were very limited career options in Kosar's future.
In his words, there was football and college, and his family couldn't afford college.
So, Kosar threw everything he could into the sport.
"That (football) was your chance out," he said to Club 46. "That was your chance for your family's success."  
By his junior year, he had claimed the starting quarterback spot at Boardman.
This was a feat in and of itself as Kosar's delivery left something to be desired.
"He doesn't throw the ball, he lets go of it like a guy losing a bar of soap in the shower," sports columnist Jim Murray once wrote of Kosar. "The first look you get at Kosar's delivery you think it's a gag.  I've seen bridal bouquets thrown with more velocity."
Coaches also noticed Kosar's unique posture just before the snap .
It has been described as someone positioned side-saddle, mainly to get his feet out of the way quicker after the snap.
His arm slot, throwing motion, and ball release were all questionable as well.
Despite the ugly duckling playing style, Kosar got results, and those results were what got the attention of college recruiters.
His ability to read a defense and react quickly impressed a lot of people.
Even better, Kosar could be counted on regularly to set his team up for success.
"The ultimate way of how a quarterback is judged is on the end results. How I look is of no consequence to me," Kosar said years later. "Sometimes I throw underhanded, side-armed, off the wrong foot, all the good stuff. But I've been doing that my whole life."
Boardman finished the 1981 season (Kosar's senior year) with an 8-2 record, but missed the playoffs.
Along the way, Kosar received First-team All-Ohio honors and was Ohio's Division I offensive player of the year.
He desperately wanted to attend Ohio State, but then head coach Earle Bruce couldn't overlook Kosar's terrible mechanics.
Those same mechanics were pushed to the side when University of Miami head coach Howard Schnellenberger watched Kosar.
Schnellenberger liked what he saw in Kosar and offered him a scholarship.
At the time, Miami was not yet the power it would become by the end of the decade.
However, the team did have Jim Kelly, who would go on to success in the NFL.
For his part, Schnellenberger had already developed a who's who of quarterback talent in his career.
Joe Namath, Ken Stabler, and Bert Jones, among others, counted the coach as their mentor.
With Ohio State out of the picture, it was hard for Kosar to pass up the opportunity to work with Schnellenberger and he packed his bags for Miami.
Kosar and the Hurricanes
Entering Kosar's freshman year, it was obvious that Schnellenberger knew how to recruit.
The Miami Hurricanes had barely managed two winning season in the previous 11 when they hired Howard Schnellenberger in 1979. He recruited Miami's local talent like never before, and won their first national title in 1983, setting them on the path to being a national power. pic.twitter.com/v1rhTLhHsA

— Football Yin and Yang (@FootballYin) May 10, 2020
He had successfully wooed Kosar to Miami and he also went after another highly rated high school quarterback, Vinny Testaverde.
It is staggering to imagine what the University of Miami quarterbacks room looked like in 1982.
1982 Miami Hurricanes QB room –
Vinny Testaverde (#18)
Jim Kelly (#12)
Mark Richt (#9)
Bernie Kosar (#1) pic.twitter.com/Sy7zWIdXAs

— SPORTS – DID YOU KNOW?! (@DIDYOUKNOWALMA) February 7, 2019

The program already had Kelly (a future NFL Hall of Famer), Kosar (who would eventually win a national championship and a Super Bowl), and Testaverde (who would become a Heisman winner and first overall pick of the 1987 NFL draft).
Since Kelly was the elder statesman of Schnellenberger's club, he continued starting in '82 as Kosar redshirted.
In 1983, with Kelly off to the pros, the competition for the starters job was neck and neck between Kosar and Testaverde.
For his part, Kosar didn't believe he had a shot to take the job from Testaverde.
"I ran a 5.6 40-yard dash, (Vinny) ran a 4.7," Kosar remembered. "I barely could bench press a buck-85, he lifted 325. I was like, 'I'm dead.' "
Schnellenberger revealed that he, too, was torn between which quarterback to start the season.
"It's the best competition I've ever been around," Schnellenberger said. "I was still wrestling with the decision five minutes before I was supposed to make the announcement. Our first game was against Florida, and I thought we had a better than 50-50 chance to lose the game. I had to decide which quarterback would be best able to handle a loss and come back to play again."
Schnellenberger chose Kosar to start the Florida game and he never looked back.
He was the starter for all 12 games the Hurricanes played that season.
After Schnellenberger's prophecy came true against Florida (the 'Canes lost 28-3), Miami didn't lose another game that season.
The team bludgeoned opponents that year and made it to the National Championship game against Nebraska.
In a game that many pundits predicted they would lose (Nebraska was in the midst of a 22 game winning streak), Miami was victorious with a tight 31-30 win.
The game was decided after Nebraska scored a touchdown with 48 seconds to play.
Instead of kicking the tying PAT, head coach Tom Osborne decided to go for two points and the win.
It didn't happen, although Kosar wished they had made it.
"I wanted them to make it," Kosar said years later. "There was plenty of time left to at least get into position for a field goal. We would have done it, too, the way we were moving the ball. Forty-eight seconds was more than enough time. It would've been fun."
The 'Canes defense held and the school won their first ever national championship.
Kosar led the way with 300 passing yards and two passing touchdowns.
For his effort, he was named the game's Most Valuable Player.
(1984) Bernie Kosar and Dan Marino
"A Pair of Aces"
Miami in the 80s had great QBs at both the collegiate and professional level🔥 pic.twitter.com/rYUQMCQ9nk

— Sports Illustrated Covers (@classicSIcovers) October 7, 2019

Things didn't go as well for the Hurricanes in 1984.
Schnellenberger moved on to a coaching gig in the now defunct USFL and Jimmy Johnson stepped in as the new coach.
Bernie Kosar | #ItsAllAboutTheU pic.twitter.com/9Icaemz7JV

— GO 'CANES! (@83_87_89_91_01) May 20, 2020

Even with Kosar throwing for 3,642 yards and 25 touchdowns that season, Miami went 8-5.
Two of the losses in particular that season stood out.
On November 12, Miami hosted the University of Maryland.
By halftime, Miami was cruising 31-0.
Then, Maryland switched quarterbacks and in stepped future pro Frank Reich.
In a manner eerily similar to what he would accomplish as a member of the Buffalo Bills years later, Reich led the Terrapins to a stunning 42-40 upset.
Only a week later, Miami hosted Doug Flutie and Boston College.
In a wild finish that instantly became a college football classic, Flutie threw a game-winning touchdown pass to receiver Gerard Phelan with no time on the clock.
Nov. 23, 1984: Doug Flutie's hail mary to Gerard Phelan completes Boston College's upset over defending national champ Miami #ThisDayInGIFs pic.twitter.com/pBYBOgGgBP

— New York Post Sports (@nypostsports) November 23, 2016
"Hail Flutie" and the Eagles upended the 'Canes with a 47-45 victory.
These two losses represented the defensive lapses that plagued Miami in '84.  The issue reared its ugly head again in the season-ending Fiesta Bowl.
In that game, Miami faced off against UCLA.
Despite throwing for 294 yards and two touchdowns, Kosar and Miami lost again 39-37.
With the '84 season behind him, Kosar still had two more years of college eligibility left.
However, despite his wild success with Miami, Kosar didn't actually enjoy the college game, as he revealed in an interview.
"College football was not challenging," Kosar said. "With our passing system at Miami, which was head-and-shoulders above any other college, after a while it was just too easy.  I don't want that to sound wrong, but in games I'd see only one, maybe two coverages. It was so unsophisticated. For me to grow at so slow a pace — what was the point?"
Kosar then set in motion a plan to leave college early and maneuver to the NFL.
The 1985 NFL Supplemental Draft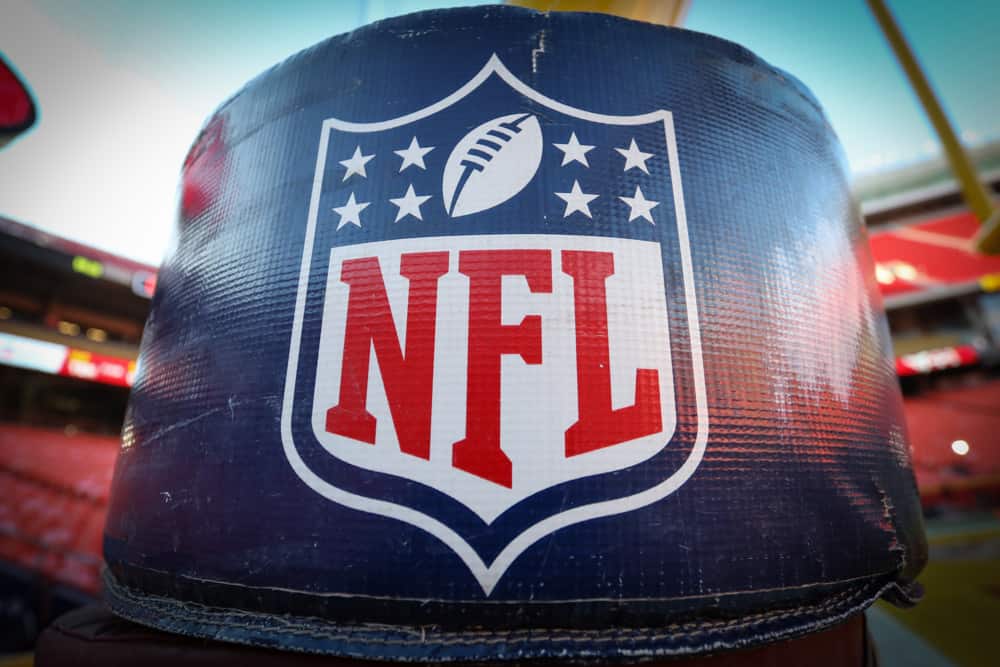 NFL rules at that time stated that only college seniors or college graduates could be drafted.
Kosar had two years of eligibility remaining and wasn't scheduled to graduate until the summer of 1985 with dual degrees in finance and economics.
Undergraduates had until April 15 of their draft year to declare their intentions as well.
After at first denying that he would be leaving college early, Kosar announced on March 15 of 1985 that he would be forgoing his last two years and entering the draft.
In order to graduate early, Kosar completed 18 credit hours during the spring of '85 and another six credits during the summer.
Also unique in the NFL (since 1977), in addition to the regular draft, teams can select players in a special supplemental draft.
In a controversial decision, the NFL claimed that Kosar had not filed his paperwork in time to enter the regular draft in '85.
An ugly mess ensued between the Minnesota Vikings, the Houston Oilers, the NFL, and Kosar's agent.
The Vikings claimed that Kosar's agent and the Browns had tried to game the system so Kosar could be selected by Cleveland in the supplemental draft.
For their part, Houston threatened to sue the NFL if Kosar was allowed to skip the regular draft.
Then, Kosar's agent threatened to sue the NFL if Kosar was forced to enter the regular draft.
Acting as mediator, then commissioner Pete Rozelle held a hearing and eventually allowed Kosar to decide what he wanted to do.
On April 25, Kosar held a news conference to share his intention of skipping the regular draft and of his desire to play for Cleveland.
This paved the way for Kosar to complete his studies at Miami, graduate college, and enter the supplemental draft.
This move was made official in late June when the university notified the NFL that Kosar had indeed graduated from its business school.
After only a two-year college career that saw him throw for 5,971 yards and 40 touchdowns, Kosar was on his way to the NFL.
During his short time in Miami, Kosar set program records for: career passes completed, passing yards, total offense, and touchdown passes thrown.
On July 3, 1985, after working out a deal with the Bills, Cleveland took Kosar number one in the supplemental draft and quickly inked him to a five-year deal.
The 1985 Buffalo Bills grab Bernie Kosar in the NFL supplemental draft, then immediately ship him off to Cleveland for Chip Banks, a 1985 3rd (Hal Garner), a 1986 1st (Ronnie Harmon) and a 6th. Banks refuses to go to Bills which gave the Bills a 1985 1st instead. pic.twitter.com/M5XjQ6V2rL

— ThisDateInBuffaloSportsHistory (@BuffSportsHstry) April 10, 2018
Kosar Fulfills His Dream and Becomes a Brown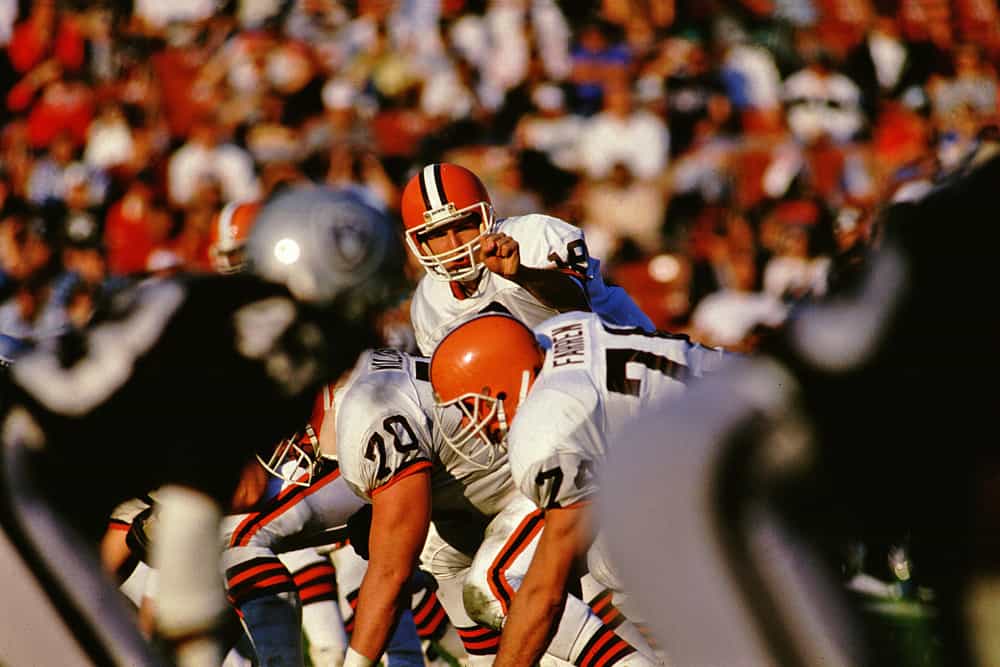 To ensure Kosar had a smooth transition to the pro game, the Browns signed former Lions quarterback Gary Danielson.
The plan was to start Danielson and have Kosar learn from the veteran until the rookie was ready.
The two quickly bonded over their shared love of the intricacies of quarterback play.
After the first four games of the '85 season, Cleveland was 2-2 and Danielson was done for the year with a torn rotator cuff.
Kosar took the reins and started the last 12 games.
Cleveland split those games evenly between wins and losses and the team ended '85 with an 8-8 record.
The Browns snuck in through the backdoor to the playoffs and lost to the Dolphins 24-21.
In 1986, Cleveland built on the success they experienced at the end of the '85 season.
Out went a run-oriented offense and in came a pass-oriented offense that suited Kosar better.
That year, he threw for 3,854 yards (more than double what he threw in '85) and 17 touchdown passes.
In Week 5, the Browns traveled to Pittsburgh and upset the Steelers 27-24.
That victory marked the first win in the Steel City for Cleveland in 17 tries.
In a Week 15 contest against rival Cincinnati, Kosar decided to throw a bomb on the team's first play from scrimmage.
Offensive coordinator Lindy Infante had called a run.
Despite the fact that the pass was completed, Kosar and Infante almost went at it when he returned to the sideline.
"I almost had a fist fight with (offensive coordinator) Lindy Infante," said Kosar in a 2018 interview. "He wanted to hand it off, get a feel for the game, and settle in."
Those Pesky Broncos!
With a 12-4 record, the Browns had home-field advantage throughout the '86 playoffs.
In the Divisional Round game versus the Jets, Kosar came through big time.
Throwing for a then playoff record 489 yards, Kosar guided Cleveland through two overtime periods and a tight 23-20 victory.
The following week against Denver, the Browns could not hold off John Elway and the Broncos.
Elway led Denver 98 yards to tie the game at the end of regulation and send the game into overtime.
The Broncos headed to Super Bowl 21 after a 33 yard field goal that many Clevelanders still insist was a miss.
First OT in an AFC championship game since #Broncos beat #Browns in 1986 (The Drive) & Cleveland still feels Rich Karliss' kick was no good

— 92.3 The Fan (@923TheFan) January 21, 2019
1987 was more of the same for Kosar and the Browns.
The season was shortened slightly due to a players strike, but Cleveland went 10-5.
Fittingly, the one game that was cancelled that season due to the strike was a revenge game against Denver in Week 3.
However, fate intervened to bring both franchises back to the AFC Championship games months later.
Things were not looking good at halftime of the Championship game as Cleveland was looking at a 21-3 deficit.
However, in the second half, Kosar led the team to 30 more points and were looking to tie the score late in the game.
With the ball on the Denver two-yard line, Kosar handed off to running back Earnest Byner.
In a cruel twist of fate, Byner was stripped of the ball by Denver's Jeremiah Catille just before crossing the goal line.
"The Fumble" killed Cleveland's chance to go to Super Bowl 22.
In the 1988 season opener against Kansas City, Kosar was crushed by a blindside blitz that took him out of action.
Though he would miss seven games that year, Cleveland still advanced to the playoffs with a 10-6 record.
Unfortunately, they were taken out in the Wild Card round by the Houston Oilers.
It was noted by Danielson and others at the time that Kosar never quite threw the ball the same way after the hit against the Chiefs.
Injuries aside, Kosar guided the Browns back to the playoffs again in 1989.
During the season, Cleveland played the Broncos in Week 4 and defeated their nemesis 16-13.
After the Browns completed the season with a 9-6-1 record, they faced the Bills in the Divisional Round game.
Once they dispatched Buffalo 34-30, it was on to face Denver…again.
Unlike the previous two playoff matchups with the Broncos, this one was not so close.
Playing with a balanced attack, Denver scored points in all four quarters.
Cleveland only scored in the second quarter.
The Browns were denied yet another trip to the Super Bowl at the hands of the Broncos after suffering a lopsided 37-21 loss.
Kosar and the Browns then began the 1990s with a thud.
In 1990, Kosar threw for a career-high 15 interceptions.
The Browns as a whole weren't very good, surprising for a team that had been on the verge of the Super Bowl only a year before.
The '90 season saw the Browns finish 3-13.
The only bright spot was a Week 5 victory against the Broncos in Denver.
After a Week 9 beatdown at the hands of the Bills, head coach Bud Carson was axed and replaced on an interim basis by Jim Shofner.
Once the season mercifully ended, Cleveland decided to clean house and right the ship.
Instead of keeping Shofner, the Browns hired a new coach.
On February 5, 1991, Cleveland officially welcomed former Giants defensive coordinator Bill Belichick.
Our Top-40 Moments that left a Marc* on Cleveland Sports presented by @MarcsStores is underway!

Moment #40 – The @Browns hire Bill Belichick as HC: pic.twitter.com/Oxc3Cz8HSo

— ESPN Cleveland (@ESPNCleveland) July 15, 2019
Belichick and Kosar
For a while, it looked like Kosar and Belichick were simpatico.
28 years ago today, a young Bill Belichick got his first win as an @NFL head coach, leading the @Browns to a W over the Patriots. (Sept. 8, 1991) pic.twitter.com/rHyb8utSZq

— NFL Throwback (@nflthrowback) September 8, 2019

During the 1991 season, Kosar threw for 3,487 yards (the third-highest total of his career) and 18 touchdowns to nine picks.
Between the '90 and '91 seasons, he set an NFL record by throwing for 308 straight passes without throwing an interception.
The record would stand for almost 20 years.
The '91 Browns improved from their 1990 season win total and went 6-10.
The team continued to get incrementally better under Belichick and finished 1992 at 7-9.
Kosar, however, was beginning to break down physically.
Dealing with a broken ankle in '92, he missed nine games.
Even worse, Kosar went 2-5 in games he started.
At the time, Belichick saw what Kosar might not have.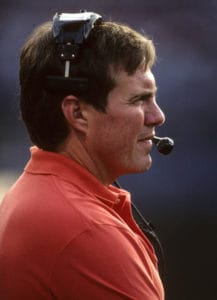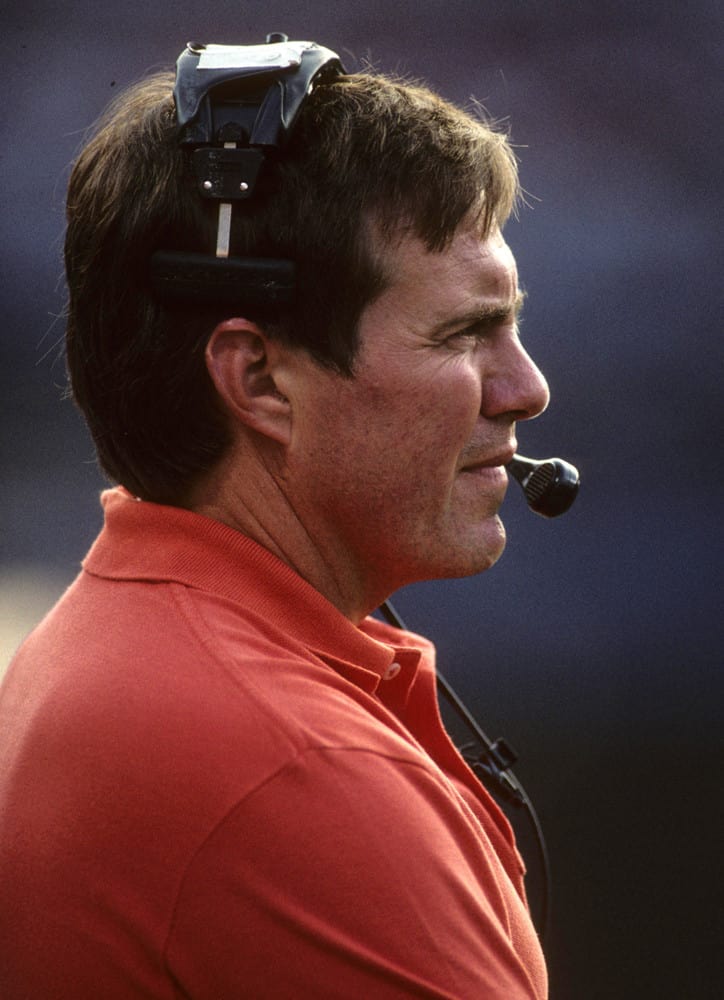 With his best days behind him, Belichick couldn't afford to trust Kosar's ailing body for the long term.
Before the 1993 season began, Belichick and the Browns brought in Testaverde.
The former number one pick for Tampa Bay had worn out his welcome with the Bucs.
Belichick believed that adding Testaverde would be an insurance policy if Kosar was hurt again.
The two former college teammates competed again in training camp of '93.
The fact that this exact same scenario between Kosar and Testaverde happened only 10 years before at the University of Miami was lost on no one.
In a repeat of their 1983 QB battle at Miami, as training camp ended, Belichick went with Kosar as the starter.
Cleveland began 1993 3-0, including an upset of the mighty San Francisco 49ers in Week 2.
However, when the team dropped their next two games to fall to 3-2, Belichick yanked Kosar and started Testaverde.
The Browns won their next two games against Cincinnati and Pittsburgh, but Testaverde was knocked out of the Steelers game with a separated shoulder.
Kosar returned but it was Eric Metcalf's punt return prowess that actually saved the day against Pittsburgh.
In Week 8 against their nemesis Denver, Kosar was still starting.
Once again, the Broncos had the Browns number.
With the score 29-7 and only a few seconds remaining, Kosar was supposed to simply let the clock wind down to end the game.
The only problem was, Kosar did not want to concede.
In a play he basically "drew in the dirt" beforehand, Kosar wound up and threw a bomb to receiver Michael Jackson.
Jackson caught the pass in stride and galloped into the end zone.
Final score, 29-14 Broncos.
To some, this act of defiance might be seen as heroic, a veteran not wanting to give up until the game was done.
For Belichick though, the pass was the last straw.
As it turns out, the relationship between coach and quarterback had become untenable.
Kosar wanted to play the game his way and Belichick wanted to coach the game his way.
Despite the fact that his arm was dying and he could barely move, Kosar believed he could win games and became mutinous.
The stubborn streak between both men meant that one of them would have to go eventually.
The end for Kosar began earlier in the season, when Belichick had essentially ordered Kosar to stop changing plays at the line.
When Testaverde went down and Kosar returned to the starting lineup, he game planned for Denver in his own way.
Los Angeles Times sports columnist Bill Plaschke wrote about that moment:
"Before the game, after studying the film, Kosar pointed out that the Broncos could probably be kept off balance by throwing the ball on second and third downs. Belichick did not agree with that strategy, but in the second half, Kosar ignored him and threw those passes anyway. The Browns, who trailed 16-0, scored twice and missed a field goal in five possessions with Kosar calling the plays. He was sacked six times. They eventually lost, 29-14. And less than 24 hours later, Kosar lost his job."
Kosar did indeed lose his job after the Broncos game.
But, it wasn't a demotion to the bench, Kosar was gone from Cleveland for good.
Citing "diminishing skills," Belichick cut Kosar, ending his tenure with the team he grew up cheering for.
The move, needless to say, stunned Cleveland.
In 1994, irate Browns fans wanted to start a Bill Belichick must go chant after the National Anthem. pic.twitter.com/GXVrt8iYmP

— Only In Boston (@OnlyInBOS) March 29, 2020

Perhaps even more stunning, Testaverde was still out with his shoulder injury.
Who were the Browns going to turn to until Testaverde returned?
Belichick put his faith in Todd Philcox who, until recently, primarily held a clipboard for the team.
The Browns did not respond well.
Cleveland won only two more games the rest of the season.
Although Kosar left Cleveland on bad terms with Belichick, the two eventually patched things up.
When Belichick won his 300th game as a head coach in 2019, Kosar offered congratulations and kudos to his former coach.
Congrats 🏈 Proud to Have QB'd Your 1st Win 🏈 pic.twitter.com/J7Xhzz26vG

— Bernie Kosar (@BernieKosarQB) October 28, 2019
Speaking with Adam Schefter's podcast sometime after the celebration, Kosar shared his thoughts about why Belichick has been so successful as a coach.
"Even back then, despite the issues me and him had early in our careers, he had the foundational DNA to be this top-tier Hall-of-Fame coach. There's no question about it. That obsessive focus of just football. That job of 'just do your job' and that ability to just focus on what the task at hand is and nothing gets in his way about getting ready to win that next game. It's easier said than done and he as much as anybody has that intense focus. I've been around some of the great, great coaches of the Don Shula's and the Jimmy Johnson's, Howard Stoneberger's, I'm truly honored to have been with Bill Belichick."
Kosar Bounces back in Dallas
With the Browns faithful watching in horror as their team's season went up in flames, Kosar landed on his feet, and then some.
Only a few days after being unceremoniously cut by Cleveland, Kosar was signed by the Cowboys to back up Troy Aikman.
He only appeared in four games with Dallas, but one game in particular was memorable.
Stepping in for Aikman during the second half of the NFC Championship game versus the 49ers, Kosar threw a 42-yard touchdown pass to receiver Alvin Harper.
That score helped clinch a 38-21 victory and a trip to the Super Bowl.
Kosar finally got to experience the thrill of Super Bowl Sunday, if only for a play.
With a Dallas victory in hand over Buffalo, Kosar came in to take the final kneel down to end the game.
Bernie Kosar got that Ring with the Cowboys pic.twitter.com/AOd7T9SMU3

— Hungry for 6 (@EdgarSFields1) January 24, 2018

He finally had his Super Bowl championship, though it was bittersweet.
"My goal was to win a Super Bowl for Cleveland," Kosar said in retirement. "It's why I wanted to play here in the first place. It's home."     
Back to Miami
When he was not re-signed by Dallas after the '93 season, Kosar was lured back to south Florida to serve as a backup to quarterback Dan Marino.
The Dolphins welcomed him with open arms and Kosar played out his career in the sun.
He did not play often as a Dolphin, but he did come up with an assist in a 1994 game against the Jets.
As the game was winding down in the Week 13 matchup against their division rival, Miami was at the Jets eight-yard line, down by three points and no time outs left.
Kosar had already shown Marino (and head coach Don Shula) a trick play that could be used if the team needed it.
Marino decided to try the play at that moment.
With the 'Fins at the line of scrimmage, Marino yelled, "Clock, clock, clock" and acted like he would spike the ball to stop the play clock.
After the ball was snapped, both teams stood up in anticipation of the spike.
However, Marino faked the spike and then reared back and threw the football to receiver Mark Ingram for a touchdown.
Pete Carroll began '94 with a 6-5 record with the #Jets. That went downhill after Dan Marino's infamous "Fake Spike" win after leading 24-21 pic.twitter.com/ICGTubKL68

— Go Hawks News (@GoSeahawksNews) September 28, 2016
The play shocked everyone in the stadium except for Miami.
However, it was legal and the Dolphins exited with a 28-24 victory.
20 Years Ago: Photo Shoot for the "Quarterback Club" a division of the union's licensing arm pic.twitter.com/7lYgpNgTdb

— Darren Rovell (@darrenrovell) August 20, 2015

Two years later, after a 1996 season that saw him appear in only three games and throw for 208 yards, Kosar retired from the game.
In 12 seasons, he threw for 23,301 yards, 124 touchdowns, and 87 picks.
Kosar also finished with an admirable 82.1 quarterback rating.
Life in Retirement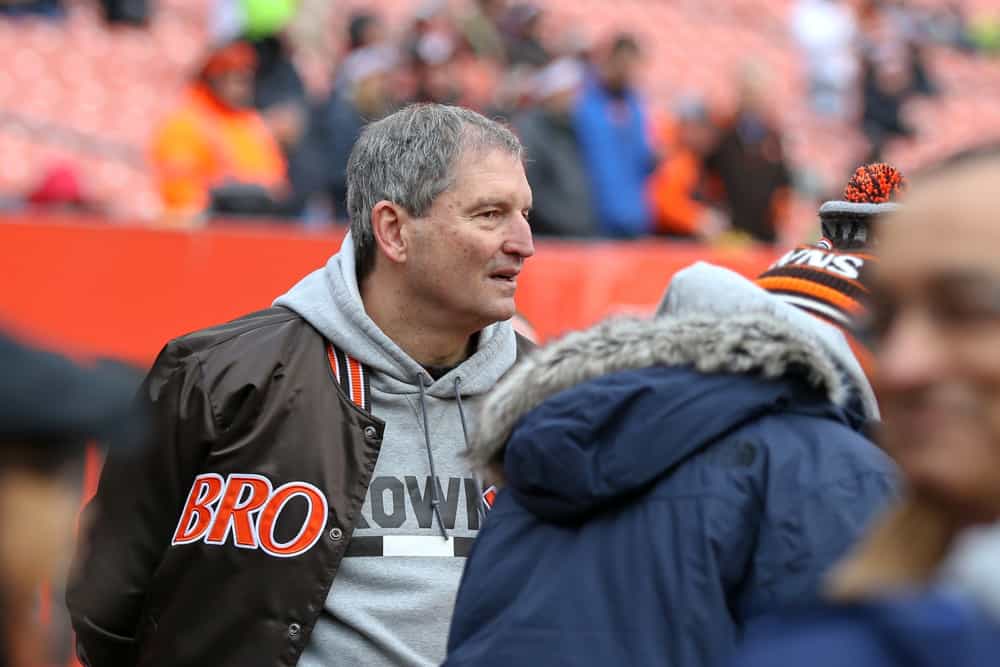 After retiring from the game, Kosar stayed actively involved in sports.
In 2001, Kosar, along with businessman Alan Cohen, purchased the Florida Panthers NHL team.
In 2006, Kosar's name was bandied about as a possible head coach replacement at the University of Miami for the departed Larry Coker.
The talk ended when the 'Canes hired Randy Shannon.
The following year, Kosar bought a minority stake in the Los Vegas Gladiator's Arena Football team.
He then announced that the team would relocate to Cleveland and rebrand as the Cleveland Gladiators.
Kosar was named president and CEO of the franchise and the Gladiators went 9-7 in 2008, enough to make the playoffs.
In 2009, the Browns reached out and brought Kosar in as a consultant.
Just like a hit from an NFL defender once did, the recession of 2008 brought Kosar to his knees.
By 2009, he and his businesses declared for Chapter 11 bankruptcy.
At the time, $9.2 million were listed as assets and $18.9 million was listed as total debt.
Kosar personally had only $44 in his checking account.
Included in the bankruptcy paperwork were the following figures:
Kosar owes almost $1.5 million in "unsecured debt" to the Cleveland Browns, who he played for from 1985 to 1993. Kosar also owes his ex-wife Babette $3 million and $725,000 (from a personal loan) to the owner of the Cleveland Gladiators of the Arena Football League. He owes a bank more than $9 million for bad real estate deals.
Mentioned in the paperwork was his "ex-wife."  Kosar had married Babette Ferre (whom he had met while in college) in 1990.
Citing reckless spending and bad investments, Ferre filed for divorce in 2005.
Ferre also accused Kosar at the time of taking drugs, which he denied.
The divorce was finally settled in 2007.
Even more humiliating, Kosar was a featured athlete in the ESPN 30 for 30 series episode "Broke" in 2012.
The story centered on the financial problems some professional athletes have faced both during and after their careers.
One of the best ESPN 30 for 30 shows was "Broke". They interviewed players who went bankrupt… I thought the best comment came from Bernie Kosar, who mentioned how quickly the phone stops ringing when people know you're in financial trouble.

— W T (@thirdgenwidget) October 20, 2018
(According to the website "Celebrity Net Worth" Kosar currently has a net worth of $100,000).
After years of battling defenses in high school, college, and the NFL, Kosar suffers from the effects of the game he loves.
Many people close to Kosar believe he is suffering from CTE (Chronic Traumatic Encephalopathy), a common diagnosis with patients who have played contact sports.
Due to the numerous concussions he sustained, Kosar has continued to undergo a unique treatment program called Megadose Vitamin Therapy to alleviate his concussion symptoms.
Those symptoms include insomnia, slurred speech, and a ringing in his head.
They have been alleviated by the therapy so well that he has touted the treatment to other pros.
For now, Kosar continues to live life in the periphery while keeping one foot in the sports world.
Although he keeps his personal life largely quiet, Kosar will surface occasionally to offer his thoughts on sports, especially football.
His legacy is one that Browns fans continue to bring up in the years since his ouster by Belichick.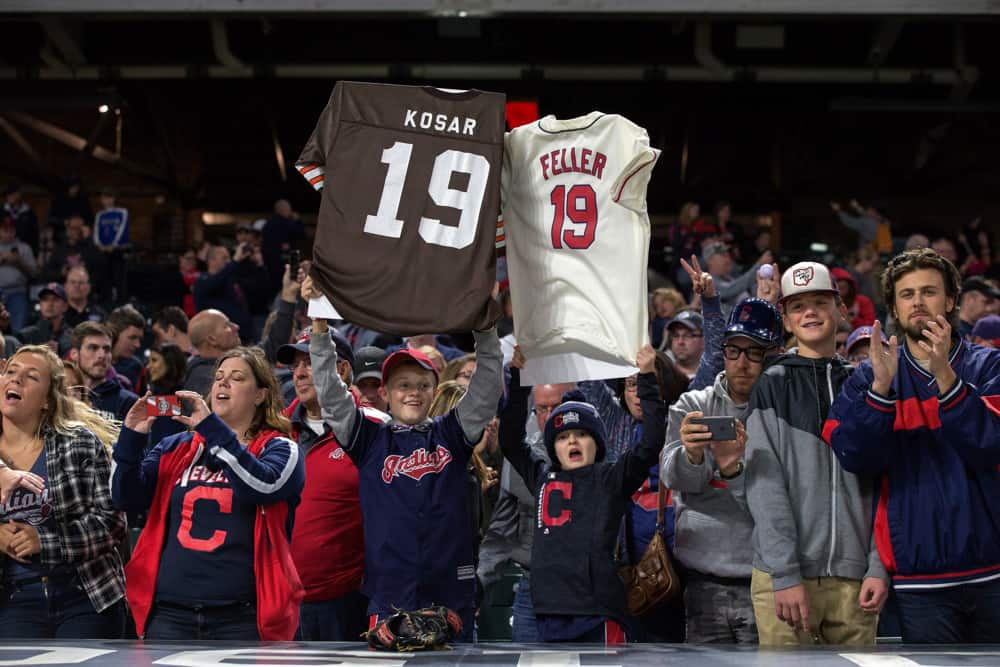 While playing with the team, he always gave Cleveland a fighting chance.
Since his departure, Browns fans have continued to wait for the next Kosar.
When he finally arrives is anyone's guess.