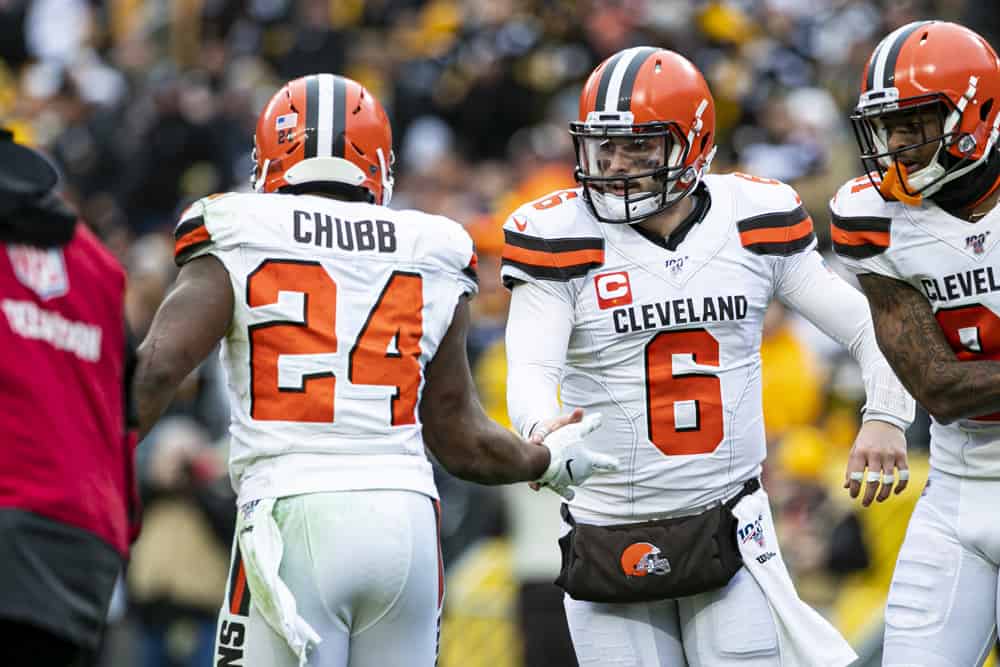 It was only a few weeks ago that it seemed like the Cleveland Browns were well on their way to making it into the postseason.
Sadly, losing a winnable game against the New York Jets in Week 16 has put Cleveland in a bad spot.
A loss to the Pittsburgh Steelers on Sunday could potentially knock the Browns out of the playoffs.
The Steelers will be sitting starters like Ben Roethlisberger and TJ Watt, but that doesn't guarantee a win for Cleveland.
Possibly, a loss to the Steelers could force Cleveland to make a big decision this offseason.
Big Changes In Cleveland?
This has been a fairly successful season for Cleveland, but one ESPN analyst believes big changes could be on the horizon.
Bart Scott went as far to say that this game could determine whether or not the Browns pick up the fifth-year option on quarterback Baker Mayfield.
.@BartScott57 and @ninko50 both believe that if the Browns lose this weekend, Baker will be out in Cleveland.

"If [Baker Mayfield] loses this game and [the Browns] are out of the playoffs, they're not giving him that fifth-year option." pic.twitter.com/dMyZmu5D3J

— Get Up (@GetUpESPN) January 1, 2021
Scott mentions that the outcome of this game falls on the shoulders of Mayfield.
The Browns running game was shut down last week and Mayfield did little to help with his arm.
It sounds like Scott believes this is make or break time for Mayfield in Cleveland.
Is Mayfield At Fault?
Yes, Mayfield does deserve some of the blame for the loss to the Jets last week.
He completed 28 of 53 passing attempts for 285 yards without a touchdown in the game.
To be fair, Mayfield had limited options on offense due to his main weapons sitting due to COVID protocol.
However, Mayfield did not look good out there and made plenty of bad decisions with the football.
It wasn't a perfect outing for Mayfield, but he has looked much better in the second half of the season.
♦️ Baker Mayfield: 3rd in accuracy % over the last four weeks at 69.7%.
♦️ CeeDee Lamb: 379 rec. yards on third downs, 2nd most for all WRs@PFF_NateJahnke's 32 fantasy stats to know is a MUST READ before you set your Wk 17 lineup ⬇️ https://t.co/JUsxgyFv3G

— PFF (@PFF) January 1, 2021
Over the last seven games, Mayfield has thrown for 1,853 yards with 10 touchdowns and one interception.
He is limiting turnovers and putting the Browns offense in position to win football games.
It's tough for the Browns to ask Mayfield to do more than he has been doing during the second half.
Mayfield is having a career-year this season and deserves plenty of credit for what he has accomplished.
How Big Is Week 17 For Mayfield's Future?
Scott is partially right on his take about this Week 17 game versus Pittsburgh.
This is the time for Mayfield to step it up and show he can be the leader of this team.
However, it's unreasonable to make a decision about his fifth-year option based off one game.
Mayfield has done more than enough to earn the starting role in Cleveland next season.
For some reason, Scott isn't the only one that believes this game could determine Mayfield's future.
How much pressure is on Baker Mayfield and the Cleveland Browns this Sunday?@MichaelVick: "This is a must-win game for Baker Mayfield."@LavarArrington: "This is not only a must-win for Baker, but also for Stefanski and the Browns." pic.twitter.com/B3qnwpYRFN

— UNDISPUTED (@undisputed) January 1, 2021
Regardless of the outcome on Sunday, the Browns need to pick up the fifth-year option on Mayfield.
This team is ready to compete, so possibly adding a rookie quarterback to the mix isn't going to help.
Mayfield has clearly shown that he can be productive in Kevin Stefanski's offensive scheme.
This is Mayfield's first year in this new system and he's played well throughout most of the season.
Mayfield belongs in Cleveland next season despite what these analysts believe should happen.