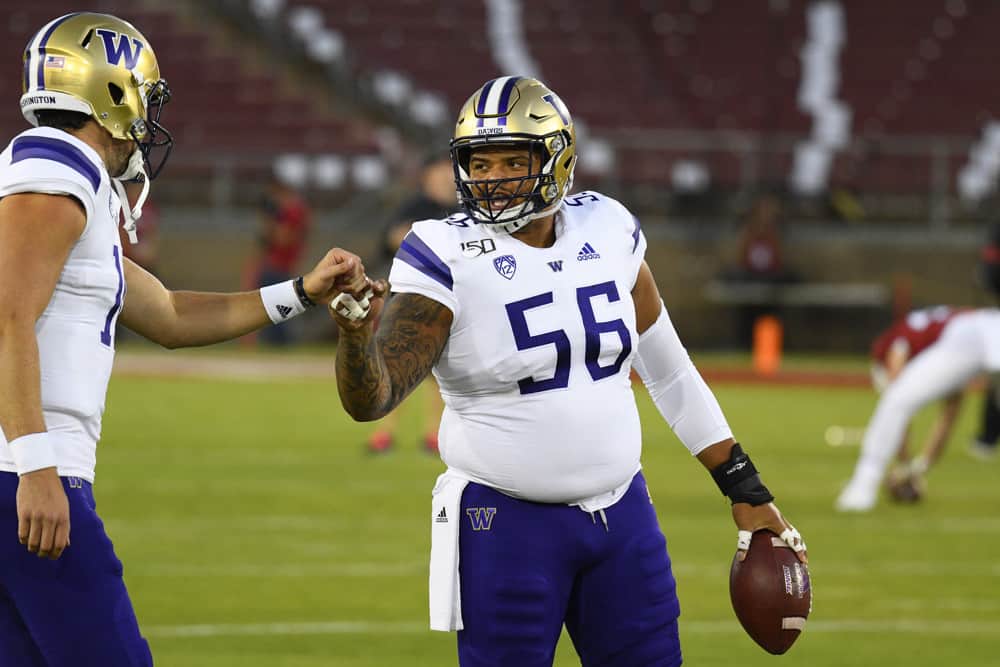 The NFL Draft is just the first of many steps for players entering the league.
Each step, of course, presents a new set of obstacles to overcome.
One constant obstacle, however, is dealing with doubters.
Whether it's fans that need justification of wanting to draft someone else or lifelong naysayers, there's always someone wanting to see an athlete slip.
This certainly applies to the Browns fifth-round draft selection Nick Harris.
Welcome to Cleveland, Nick Harris!

📰: https://t.co/sx7WKRitEA#BrownsDraft pic.twitter.com/PtLr0dt12t

— Cleveland Browns (@Browns) April 25, 2020
Background
The former Washington Huskie spent his first collegiate season at guard before moving to center.
He was first-team All-Pac-12 in his junior and senior seasons and did not allow a single quarterback pressure in the Senior Bowl.
Only one other offensive lineman accomplished that same feat in the game.
Harris was very formidable as a pass-protector last season as well.
Per Pro Football Focus, he surrendered just two sacks over the course of 837 pass-block snaps.
Browns C Nick Harris since 2018:

837 Pass-block snaps
2 Sacks allowed pic.twitter.com/Sb8aBMKPpg

— PFF Draft (@PFF_College) April 25, 2020
Criticism
Much of the criticism that Harris receives stems from his size and length.
According to his draft profile on NFL.com, Harris has a "stubby build" and "lacks physical dimensions teams are looking for".
Worker-bee, center-only prospect who won't check many physical boxes but brings his grit to the fight on every snap. Harris' body type belies his impressive foot quickness and ability to make all the move blocks needed from his position. His ability to sustain both run and pass blocks speak to his consistency of effort and performance, but size, scheme and positional limitations could cause him to drop lower in the draft than his actual tape would dictate.
That's not necessarily the ideal weaknesses you want to see from a young offensive lineman.
Here's what Harris had to say:
"It starts with technique. It starts with also the mental aspect of the game. I take both of those pretty seriously and how I go about playing football. Also, it's just a will. I love playing O-Line. I like finishing people. I take pride in what I do. Honestly, I think (being short) helps me. I get better leverage under people. I have long arms for my height. I think at the end of the day, it helps me more than it hurts me."
Many of his draft profiles also label him as a guy that will only work in limited offensive schemes.
The average NFL lineman is also 6'5", 312 pounds.
Harris comes in at 6'1" 302 pounds.
That's not tiny by any stretch, but it's definitely below average.
Proving People Wrong
So, how exactly does Nick Harris plan on silencing those who question his ability?
Well, let's address his weaknesses.
One was the extent of schemes in which he could be effective in.
Because he is on the smaller side of offensive lineman, he will be best used in zone-run schemes that require more athletic men up front.
It just so happens that a zone-run scheme is one that many expect Kevin Stefanski to utilize with the Browns this season.
Among 64 draft-eligible centers in 2019, new #Browns interior OL Nick Harris was 6th in pass-block grade and 8th in run-blocking. pic.twitter.com/uNnjpjDtX1

— PFF CLE Browns (@PFF_Browns) April 25, 2020
Nick Harris is the PERFECT zone center. Talk about the ideal interior blocker for Kevin Stefanski's scheme.

— Brent Sobleski (@brentsobleski) April 25, 2020
As far as his length goes, that's not exactly something that can be fixed.
But, Harris is a smart player.
His experience as a starter at Washington shows that.
With J.C. Tretter the clear starter, there is no immediate need to thrust Harris into the starting lineup.
Tretter's contract runs through 2022, so Harris could develop nicely as a depth option on the bench.
After all, he is a fifth-round pick.
Yes, some pan out and turn into formidable NFL players.
Some reach even greater heights.
But many find themselves out of the league after a few short years.
If Harris is even a guy that can hang around on the roster and be a guy that Kevin Stefanski trusts, you can count that as a win for Andrew Berry.
Harris will be an interesting guy to keep an eye on from this draft class.
Expectations should not be through the roof, but there is a chance this guy turns into a really good fifth-round selection.
Plus, who knows?
Maybe he can provide a couple of laughs along the way.
Nick Harris a couple years ago went viral for this 😂 pic.twitter.com/ejqRposz7U

— Jonathan Peterlin (@JPeterlin) April 25, 2020