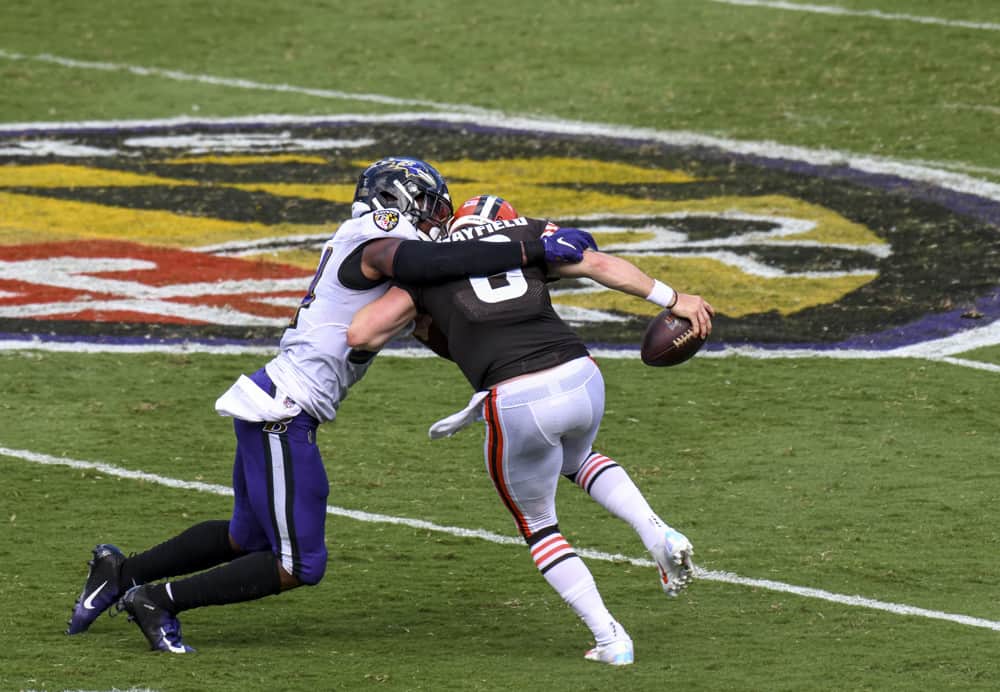 Everything was supposed to be set for Baker Mayfield's 2020 Comeback Player of the Year bid.
The Cleveland Browns brought in new coaches and players who were sure to solve all of last year's woes.
Kevin Stefanski's Mayfield-friendly game plan was destined to propel him to stardom.
But maybe that narrative was a little premature.
Starting to set in that I will never see a Cleveland Browns Super Bowl Victory in my lifetime.

— John (@JohnHillbery) September 13, 2020
Perhaps it is more accurate to say the parts have been brought in, but they are not exactly set up yet.
No real preseason games, fewer practice sessions, and virtual player meetings leave things unsettled still.
We can believe Mayfield just needs a few more games and films to study.
But there is another idea proposed by former All-Pro wide receiver Dez Bryant, among others.
Bench Mayfield and let Case Keenum show him how to work Stefanski's offense.
Dez Bryant's Suggestions to the Browns 
Former Dallas Cowboys wide receiver Dez Bryant is in the camp calling for Mayfield's benching.
Bryant made this clear after he was asked why Odell Beckham Jr. hasn't integrated into the offense better.
"Baker mayfield. I like baker mayfield but you have to play Keenum so he can learn how to run a offense with talent," Bryant wrote. "If Keenum play it will be Houston Cougars and Minnesota all over again. Thielen and Diggs will still be in Minnesota if Keenum was at QB. Keenum familiar with HC."
Baker mayfield..I like baker mayfield but you have to play keenum so he can learn how to run a offense with talent..if keenum play it will be Houston cougars and Minnesota all over again 😂 Thielen and Diggs will still be in Minnesota if keenum was at QB
Keenum familiar with HC https://t.co/nM3KUWyLpe

— Dez Bryant (@DezBryant) September 13, 2020
Bryant went on to say that both Landry and Beckham looked explosive against the Ravens.
Reason's for last season's disconnect between Beckham and Mayfield were plentiful.
Beckham nursed an injury all season, the offense didn't have a plan or identity, passes were forced…
After an offseason surgical procedure, Beckham declared himself 100-percent healthy entering 2020.
Both he and Mayfield claimed to be on the same page, promising better results this time around.
#Browns Odell Beckham says Baker Mayfield will "have a big year this year" pic.twitter.com/iJeYvwp6VF

— Mary Kay Cabot (@MaryKayCabot) September 10, 2020
But yesterday's game offered no indication of an improved connection.
Mayfield seems unable to hit Beckham on the move, connecting on spot throws or with a stationary receiver.
Long balls were overthrown and crossing patterns were just a touch behind, allowing defenders to break them up.
To be sure, few opponents have a cornerback tandem like the Baltimore Ravens.
And Beckham has dropped too many of Mayfield's more accurate passes.
But if the disconnect continues, Bryant offers another suggestion to mitigate the matter.
He called for the Browns to trade Odell Beckham, suggesting the San Francisco 49ers as a partner.
Mayfield's Take on the Beckham Issue 
As he is wont to do, Mayfield acknowledged fault in the disconnect with Beckham.
But he offered a caveat for some of the missed plays.
"A few of those times where I did target him, there were some defensive penalties so that had something to do with it, but I have to be better and give him a chance on some of those things," Mayfield said after the game. "Like the free-play late in the game, just give him a chance. He is a great player so I just need to give him a chance."
Head coach Kevin Stefanski weighed in on the matter as well during his postgame presser.
"Yeah, we did not connect a few times out there," he said. "We have to get to the bottom of it obviously. Pass game requires precision from 11 guys in order for it to go."
Beckham did not help his cause with some inauspicious play of his own.
He negated a catch with a face mask penalty and lost another reception because he stepped on the bounds marker.
There was also a brutal third-down drop on what should have been a scoring drive.
But he got behind the corners a couple of times only to watch Mayfield's throw sail over his head.
On the free play Mayfield referred to, the quarterback threw the ball away out of bounds as Beckham ran past the defense.
Mayfield completed 18 of 25 passes for 167 yards and a touchdown to receivers not named Beckham.
He and Beckham connected on just 3 of 10 targets for 22 yards.
Should the Browns Listen to Bryant?
This is not the first time Dez Bryant has criticized Mayfield's performance.
After Freddie Kitchens was fired last December, Bryant put the onus on the Browns' quarterback.
The former Cowboy almost exonerated Kitchens and his staff in the process.
Baker mayfield plays the biggest part in this…had a stud cast around him under performed and got out performed by somebody he talked down on Danny dimes… big mouth and being a one read QB not going to cut it.. kitchens put the game in his players hands https://t.co/jhEF56wpDl

— Dez Bryant (@DezBryant) December 30, 2019
Why is Bryant so hard on Mayfield?
Both are alums of Oklahoma State which might explain why Bryant follows the Browns' passer so closely.
The elder Sooner's tweet calls for Case Keenum to teach Mayfield, alluding to an eventual return behind center.
And Bryant suggests the Browns trade Odell Beckham Jr, not Mayfield.
Obviously, a short week is not the time to make personnel changes.
And the powerhouse Ravens are hardly the team to gauge a player's progress against.
But Stefanski is clearly unsatisfied with the situation.
Mayfield and Beckham have to know a similar showing in the Browns' home opener could trigger a response.