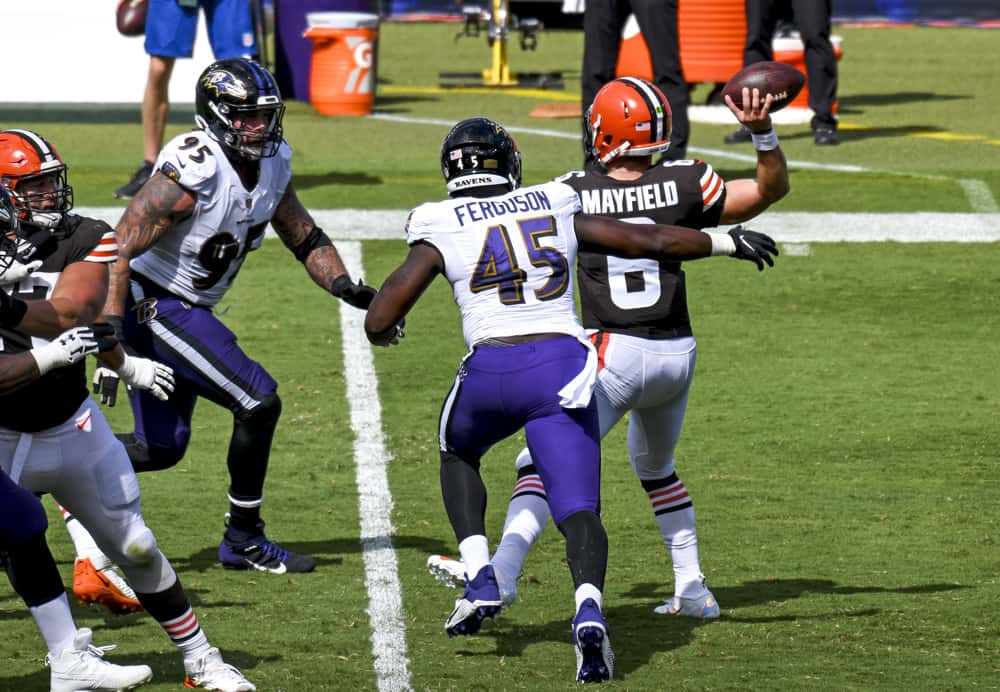 Everyone knew the Cleveland Browns Week 1 match up at Baltimore was going to be a challenge.
But no one in Cleveland expected it to be so one sided.
Coach Stefanski summed up the day like this:
"We did a lot of things that losing teams do. We turned it over three times. Eight penalties, three of which I think were personal foul face masks, which were killer. We didn't play good complementary football,  put our defense in a tough spot a bunch."
In the wake of the Browns 38-6 loss against the Ravens, it's not hard to figure out what the 3 things are that went wrong for the Browns today.
But it's not time to panic…yet.
You don't want to hear this right now, I know, but please hold your #Browns panic for a few weeks. This is not the time to overreact.

— Camryn Justice (@camijustice) September 13, 2020
1. Offense
Baker did not get off to a good start.
He went 21 for 39 with 189 yards.
Those stats can only possibly work if there is a run game going.
Kareem Hunt rushed for 72 yards, and Nick Chubb rushed for 60 yards.
Two offensive turnovers; one from Mayfield and one from Chubb added insult to injury.
With Baker only passing for 189 yards, it is clear that the stud WRs and TEs did not have big days either.
Jarvis Landry led with 60 yards receiving.
David Njoku caught the lone TD scored in the game.
Austin Hooper caught 2 passes for 15 yards, and OBJ caught 3 passes for 22 yards.
That's not going to get anything done.
Jedrick Wills went out with an injury in the third quarter so that just adds to the offensive misery.
2. Defense
Keeping Lamar Jackson in check is a tall task, and the Browns knew they had to do it to have a chance at winning this game.
They didn't get it done.
Jackson had no rust whatsoever as he proceeded to throw 3 TD passes.
He completed 20 passes for 275 yards.
Jackson's legs can wreak havoc, but today he didn't need to run much (only 45 yards).
He had time and protection and passed until his heart was content.
And he didn't rely on just one receiver; he spread the ball around.
3. Special Teams
And if things weren't bad enough, there were special teams mistakes too.
On the lone TD, Austin Seibert missed the extra point.
Then, there was the fake punt that went totally wrong and set up an easy Ravens FG.
New head coach.

Same Cleveland Browns. pic.twitter.com/ucurmZC3s0

— Alex Kozora (@Alex_Kozora) September 13, 2020
Yes, pretty much everything that could go wrong did today.
But the Ravens are a great team that are in regular-season mode whereas the Browns look like they definitely needed preseason games to work out some kinks.
I actually think it may be a good thing that the Browns have a short week and play on Thursday night versus the Bengals.
And so does Baker Mayfield who said:
"I just think the makeup of this team, there is a different attitude about it. We are going to watch the film and get it out of our system. That is the good thing about having a short week. We don't have to dwell on it. We will watch it, realize where we went wrong, correct those mistakes and move onto Cincinnati. We don't have a lot of time to dwell on the negative things."
I believe everyone will play better on Thursday night.