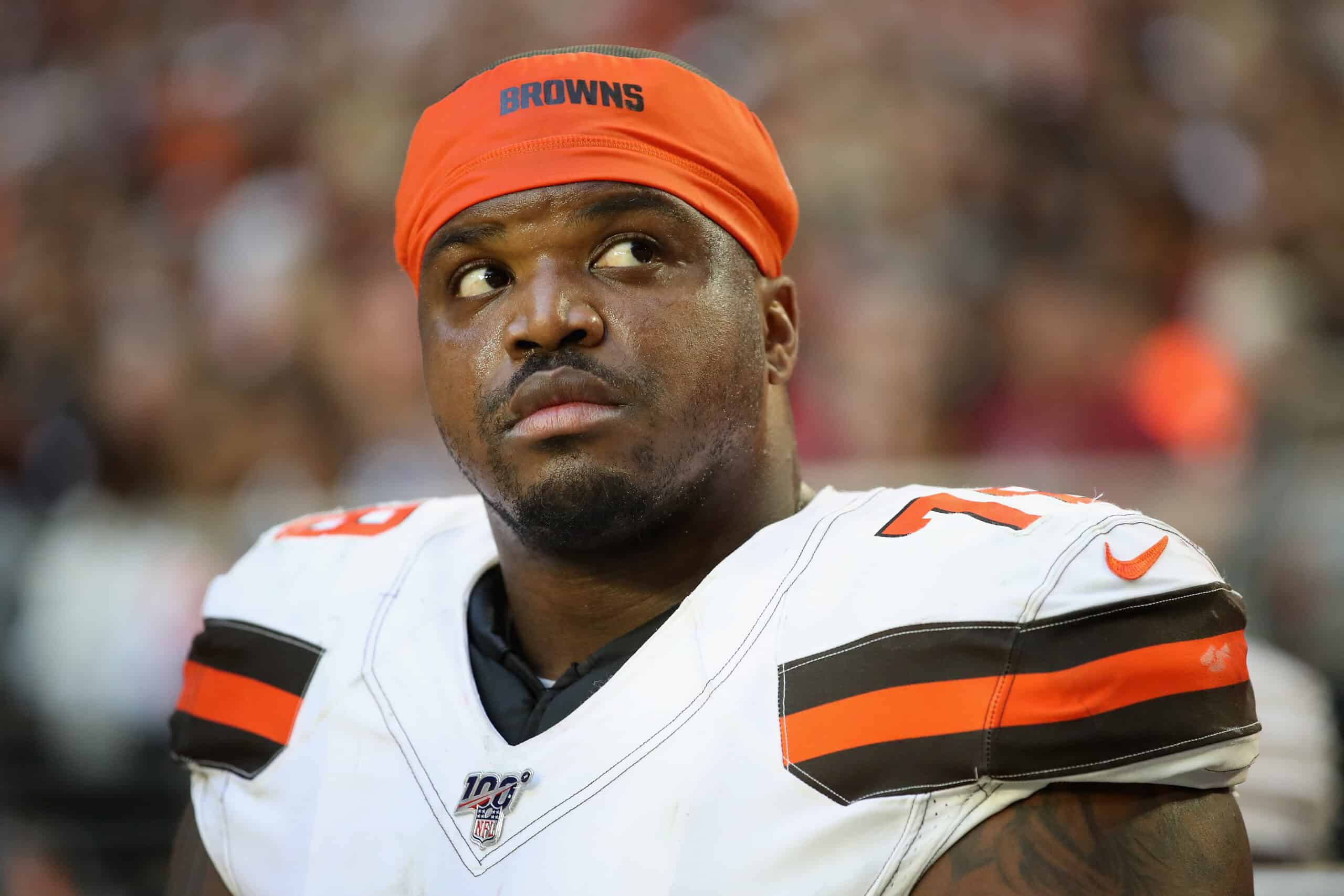 Life after professional football may not be as easy as some think.
Some guys, fortunately, figure things out and go on to lead peaceful and successful post-playing lives.
Others, however, have their struggles.
The latter is often unfortunate to see from a fan perspective.
This week, former Cleveland Brown Greg Robinson has found himself in some trouble with the law.
After midnight on Monday morning, police arrested Robinson in his hometown of Thibodaux, Louisiana.
Police found over $120,000 worth of illegal drugs and narcotics in Robinson's possession in addition to firearms and ammunition.
What Did Police Find?
Anytime drugs and guns are found together in a police stop, that usually spells bad news.
In Robinson's case, the sheer amount of stuff in his car will lead to serious punishment.
A complete list of items found in Robinson's Cadillac Escalade can be seen in this Tweet.
Greg Robinson is out here getting arrested for slinging Meth, cocaine, crack, and pills.

POS#Browns https://t.co/WMtadGWLRx pic.twitter.com/taUx7sj4tQ

— DynastyCLE (@DynastyCLE) February 9, 2022
Reports also say that this stop led police to search Robinson's properties in the surrounding area.
Surprisingly enough, police found more guns and more drugs.
Often when marijuana is found it's not a huge deal unless someone is driving while "high".
Many states have decriminalized the drug.
It's the other narcotics, like cocaine and oxycodone, that raise a heavy concern here.
Those are drugs that often lead to overdoses and/or death.
The combination of those in the car alongside the guns and ammunition will lead to severe punishment for Greg.
The big charge Robinson now faces is felony possession with intent to distribute cocaine and crack cocaine.
Not the First Time
We've seen Robinson in trouble with authorities before.
Two years ago in February of 2020, police arrested Robinson in a similar case.
Allegedly, 157 pounds of marijuana were found in his Chevy Tahoe among other narcotics and paraphernalia.
Here, Robinson faced charges of intent to distribute marijuana.
Ultimately, Robinson's punishment became five years of probation.
Photo via U.S. Customs and Border Protection from the Greg Robinson bust, showing the duffle bags holding 157 pounds of marijuana found in the back of the rented Chevy Tahoe pic.twitter.com/xMTI00ojkt

— Jake Trotter (@Jake_Trotter) February 21, 2020
A former teammate of Robinson's at Auburn, Quan Bray, had involvement in the 2020 incident as well.
Throwing Away the Future
The 2014 Draft saw Robinson taken as the second overall pick.
Going from a top-five draft pick to two arrests in two years is far from ideal for Robinson.
This, unfortunately, is the sad truth of his situation though.
Since the 2020 arrest, Robinson has not played a single down of football.
Bray has since made a new home in the Canadian Football League.
It's hard to see Robinson ever making it back to the NFL let alone playing football again.
The social media jokes and jabs will fly as they always do but the reality is that this is a messy situation.
It's a bed that Robinson has made himself, however, I'd love to see him turn it around.
That's not to dismiss the current crime.
If he truly did intend to sell, or even take himself, what police found in his car, that's beyond dangerous and reckless.
As such, a punishment is necessary.
However, without getting too deep here, the man is only 29 years old.
There's plenty of life for him to live.
Hopefully, he figures things out.