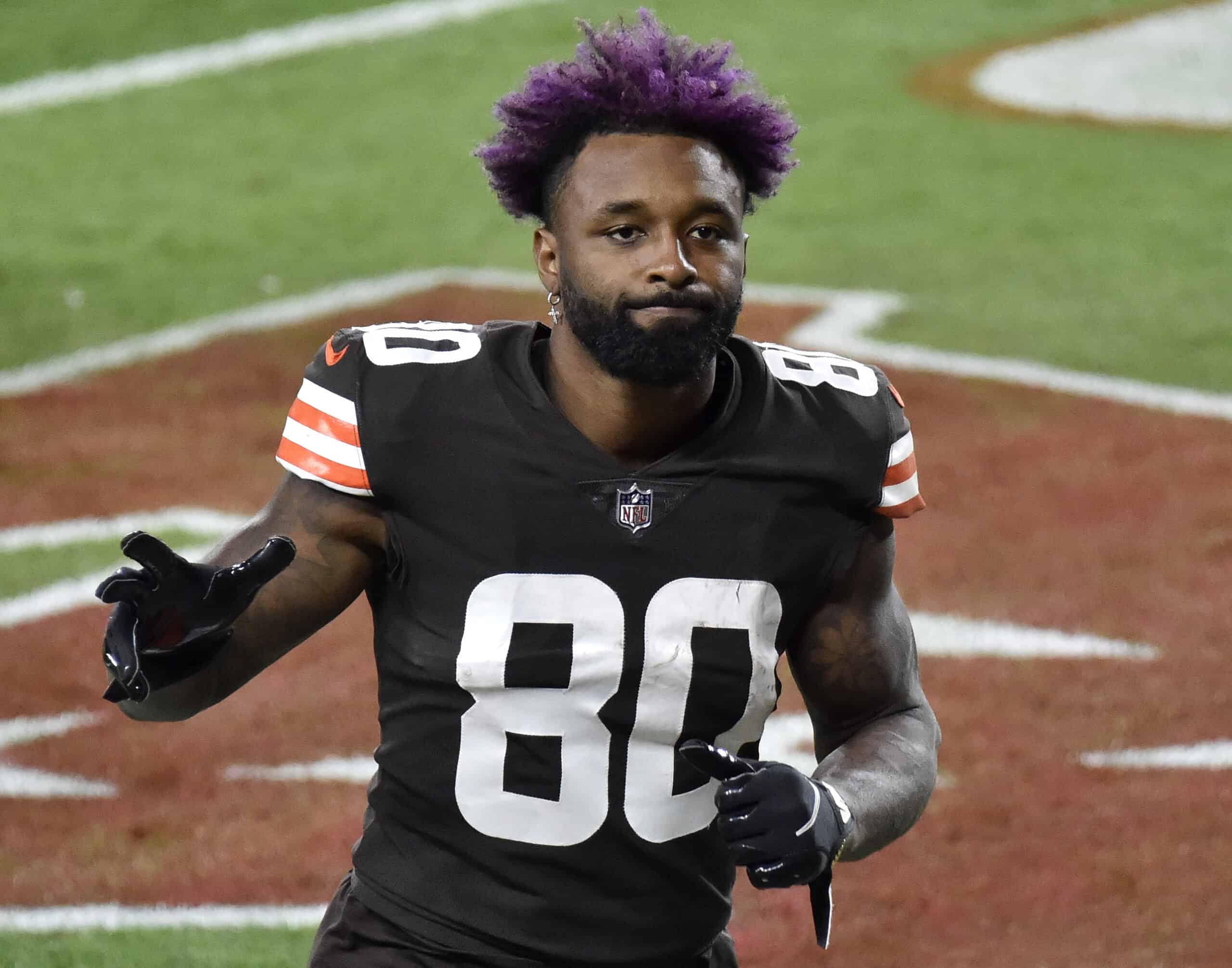 Jarvis Landry saw something he didn't like in the Cleveland Browns locker room.
It was a typical camp to that point, and Landry was in the trainers' room tending to some ailment or another.
That's when the 5th-year veteran, who never asked for a day off in his career, heard players moaning about minor injuries.
#Browns Kareem Hunt: "There's only one Jarvis Landry. He's a heck of a leader, heck of a teammate."

— Camryn Justice (@camijustice) September 20, 2021
And when assistant coach Adam Henry started listing the receivers who would sit out that day, Landry snapped.
For 97 seconds, the newest Browns player tore into his teammates in what is now called, "the Hard Knocks Speech." 
Landry called out players for bad attitudes and needlessly missing practices in between 34 rapid-fire curse words.
It was a moment many cite as the first nudge that pushed the hapless Browns into a new era.
#Browns Jarvis Landry is such a leader that "when he talks, I listen" says OC Alex Van Pelt

— Mary Kay Cabot (@MaryKayCabot) January 14, 2021
Landry became the de facto leader of the Browns offense, even after Baker Mayfield jumped onto the field.
Cleveland's culture shifted to the point an 8-win season is so bitterly disappointing, there are calls for change.
So, here are 3 reasons the Cleveland Browns should move on from Jarvis Landry.
1. How Much is Landry's Leadership Worth Now? 
Miami traded Jarvis Landry to a different Cleveland Browns team back in 2018.
John Dorsey's big move came after a dismal 2 seasons of dealing away assets for draft picks.
And if the Browns were suddenly going to be serious about winning games, they needed players like Landry.
Jarvis Landry playing through the pain and serving as a key leader

📰 » https://t.co/BMQK0GLamP pic.twitter.com/XkIx9j4p89

— Cleveland Browns (@Browns) October 22, 2020
Sitting out for minor injuries was just one symptom of an unengaged players group.
But Landry says Andrew Berry is obtaining players with better attitudes,
"The biggest thing with AB [Berry], (he is) bringing in more guys with that type of mindset. They embrace the work ethic, they want to win. And that's important. You get a lot of those guys in the same building, you become a pretty good football team."
So, as Landry's on-field production starts to fade after 8 seasons, is his leadership worth his $15 million salary?
Good leaders are always valuable, but Landry's role is not as vital to the current Browns squad.
2. Browns Need To Complete the OBJ Release 
There is little doubt the Odell Beckham Jr. fiasco affected the Browns' locker room.
But exactly how it affected the players remains unclear, including how it affected Jarvis Landry.
Landry described himself as "stung" by the series of events that led to OBJ's departure.
At the time, we could question whether he was more upset with the team or with his best friend.
Here's the video of Jarvis Landry surprising Odell Beckham Jr. during his media availability. Very wholesome moment between two friends. pic.twitter.com/rgJmUl98mx

— Ari Meirov (@MySportsUpdate) February 7, 2022
But we know he is over any issues with Beckham, thanks to a series of supportive social media posts.
Landry is rooting hard for OBJ to win a Super Bowl ring this season, but he still hasn't spoken with reporters.
We can make the same argument here about removing Baker Mayfield from the 2022 Browns roster.
But releasing or trading Landry might be necessary to quell any OBJ-related locker room undertones.
3. Doing Right By Jarvis Landry
Jarvis Landry will count $16.3 million against the Browns 2022 salary cap.
That is a top-15 cap hit for a wide receiver who ranked in the 60s statistically and analytically.
While the injured Baker Mayfield handicapped Landry's production, that is still a high price.
Popular opinion is the Browns will ask Landry to renegotiate.
Jarvis Landry leaves the field after the #Browns win. pic.twitter.com/5diwPs1ED3

— Camryn Justice (@camijustice) January 9, 2022
This is not a great year to trade the 29-year-old, with a deep wide receiver draft and free-agent field available.
Landry realizes that as much as anyone, and he might be open to a reasonable salary reduction.
But reasonable is often defined differently by players, agents, and general managers.
And if the Browns can't trade or renegotiate, they owe it to Landry to let him enter the pool as early as possible.