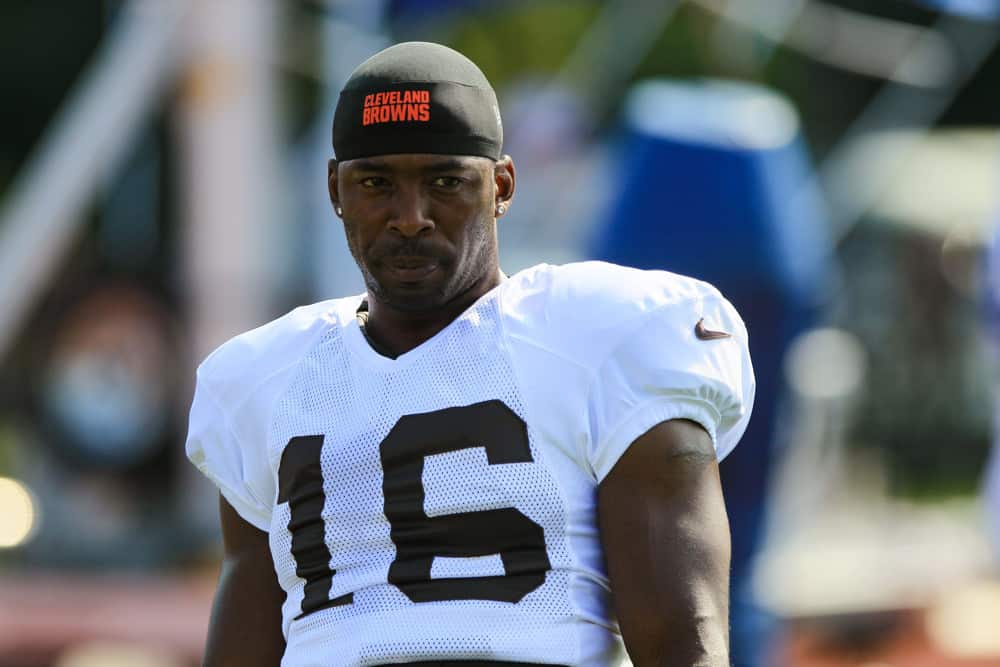 Like many NFL teams, the Cleveland Browns' players give a lot of time to charitable and cause-related programs.
Former Browns wide receiver Andrew Hawkins is among those who continue those efforts after retirement.
Hawkins works with a group called UNINTERRUPTED to inspire and empower minority youth to greater heights.
To that end, Hawkins and his son, Austin, star in a 2-minute film reminding the younger Hawkins of his potential.
And none other than Oprah Winfrey premiered the film on her popular TV network this week.
Oprah premiered the film my son and I starred in last night!!!!!

"These Hands"

It's been tough keeping this film on the low, but I REALLY hope you all vibe with the message. Give me your honest feedback please!

And dream big! 🙏🏾🙏🏾🙏🏾

— Andrew Hawkins (@Hawk) May 26, 2021
Hawkins is a former NFL player, but even he seemed awestruck by the Oprah Winfrey Network showing.
Proctor and Gamble helped produce the film and watchers can go to a link provided to learn more about it.
UNINTERRUPTED works with brands like P&G to lift today's youth via positive storytelling.
P&G has its own effort, called Widen the Screen, aimed at more realistic minority stories than the extremes we see in movies.
Hawkins and his son deliver a strong message of what today's youth can do, regardless of status or background.
About Hawkins And His Film 
Andrew Hawkins started his NFL career with the Cincinnati Bengals before coming north to the Browns.
His career-best season was with Cleveland in 2014, when he racked up 824 yards on 63 catches.
After retiring in 2016, Hawkins started a podcast with the great Joe Thomas called "The ThomaHawk Podcast."
That project helped both former Browns land other broadcast jobs, including gigs with ESPN and the NFL Network.
Andrew Hawkins flew at 3AM to New York for school, then flew back for NFL practice, and TV show everyday.

And he still graduated from an Ivy League with a 4.0 GPA👏🏾👏🏾👏🏾 pic.twitter.com/sEVwm5fMwR

— CultureCentral (@CultureCentral1) May 26, 2021
Hawkins' involvement with UNINTERRUPTED  makes sense as its goal is to unite athletes, brands, and creators.
And his short film hits all the goals of UNINTERRUPTED and P&G's Widen the Screen.
The film uses a common event and typical comment to kick off a dream of bigger things.
Hawkins is tossing a football to his son when a passerby compliments the boy on his good hands.
The man's compliment ends with a comment about how his hands "will take him places."
And that sets the message in motion.
Black Youth Are More Than Athletes 
His words seemed innocent enough, and he did not mean to perpetuate a common and subtly racist perception.
Black youth often see (and are often pushed into) athletics as "their only hope" to be successful.
Sure enough, Austin's eyes grow big at the thought of an NFL career, "easy money" as he calls it.
Hawkins seems lost for a moment, undoubtedly remembering how he willed his diminutive frame into the NFL.
As Austin goes deep for another toss, Hawkins narrates a list of other possible futures for Austin's hands.
Former Browns wideout Andrew Hawkins received his Columbia degree, hoping to become a GM after his playing career https://t.co/nJVL8aZrps pic.twitter.com/IdSvV4sef7

— NY Daily News Sports (@NYDNSports) May 16, 2017
And ends with the poignant reminder that his son's destiny does not have to revolve around a ball.
The youngster weaves his way past a neurosurgeon, an artist, and an astronaut.
Hawkins tells his son he can be content to catch the ball, but he can also own an NFL team someday.
Following his story, including how he earned a 4.0 GPA at Columbia University, it seems obvious Hawkins is more than a football player.
And we should look forward to watching his post-NFL career blossom along with Austin's.