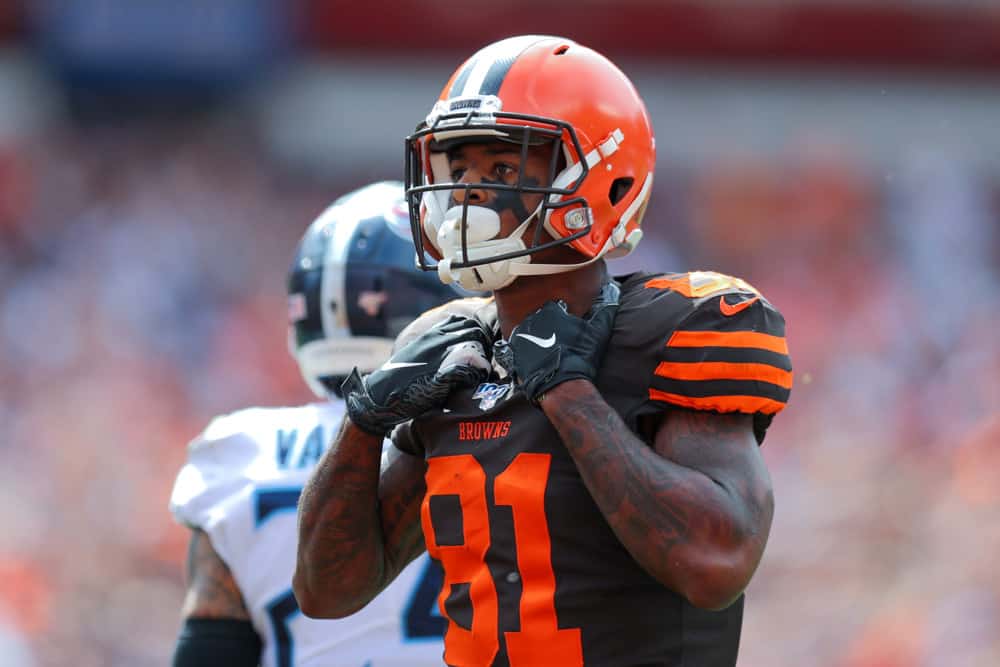 Coming into the 2019 Cleveland Browns season, one position that the Browns felt they had no weaknesses in was wide receiver.
On the roster were two Pro Bowlers, Jarvis Landry and Odell Beckham Jr, and two young players hoping to make a mark in Antonio Callaway and Rashard Higgins.
Early in last season's training camp Higgins developed a rapport with quarterback Baker Mayfield and was often targeted as Mayfield's "safety valve" when Baker needed to get out of trouble.
Higgins was poised to have a breakout season in his 4th season in the league after catching 39 passes for nearly 600 yards last season.
With the number 3 wide receiver position up for grabs, the targets would just be split between him and Callaway.
He had a great training camp and continued to develop his chemistry with Mayfield.
By the end of camp, he had clearly locked up the number 3 receiver position in the team.
All Rashard Higgins has done this spring is catch passes from Baker Mayfield.

— Dan Labbe (@dan_labbe) June 6, 2019
That was until the season started.
After an injury in Week 1 took him out for 6 weeks, Higgins never regained his place in the pecking order.
This is something that has left fans and coaches alike scratching their heads.
Not many in the Browns organization have commented on Higgins' status and inclusion in the offense this season, but Offensive Coordinator Todd Monken commented about Higgins' situation over a month ago.
"First off, it is tough for Rashard just the way the year started and in terms of I thought he had a really good start to the year and then he got hurt.
I would not say it was a setback, but it certainly does not help when you are not practicing and not out there."
Very true, injuries derail seasons.
Fans see this every season with athletes in all sports.
Monken went on to mention the change in roles on the offense with OBJ in the lineup, but then said something really interesting.
"Obviously, he is a guy Baker has real comfort in. We do have to get him involved. We do. You are right. Have him a bigger factor in what we do. It is only so much you can do. Like I said before, one ball, but it has been frustrating I am sure for him and for us."
So at the beginning of November Monken acknowledges the Browns need to get Higgins more involved, yet they haven't.
#Browns Damion Ratley played 16 snaps Sunday as No. 3 WR, KhaDarel Hodge played 13. Rashard Higgins didn't play on offense, played 1 snap on special teams. Hasn't had a catch in 4 games, been targeted 4 times in that span.

— Scott Petrak ct (@ScottPetrak) December 9, 2019
Higgins hasn't caught a pass since Week 10.
He hasn't been targeted more than once in a game since Week 8.
When the Browns cut troubled wideout, Antonio Callaway, earlier in the year, that should have cleared the way for Higgins to make his return from injury and claim the number 3 job for himself.
Instead, those plays are going to Damion Ratley, the tight ends, and now Kareem Hunt.
The disappearance of Rashard Higgins went to a new level this past week against the Bengals when Higgins was on the field for just one play, and on special teams at that.
So what is going on?
Why isn't Higgins seeing the field?
Surely he's more talented than some of the players ahead of them, and outside of Beckham and Landry none of the wide receivers are setting the world on fire.
Damion Ratley and KhaDarel Hodge have a combined 154 yards yet are now above him in the pecking order.
Is he still feeling the effects of his MCL sprain?
Probably not because over the last 5 weeks, with the exception of the Bengals game, Higgins has been on the field for an average of 40% of offensive snaps.
After the Week 11 loss to Seattle, head coach Freddie Kitchens was asked why Higgins didn't feature, to which Kitchens snapped, "Ask him why he didn't play."
This uncomfortable interaction leads to the suspicion that there are off the field reasons why Higgins isn't playing and isn't getting the ball when he is playing.
The answer is easy if the issue is simply that he's still feeling the effects of his knee injury, just say he knee is still bothering him.
But Kitchens didn't do that.
As Higgins enters the last few weeks of his current contract one thing is clear.
In 2020, Rashard Higgins will be playing somewhere other than Cleveland.