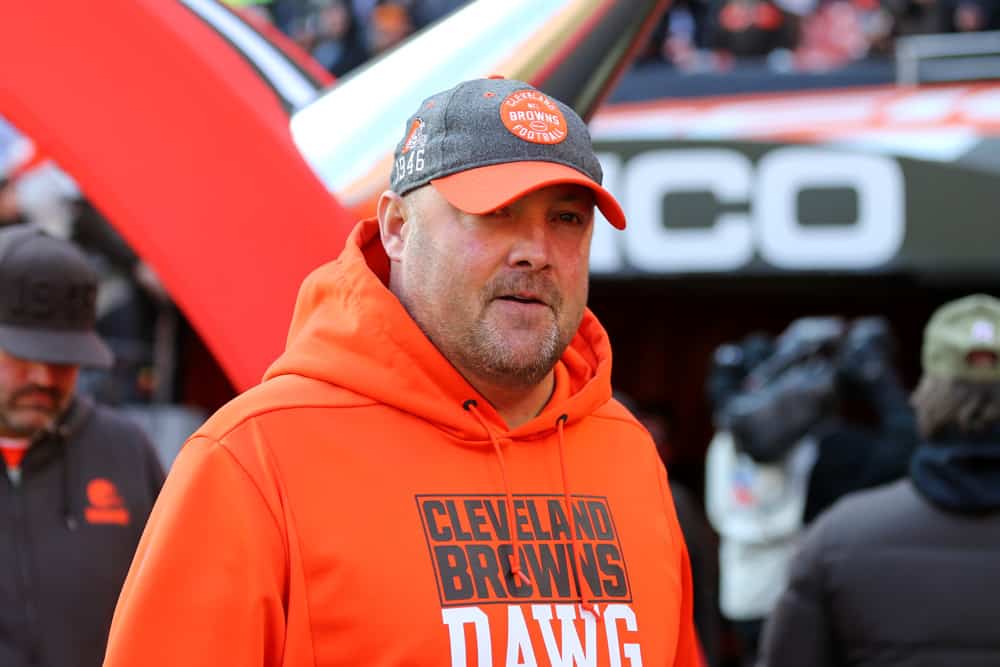 If you don't wear brown and orange, you don't matter.
It wasn't too long ago that Cleveland Browns fans rallied around the now infamous phrase uttered by former head coach Freddie Kitchens.
Cleveland is on to bigger and better things with Kevin Stefanski.
Freddie has moved on as well, now serving as the tight ends coach for the New York Giants.
However, it'll be hard to forget that short but interesting time spent with Kitchens.
On Tuesday, Kitchens admitted he was happy to see his former team doing well these days.
Freddie Kitchens asked what it's like seeing the Browns' success. "Couldn't be happier for the fans in Cleveland." Adds that no two teams, season are alike.

Also was fairly complimentary of Odell Beckham. Say he catches a lot of flak for being himself.

— Jordan Raanan (@JordanRaanan) December 15, 2020
Looking Back
It's no secret the Browns were a disaster under Kitchens.
Not everything was his fault, as there were issues that stemmed from then-GM John Dorsey among others.
Still, it was clear he was not ready to be an NFL head coach.
I truly love Freddie Kitchens. Great guy but was just put in a bad situation that he wasn't ready for. I blame the situation on John Dorsey, 100%. #Browns

— clebrownsnetwork (@clebrownsig) December 15, 2020
Reports of players claiming to want out and general unpreparedness week to week ultimately plagued Kitchens' time at the helm of the Browns.
The numerous additional reasons for his failures have been discussed more than once at this point.
After one woeful 6-10 season, Kitchens, along with Dorsey, were let go.
It's not like Kitchens intended for things to go down like that though.
His tenure resembled that of a 21-year old guy trying to date an older woman.
He may be young, fun, and exciting.
But that woman needs maturity and stability.
Kitchens brought neither of those aspects to Berea.
I still think there is something to be said of his initial relationship with Baker Mayfield though.
At one point in time, those two had a fun and genuine relationship with one another.
Excited for the Baker-Freddie Kitchens relationship to keep going 😂

(via @SimmsAndLefkoe) pic.twitter.com/Hab8zFLqyV

— B/R Gridiron (@brgridiron) January 9, 2019
That is still believed to be one of the main reasons that Dorsey hired Kitchens as head coach in the first place.
Kitchens had to be excited to get his first head coaching gig and have a quarterback he got along with to help lead through it.
Unless he's the most twisted, cynical person of all-time, I don't think he tried to screw things up intentionally.
He simply bit off more than he could chew, and Dorsey helped him take that bite.

What's Next for Freddie?
Some may have ill-will towards Kitchens forever after that season.
Others, however, may want to see him succeed down the road as he continues his NFL coaching career.
Another head coaching opportunity may not be in the cards for him.
From an outside perspective, that's okay.
Some guys are simply better coordinators than head coaches.
Josh McDaniels fits that bill to a tee at this point in his career.
Freddie found something with the Browns offense late in 2018 though.
That was a fun offense to watch each week with an inexperienced group without a plethora of talent.
Kitchens knows the game of football, and he knows it well.
He wouldn't be coaching at the professional level if he didn't.
For him, it just comes down to finding the right opportunity with the right team.
If that eventually puts him back in charge of another team, great.
Maybe he's learned from the mistakes that doomed him in Cleveland.
Otherwise, he'll enjoy time as a coordinator or positions coach until he hangs up the headset.