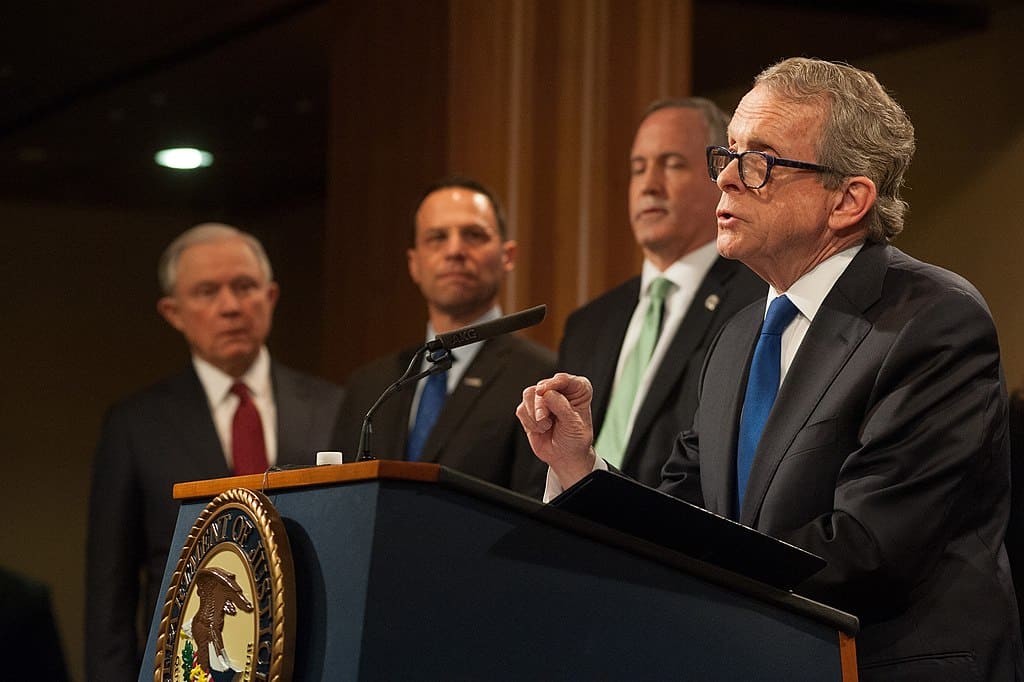 Jimmy and Dee Haslam want fans in FirstEnergy Stadium during Cleveland Browns games.
But they know there needs to be a workable plan to meet the challenge of controlling the Covid virus.
With input from University Hospital and other health entities, the Browns submitted such a plan to Ohio authorities.
Now they await approval from Governor Mike DeWine to learn if fans will watch games live during the 2020 season.
@Ohio @Cleveland *The Cleveland Browns' 2020 stadium plan includes pods of fans, but team is still waiting on necessary approvals https://t.co/GjK8R0qnAW via @CrainsCleveland

— onahunttoday (@onahunttoday) August 26, 2020
At his regular Covid press conference Thursday, DeWine acknowledged the Browns plan is "doable, very professionally done, very thoughtful."
He went on to say he trusts the Browns and Bengals can manage a number of fans.
But he also said,
"We've got to take a deep breath and see exactly where we are before we make a decision about professional sports allowing fans. But it's a good plan."
One of the problems is the time frame before and after games.
Managing fans inside the stadium is easier than preventing congregations before and after the games.
Ohio's Covid regulations limit gatherings to 10 or fewer people and limits indoor dining and drinking establishments.
What Ohio Requires of the Browns
On Wednesday night, the Ohio Department of Health released guidelines for fall sports at every level.
According to those guidelines, attendance is limited to the lesser of 1500 fans or 15% capacity.
The percentage limit is lower than the 20% goal (13,000 fans) of the Haslams.
That would be a moot point as the Browns would be limited to the lesser number of 1500 fans.
Ohio Governor Mike DeWine has announced the Ohio Department of Health will permit contact sports, including the fall sports of field hockey, soccer and football

#Akron #Columbus #Football #HighSchool #Ohio #OHSAA #Sports #Toledo https://t.co/5V3wyTpbcy

— Midwest Sports Network (@MWSNsports) August 24, 2020
However, there is a stipulation that waivers can be granted if a team or venue submits a plan acceptable to both the state and local health departments.
Gov. DeWine's comments indicate the Browns' plans have been received.
But the team has a lot of work to do to implement their plan.
That puts an urgent time frame on Ohio if the Browns are to host fans for their home opener on September 17.
Cleveland already knows they will play their season opener in an empty stadium.
Although Baltimore gave the Ravens approval to seat 7500 fans, the team decided to go with an empty stadium for the early part of their season.
What Fans Can Expect 
Much of what the Browns' plan entails is familiar to fans dealing with Covid the past 6 months.
But there are a couple of surprises.
Cleveland's plan includes a self-health check by fans before leaving their homes.
We've detailed our FirstEnergy Stadium Responsible Restart Plan in a letter to season ticket members

Details » https://t.co/HSarHnOjCO pic.twitter.com/hpVyeS1P93

— Cleveland Browns (@Browns) August 26, 2020
Fans are trusted to stay home if they have a fever or any of a group of symptoms listed in their screening document.
That may sound lax, but the odds of recording a high temperature on the exposed forehead of a fan during an Ohio winter are pretty long.
Seating will consider fans' podding habits before instituting social distancing.
If a group of season ticket holders interacts or cohabitates outside the stadium, up to 10 of them can sit together at the game.
That group, or pod, would be separated from other groups in a carefully planned seating arrangement.
The entire stadium is set up in quadrants, limiting interactions by assigning gates and paths to the seats.
Masks are required and there is no walking around the stadium except to visit the bathrooms and concessions.
Fans should expect plenty of signs, hand sanitizer stations, and trained personnel to assist and enforce the rules.
When Will Fans Know? 
The Browns already told season ticket holders they can opt-out of the 2020 season without penalty.
Those who still hope to attend games should watch their e-mail carefully.
DeWine's comments did not indicate an immediate decision is forthcoming.
"We have been in consultation with the teams. They have been very forthcoming and have a good plan. We are not there yet. We are just not ready to do that. It doesn't mean we can't do it and it doesn't mean we won't do it at some level, but we are not there yet."
But there is some hope, and when a decision is made, fans will need to act quickly to secure tickets.
The Browns are ready to share exactly what that entails as soon as they get the go-ahead.
In a virtual press conference this week, Jimmy Haslam predicted a quick implementation once approved.
"I would not want to speculate that it needs to be a week or two weeks ahead of time. You will hear us say this a lot today, everybody has to remain fluid and flexible in everything we do," Jimmy said. "I think we have all learned to do that over the last four or five months."