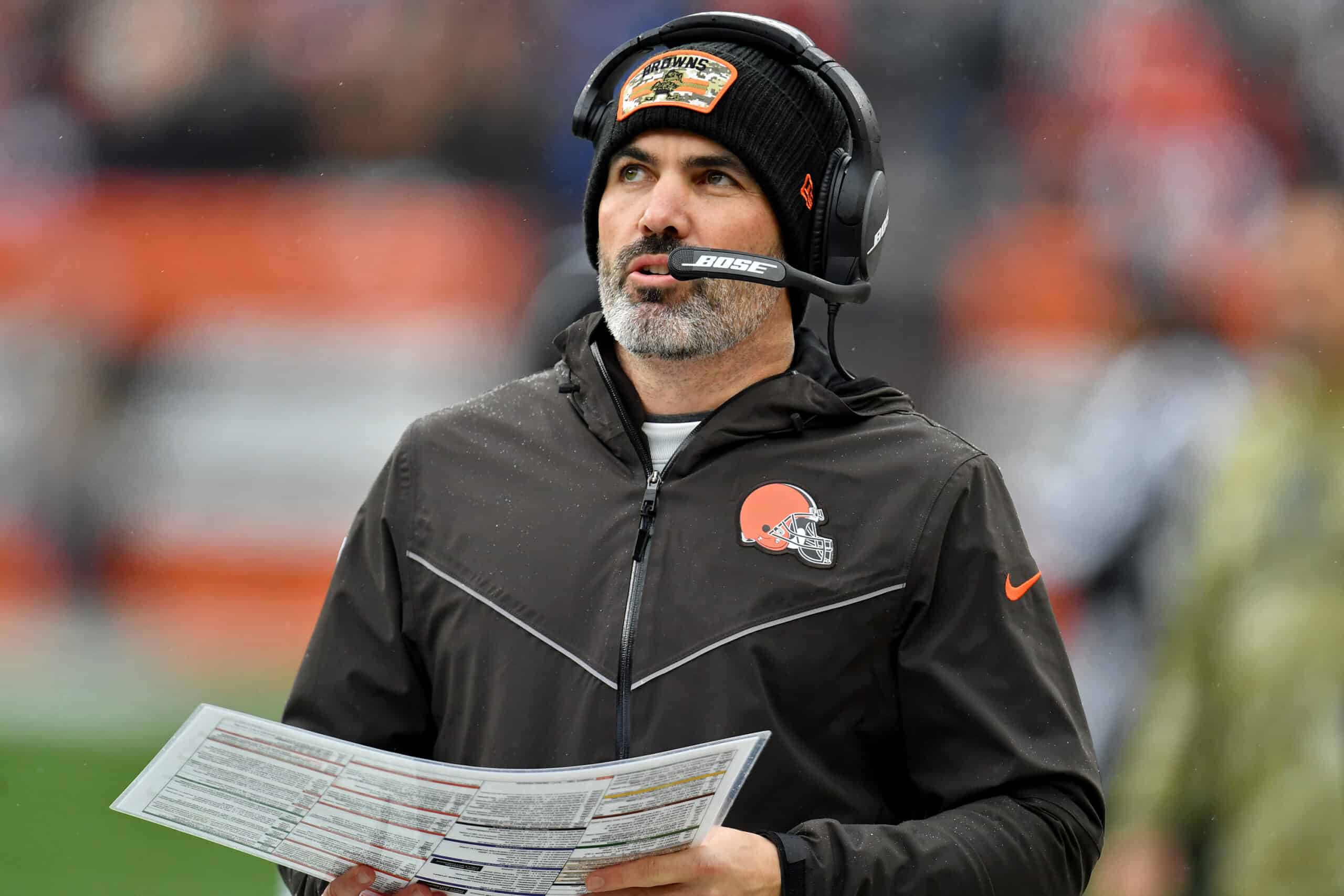 Short of winning the Super Bowl, Cleveland Browns head coach Kevin Stefanski could not have had a better rookie season.
He took a young Browns roster in the middle of a pandemic into the second round of the playoffs before losing to the eventual AFC Champion Kansas City Chiefs.
With that type of success and being named the NFL Coach of the Year as a result, the bar is set higher in the second year.
Football is a team sport, and a lot of things are outside of Stefanski's control as he is not playing the game.
With that in mind, he is still in the midst of a sophomore slump.
As of Week 14, Coach Stefanski earns a "C" grade for his job in 2021.
Here are the reasons why that is his grade.
1. Win-Loss Record
The Browns are 6-6.
Last year at this time, they were 9-3.
This has been a challenging year beyond wins and losses.
However, Stefanski himself would likely say that injuries and obstacles are part of the game that every team deals with.
The most successful team is the one who handles the challenges the best.
The Browns have not successfully handled the challenges.
If they did, they could and would be at least 9-3.
They allowed the Chiefs, Chargers, and Ravens to win their games with late heroics instead of dominating play for a full four quarters.
This is a sport where the head coach is the hero and the fall guy depending on how his team plays.
Last year, Stefanski was the hero; this year, he is the fall guy who is accountable for the mistakes.
#Browns HC Kevin Stefanski: "We have an opportunity here and we have a big challenge right in front of us in Baltimore. The expectations for all of us are high and that's really where they should be."

— 92.3 The Fan (@923TheFan) December 6, 2021
2. Offensive Play Calling
Part of the accountability on Stefanski is that he continues to be the offensive play caller during the game.
Except for the game when he had COVID-19 and was watching from home during the playoffs in 2020, Stefanski has not given up this role to offensive coordinator Alex Van Pelt.
Situations where he has abandoned the run, played conservatively, and just blatantly called the wrong play are on him.
#Browns HC Kevin Stefanski: "We need to produce on offense. Very simply, we need to score points."

— 92.3 The Fan (@923TheFan) December 6, 2021
#Browns GM Andrew Berry said he has a ton of confidence in HC Kevin Stefanski as a play caller

— Nate Ulrich (@ByNateUlrich) December 1, 2021
3. Players/Families Social Media Usage
This is a big one that all head coaches have to deal with, and it is understandably very difficult to tell well-paid professionals how to conduct their personal business.
Super Bowl Champion coaches like Mike Tomlin and Andy Reid have issues with this too.
However, this year the Browns have been the worst offender of using social media to cause disarray in the locker room.
#Browns it's clear Stefanski has lost his locker room and respect from his players. Otherwise we wouldn't see the social media drama amongst players. Good teams don't bash each other on social media during the season.

— Ryan (@rzwolenik17) November 29, 2021
What's worse is that the Browns' self-inflicted wounds came from family members who are biased toward their loved ones and have little idea what the team dynamic is inside the locker room.
Odell Beckham Sr., Emily Mayfield, and Kareem Hunt Sr. did a tremendous disservice to this team with social media this season.
We will probably never fully know the division and distraction all of this activity created.
Winning in the NFL is difficult enough; a head coach has to figure out a way to get these players to understand that social media can sometimes be destructive.
Stefanski, like the rest of the Browns team, has five games to right the ship and get that "C" grade up to an "A" with a lot of wins and hard-fought games.