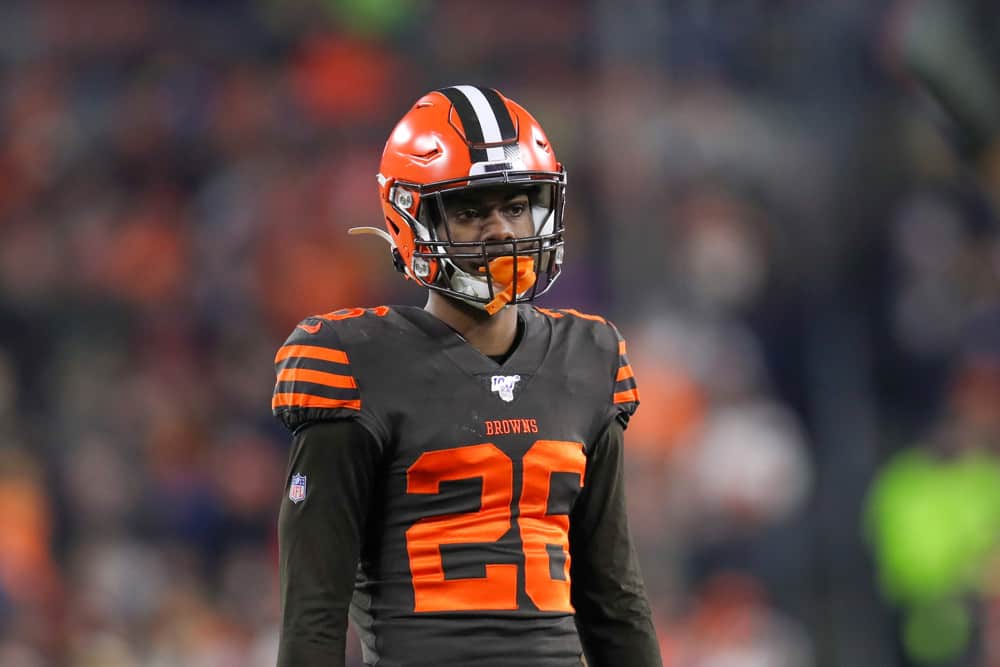 The loss to the Baltimore Ravens on Monday night gave Browns fans knowledge of one thing.
The secondary needs help.
Denzel Ward missed the contest with a calf injury, and the absence of their number one corner showed.
Grant Delpit missing this entire season also adds an element of unknown to the secondary.
One member the unit sorely misses right now is Greedy Williams.
He's been dealing with a shoulder injury since late-August that's kept him out this entire season.
On Monday, the cornerback gave us an update on the shoulder injury.
Axillary nerve damage in the shoulder.

— Greedy Williams ™️ (@Greedy) December 14, 2020
This what I've been fight this season this just takes time to recover. I'll be back ASAP❤️ https://t.co/Ob02L26az7

— Greedy Williams ™️ (@Greedy) December 14, 2020
When Will He Be Back?
It was largely assumed that Williams would be missing the entire season.
Some even feared the injury could be a detriment to his career.
However, head coach Kevin Stefanski did not rule out a return for Williams this season when he spoke to the media on Tuesday.
Stefanski pushes back on CB Greedy Williams (shoulder) necessarily being out for the season (though the #Browns are running out of games)

— Jake Trotter (@Jake_Trotter) December 15, 2020
#Browns Injury updates:
Andrew Sendejo has a concussion
Myles Garrett, Jedrick Wills, Wyatt Teller to be evaluated through week
Denzel Ward and Khadarel Hodge "progressing"

Also refused to rule Greedy Williams out for rest of year, he continues to work hard to get back

— Daryl Ruiter (@RuiterWrongFAN) December 15, 2020
While that's good news for Williams, who is eager to return, the Browns cannot bank on him coming back.
I'm no doctor, but through some quick internet reading, his injury isn't exactly light.
Even if he is back to a "playable" form, how much of an impact would he have on the field?
He could end up being more of a liability than some of the guys replacing him.
Long-term he should be fine, but the Browns window of success extends beyond this season.
Williams is someone who will contribute to that, so it's best not to rush him back onto the field and risk re-injury.

Secondary Help
As mentioned, the Browns secondary unit has struggled, especially without Ward on the field.
Although, Monday night may not have been as bad of a performance as some make it out to be.
If I were the Ravens I definitely wouldn't be celebrating right now… Their "elite" QB completed a grand total of 11 passes for 163 yards tonight against an injury-depleted & horrific #Browns secondary, consisting of Boner Sendejo, MJ Stewart, Terrance Mitchell, and Karl Joseph.

— Roberto Shenanigans (@Rob_Shenanigans) December 15, 2020
The talent is just not there right now with that group.
The loss to Baltimore was just a tough outing against a dynamic offense that seems to have found some footing again.
It's also an obvious area of concern.
If the narrative around the secondary was that of it being an elite, shutdown group of guys, their performance against the Ravens would leave us surprised.
But them struggling doesn't (or, at least it shouldn't) surprise many because we know that unit isn't great.
That's what happens when you have a youthful bunch that are dealing with injuries.
Greedy Williams is not the savior of the Browns secondary.
His return, whether it be this season or next, will not cure all the issues there.
However, getting him back is one piece of the puzzle.
It's up to Andrew Berry to get the right guys for next season and on Cleveland's coaching staff to put them in positions to succeed.
It was a bummer to watch a great performance from Baker Mayfield and the offense practically go to waste because the defense couldn't get a stop.
Again, Williams is not the magic answer to the defensive woes.
The defense does need to get healthy though.
Having Greedy on the field again will add some life to the defensive side of the football.