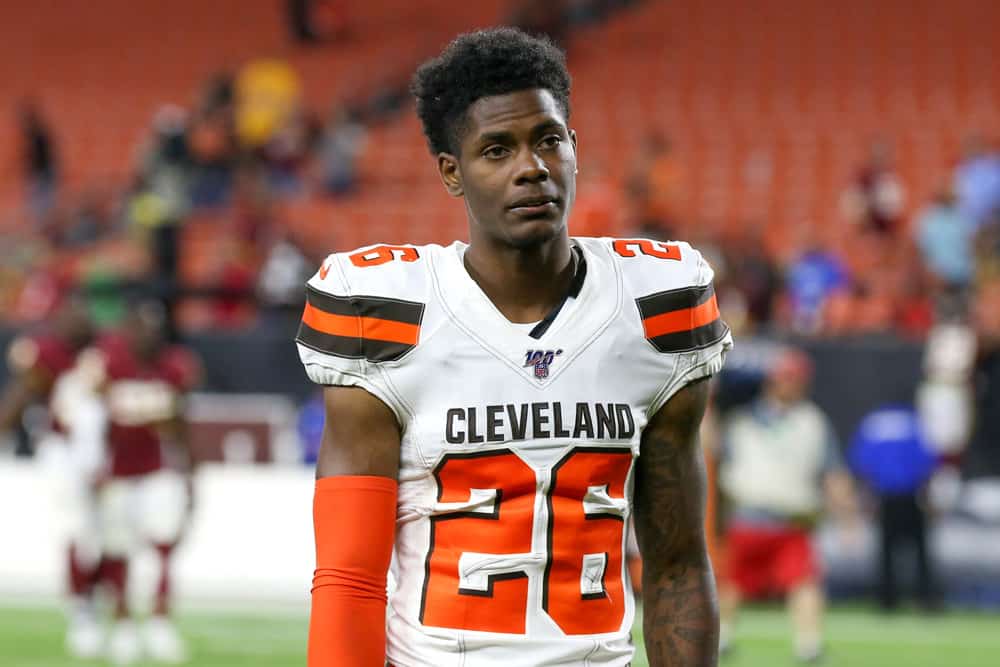 The Cleveland Browns defeated the New York Giants in the second preseason game by a score of 17-13.
Though the Browns added a win and are 2-0 on the preseason, the team did suffer a loss.
Cornerback Greedy Williams left the game early and did not return.
He reportedly suffered a groin injury.
Browns announce groin injury for Greedy Williams. He started the second series but didn't finish it.

— Zac Jackson (@AkronJackson) August 22, 2021
Williams was a second round pick (46th overall) in the 2019 NFL Draft.
Staying healthy has been a persistent problem for him.
He started in 12 games in 2019 but missed the entire 2020 season with a nerve injury in his shoulder.
Friday, he left practice early with a migraine.
#Browns announced Greedy Williams left practice today due to a migraine. Could've been way worse.

— MoreForYouCleveland (@MoreForYou_CLE) August 20, 2021
Williams Is Fighting For A Starting Position
Since the Browns drafted Greg Newsome II in the 2021 NFL Draft, Williams' status has been up in the air.
When he is on the field, he is not exactly logging big statistics.
He recorded 37 solo tackles in his 12 games in 2019.
Williams' injury may be irrelevant as Newsome seems to be the frontrunner for the starting job anyway.
Greg Newsome II moves a big step closer to wrapping up the #Browns starting cornerback job with Greedy Williams leaving the #Giants game with a groin injury: my column https://t.co/kCYy6tSLha

— Mary Kay Cabot (@MaryKayCabot) August 22, 2021
Severity Of Injury Is Unknown
There has been no information provided on the injury.
Given Williams' history, many expect the worst.
2020 Injury Was Devastating
Williams had a tough rehabilitation and comeback from the nerve injury in his shoulder that he suffered during the 2020 preseason.
It happened during a tackling drill.
Williams described the events leading up to his injury
"We were doing this tackling drill. It's supposed to be receivers running towards the sideline and we just wrap them up like formal tackling or whatever. It got out of hand and guys just started hitting like crazy with all of their force. I went and tried to hit a guy with all my force and he ducked his head into my shoulder and ran through my shoulder.''
He did not think it was as severe as it turned out to be.
#Browns coach Kevin Stefanski said he's really proud of CB Greedy Williams in comeback from shoulder injury. Everyone involved viewed Greedy practicing in pads Wednesday as a significant moment.

— Nate Ulrich (@ByNateUlrich) August 6, 2021
Williams was more preoccupied with Grant Delpit's Achilles injury which happened just before his.
He talked about missing out on the Browns' successful 2020.
"I wanted to be out there. Just sitting and watching and not being on the airplane and not being at the facility around the team, it put a lot of stress on me.''
Hopefully, his groin injury is not serious, and he can return to the field soon to compete for a starting job.