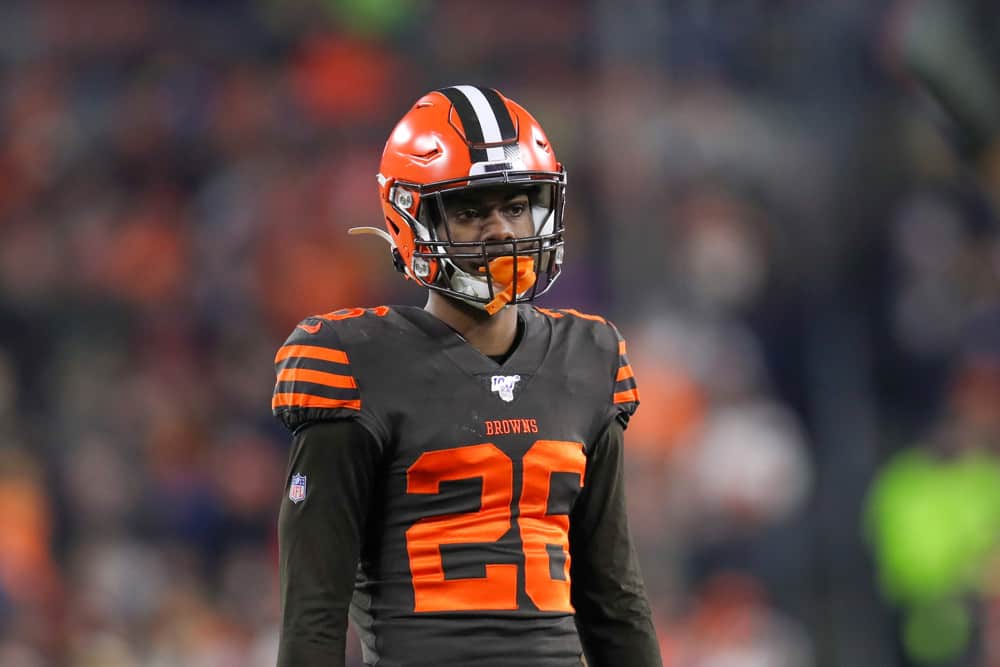 The Cleveland Browns will be without defensive back Greedy Williams Sunday as he continues to recover from a shoulder injury.
Williams was expected to play a key role opposite of Denzel Ward in the Browns secondary.
However, Williams is slated to miss his fifth straight game to start the season on Sunday.
Some Browns fans have become frustrated with Williams' injury history early in his Browns career.
Williams agreed with a tweet supporting him on Friday afternoon:
"We don't listen to those kinds of people I know what I'm dealing with," Williams wrote on Twitter Friday after being listed at out for Week 5.
We don't listen to those kinds of people I know what I'm dealing with https://t.co/V2w26HnsCX

— Greedy Williams ™️ (@Greedy) October 9, 2020
How is Greedy Williams' Extended Absence Impacting the Browns?
In 2019, Williams played 12 games and the Browns went 5-7 with him in the lineup.
However, a hamstring injury sidelined him for one-fourth of the season.
Cleveland went 1-3 without him last year.
The Browns finished with the 20th-ranked defense in the league last season.
They are ranked 27th overall in defense this season.
Being without Williams, the Browns have struggled to keep opponents off the board.
In three of the four games this season, Cleveland has allowed at least 30 points.
Fortunately, the Browns have been able to excel on offense and win three of their four contests.
How Have the Browns Succeeded on Defense?
While the Browns defense has allowed the sixth-most points and eighth-most yards, the unit has done some things right.
Cleveland has the most takeaways of any team this season.
In the last two weeks, the Browns have forced a combined eight turnovers by their opponents.
In Week 3, they dominated the Washington Football Team's offense en route to a five-turnover day.
In the fourth quarter of the 34-20 victory, Myles Garrett sacked Dwayne Haskins Jr. and forced a fumble.
It was Garrett's second forced fumble of the season and his second recovery as well.
In Week 4, he notched his league-leading third forced fumble of the season.
Garrett also is atop the NFL's leaderboard with five sacks in 2020.
It is great to see him being successful on the field after his 2019 season was cut short.
If the Browns can get fully healthy in 2020, then maybe they can move out of the bottom 10 in defense this season.
Who Should Williams Replace in the Secondary When He Returns?
Unfortunately, while Williams has been out, cornerback Tavierre Thomas and free safety Andrew Sendejo have struggled.
The Browns hope that Williams can return soon because both have allowed a quarterback rating above 100.
While Williams will not be able to replace Sendejo at safety, maybe Williams' return can help in some way.
On 15 targets, Sendejo has allowed 12 completions, three touchdowns, and a perfect passer rating.
Meanwhile, Thomas has allowed 16 completions on 20 targets.
His opposing quarterback rating is 112.9, the second-worst mark on the Browns.
If Williams can return within the next couple of weeks, maybe he can help this Cleveland defense.
However, Browns fans have to hope that he can help continue the defensive unit's barrage of turnovers.