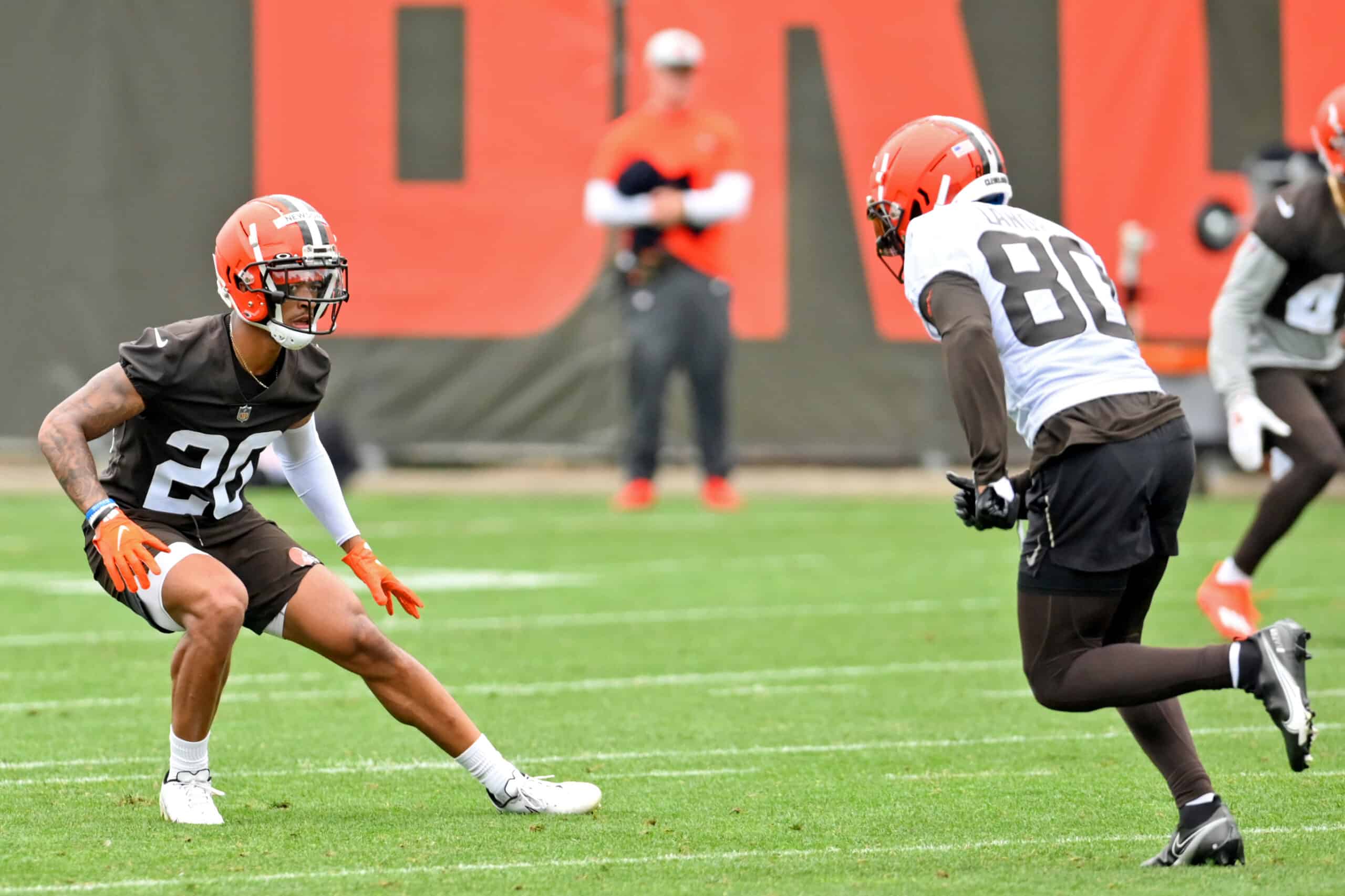 One of the best pieces of news leading into Cleveland Browns training camp was that Browns' first-round draft pick Greg Newsome II signed his rookie contract.
We have signed deals with rookies CB Greg Newsome II and WR Anthony Schwartz.

All eight members of our 2021 draft class have signed their rookie deals.

📰 » https://t.co/kth20R2et7 pic.twitter.com/A2Im9vW7a0

— Cleveland Browns (@Browns) July 24, 2021
The team was eager to get Newsome into camp because there are high hopes for the Northwestern cornerback to play a pivotal role on the 2021 Browns defense.
Thus far, he has not disappointed.
In footage of the recent Episode 5 that dropped on August 1 of the Browns documentary series Building the Browns, we see proof on video of Newsome's skills.
👀👀 @gnewsii

🎥: #Browns pic.twitter.com/hTV69ezzO9

— Jake Burns (@jake_burns18) August 1, 2021
On the play, Newsome shows great hands and feet while hauling in the interception.
Will Newsome Be A Starter?
There is a good possibility that he will.
Part of the reason that the Browns drafted him was because he is adept at playing different coverages and schemes.
Greg Newsome II vs. throws 10+ yards downfield:

🔹15 targets
🔹1 reception allowed
🔹0 TDs / 1 INT
🔹11.8 passer rating#Browns got a STUD🔒 pic.twitter.com/AS2bYcYnZY

— PFF (@PFF) May 6, 2021
He is part of the new generation of players brought in during the Andrew Berry era; they are young, fast, smart, and multi-faceted.
Defensive coordinator Joe Woods is already experimenting with using Newsome at both the corner and slot positions.
After mandatory minicamp, Woods said:
"When we come back in training camp, we will see how he progressed and for him to keep moving in that direction or just focus some more outside at corner. Right now, I believe he is capable of playing both positions."
Using Newsome in both positions will allow him to be on the field with Greedy Williams for some plays.
Since he was drafted, there has been media speculation that Williams' future with the Browns was in jeopardy.
Williams' persistent injuries have stymied his career.
He was out for all of 2020 with a nerve injury in his shoulder, and there was concern early in camp when he left the practice field with a trainer.
#Browns CB Greedy Williams walked off due to heat-related issues today. Expected to be OK.

— Tom Withers (@twithersAP) July 28, 2021
That later was reported to be a heat-related issue.
Watching how the Browns utilize their new depth at defense and seeing how Newsome competes for a starting job are storylines to watch as Browns training camp continues.