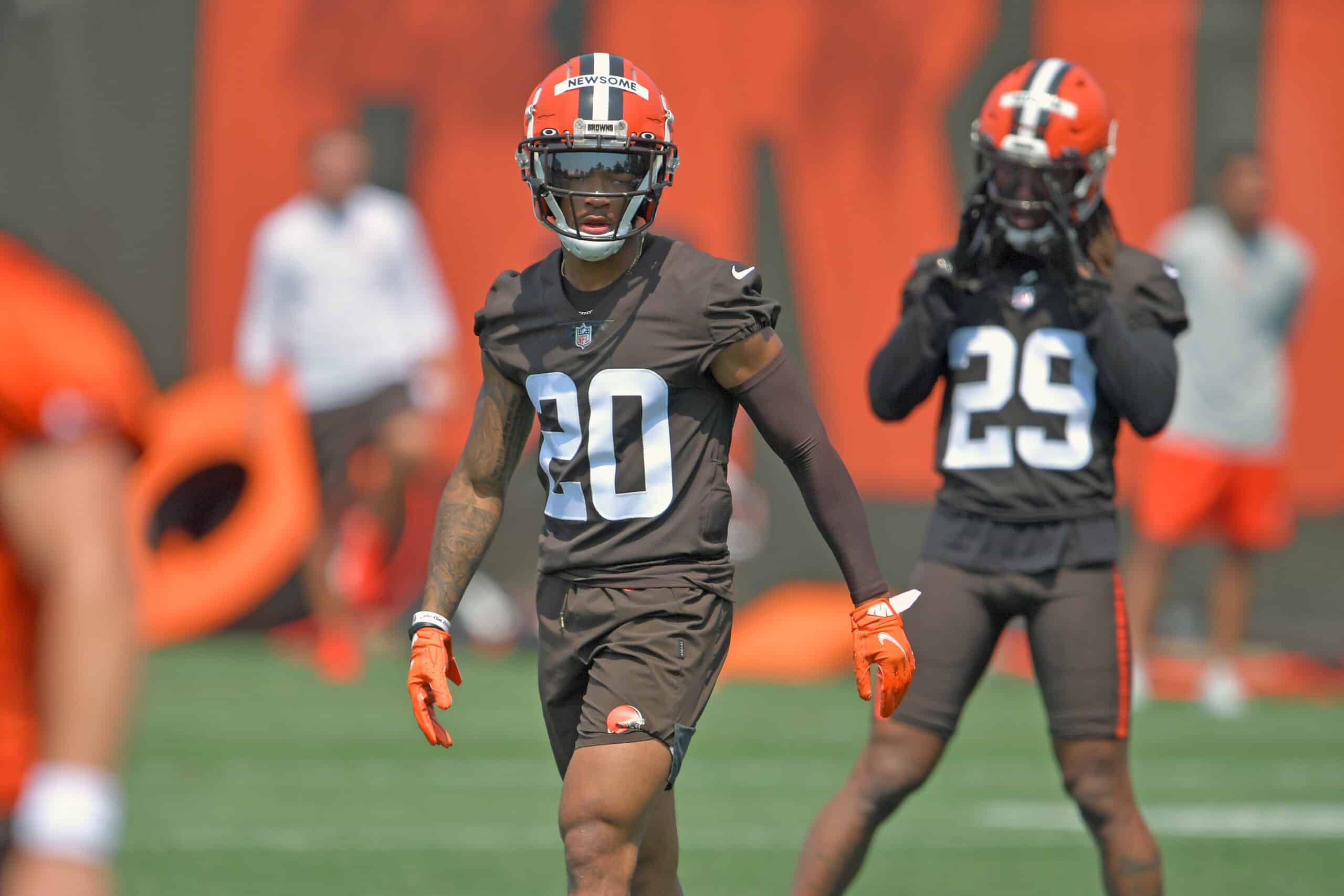 Cleveland Browns rookie cornerback and first round pick in the 2021 NFL Draft, Greg Newsome II, took to social media to welcome the latest first round draft pick to the city.
He is USC star forward/center Evan Mobley.
Mobley was the third overall pick of the Cleveland Cavaliers in the NBA Draft held on July 29, 2021.
Newsome congratulated Mobley on Twitter.
Congrats bro💯 welcome to Cleveland‼️ @evanmobley https://t.co/ug8qNq285T

— Greg Newsome II (@gnewsii) July 30, 2021
The Cavs have struggled to regain their footing after LeBron James left for the second time so everyone hopes Mobley gives the team the shot in the arm it needs to compete.
As for Newsome, it is nice to see that the 21-year-old is paying attention to what is going on in his new home city.
Newsome Is Adjusting To Cleveland
He is a Chicago native and went to Northwestern so he is not far from home.
Newsome already loves the Dawg Pound.
#Browns Greg Newsome II laughed and said fans have recognized him everywhere, even after changing his hair.

"I love the Dawg Pound for sure."

— Camryn Justice (@camijustice) July 28, 2021
And he is leaning on new teammate linebacker Anthony Walker to help him make the transition from the NCAA to the NFL.
#Browns Greg Newsome II on Anthony Walker: "He's been the best big brother…I'm talking to him every single day, learning."

— Camryn Justice (@camijustice) July 28, 2021
Newsome's Rookie Season
The Browns did not draft Newsome in the first round with the 26th overall pick to watch from the sidelines.
Based on his college career, he is a talented corner who is capable of playing in various schemes and coverages.
Many have wondered if Newsome's arrival spells the end of Greedy Williams' tenure with the Browns.
When Newsome was drafted, GM Andrew Berry addressed this point by saying:
"Really this pick has no reflection or bearing on Greedy. From our perspective, cornerback is a group where we want to be deep and we want to have a lot of guys that can cover."
Newsome is aware of the talented group he is joining and takes nothing for granted.
"I know that I'm walking into a very competitive room. All those guys are studs. It's going to be a secondary with a lot of swagger."