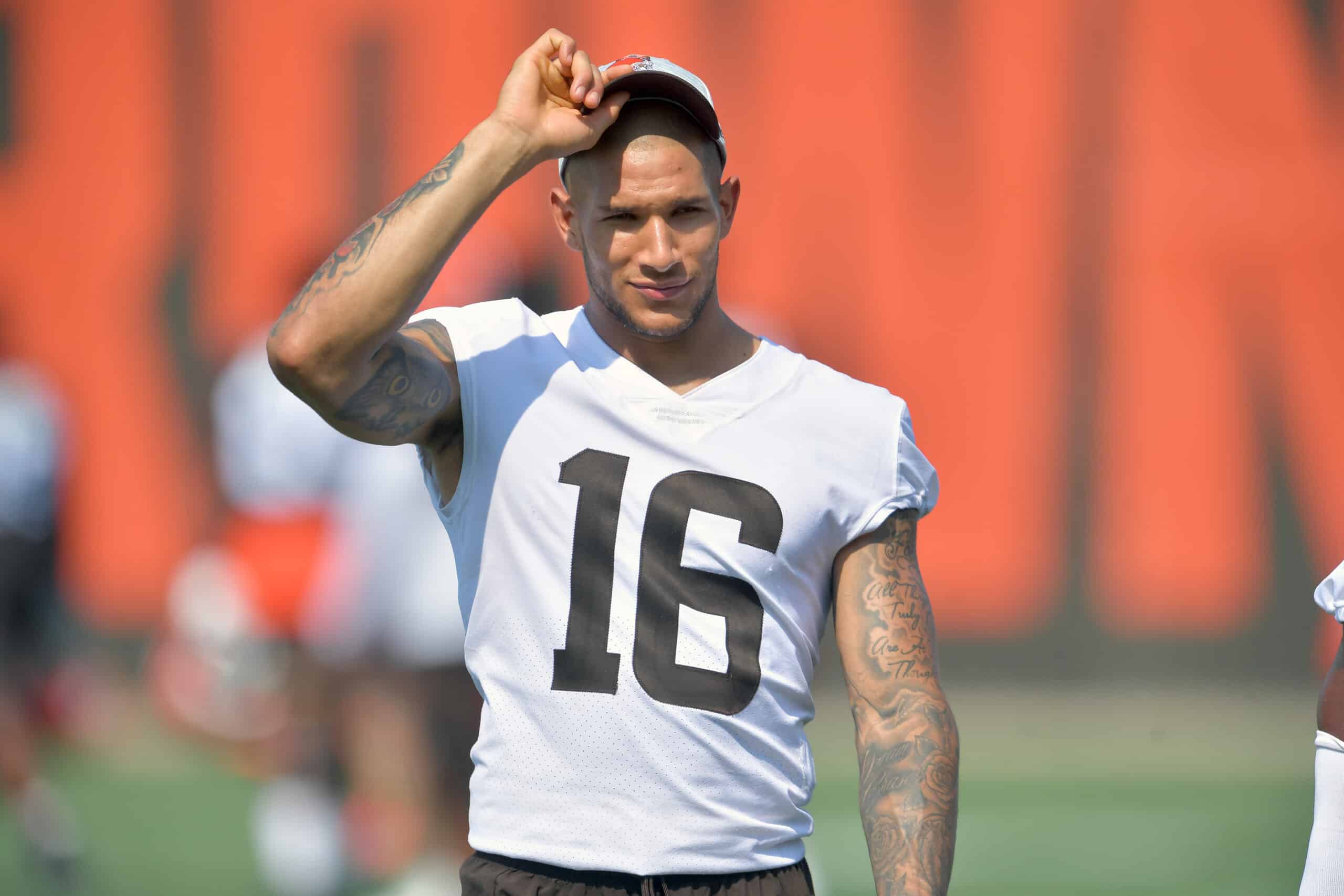 It's been only a few days into NFL training camp, and we already have one retirement announcement.
On Friday, reports came in that Cleveland Browns receiver Derrick Willies had been placed on the reserved/retired list.
#Browns announce WR Derrick Willies placed on reserve/retired list. Had series of injuries in career.

— Scott Petrak ct (@ScottPetrak) July 30, 2021
It's been lost among the craziness of the MLB trade deadline as sports fans prepare for the weekend.
Still, it may come as a bit of a surprise to those who follow the Browns.
Then again, with all Willies has endured as a professional, this may not be that surprising.
Injury History
As the above Tweet mentions, injuries are not a foreign foe to Willies.
A fractured collarbone during his rookie season in October of 2018 and did not return that year after a successful surgery.
After ramping up for the 2019 season and even earning a preseason start, October struck disaster for Willies once again.
This time, a torn ACL is what would sideline Willies for the remainder of the season.
Those are two pretty serious injuries to have to endure in your first two years of professional football.
Another minor surgery on that same knee this offseason may have been the straw that broke the camel's back.
After participating in Thursday's practice, Willies was off the field on Friday.
An official explanation on things has not been laid out by anyone just yet.
However, recovery may just not be going quite as Willies hoped it would.
From personal experience, recovery after a torn ACL is incredibly difficult and often painful.
This is coming from someone who writes about the NFL, not plays in it.
Getting back to the level needed to compete as a pro is a challenge.
Odell Beckham Jr. seems to be recovering just fine from his own ACL injury.
It's not a "one size fits all" type of injury, however, as some guys simply never come back from it.
Mix that with some of the other bumps and bruises Derrick has taken and it starts to make sense as to why he's stepping away.
Legacy
There won't be any "Derrick Willies to the Hall of Fame" campaigns started on social media any time soon.
Yet, Browns fans can certainly appreciate the little time he spent in northeast Ohio.
Never forget this play to help us beat the #Ravens in 2020 best of luck with your next chapter Derrick Willies 🙏🏼 pic.twitter.com/8wTfvuttBa

— Tyler Johnson (@T_johnson_TJ) July 30, 2021
It's a shame that injuries derailed the career of the Trinity Valley Community College graduate before it had a chance to truly get going.
Willies may have never started a regular-season game in the NFL.
However, he flashed the potential to be a solid bench piece.
WR Derrick Willies has had an awesome camp. Getting reps with the 1s and still producing pic.twitter.com/n20poBVbl4

— Jake Trotter (@Jake_Trotter) August 2, 2019
As Brett Favre showed us years ago, no one is ever truly retired.
Perhaps Derrick's body will once again be up for the physicality of the NFL game in the future.
For now, it's clear Willies is prioritizing his long-term health.
With how many life-long football-related issues we see players struggle with after retiring, who can blame him?