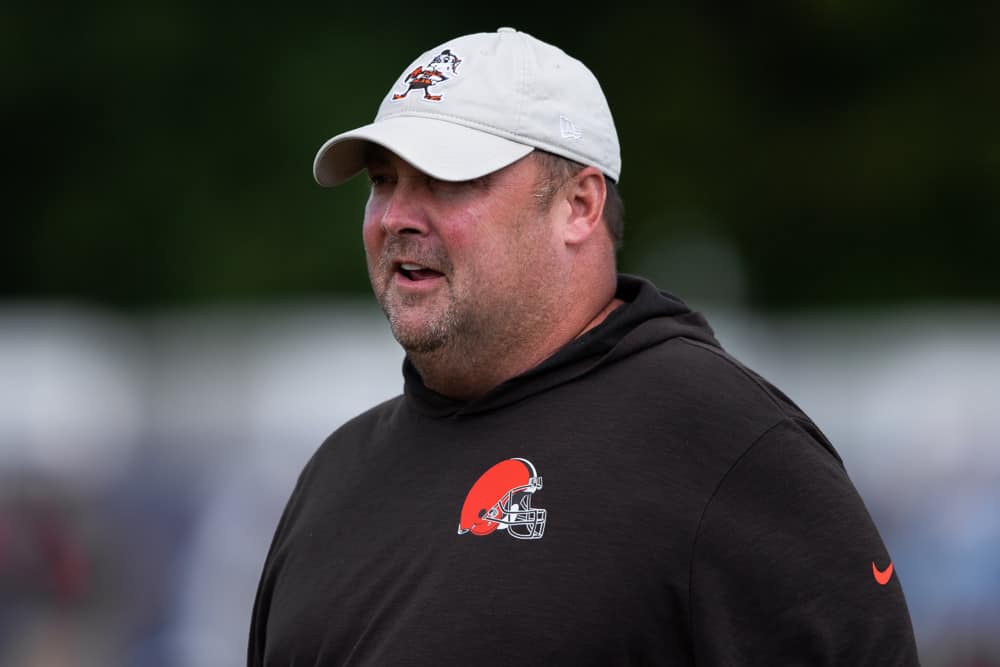 How many people have coached the Cleveland Browns?
The many, many coaches of the Cleveland Browns have had varying levels of success.
One coach won seven championships while another saw his team lose every game in a season.
Between these two extremes lie many different variations.
Paul Brown
The first coach (1946-62) of the Browns is still their best and is among the most critical football coaches of all time.
With a record of 158-48-8 with the Browns, Brown won seven championships and innovated many unique concepts, such as various types of plays and the facemask.
Blanton Collier
Brown's replacement (1962-70) was chosen primarily for his ability to work with star player Jim Brown.
Under Collier, the Browns earned a record of 76-34-2, making him one of the best coaches in team history.
His 3-4 playoff record isn't awe-inspiring, but he did lead the team to their 1964 championship.
Nick Skorich
After the heady days of Paul Brown and Blanton Collier and nearly three decades of excellence, the Browns dipped under Nick Skorich (1971-74).
With a record of just 30-24-2 and two playoff losses, Skorich was the first of many Browns coaches to struggle to keep the team relevant.
But at least he had a winning record.
Forrest Gregg
Like Skorich, Forrest Gregg did little to help the Browns remain relevant.
During his 1975-77 run, they went just 18-23.
And his one-game interim replacement, Dick Modzelewski, went 0-1 during his one game as head coach for the team.
Sam Rutigliano
During his six years with the team (1978-84), coach Sam Rutigliano got to coach franchise-leading quarterback Brian Sipe.
However, his 0-2 playoff record and overall 47-50 record don't quite rocket him to the top of the list.
Marty Schottenheimer
During his five years with the Browns (1984-88), coach Marty Schottenheimer earned a 44-27 record and earned two playoff wins – the first coach to win a playoff game for the Browns since Blanton Collier.
However, Schottenheimer is the last winning coach for the Browns to date.
Bud Carson
Bud Carson's two partial seasons with the Browns (1989-90) were mediocre at best – though he did win a playoff game, he ultimately ended his career 11-13-1 with the Browns.
His interim replacement, Jim Shofner did little better in 1990, going 1-6
Bill Belichick
Belichick is so recognized as the face of the New England Patriots that few remember he started his career on the Browns.
From 1991 to 1995, Belichick went just 36-44 and won only one playoff game.
He was also the last coach of the original Browns.
Chris Palmer
When the Browns returned to Cleveland in 1999, Chris Palmer had big shoes to fill.
However, all new NFL expansion teams struggle in their first few years, and Palmer went 5-27 in 1999 and 2000.
Butch Davis
After Palmer's struggles, Butch Davis was brought in as coach and general manager to help improve the team.
And while his four years (2001-04) did see improvements, the 24-35 overall and 0-1 playoff records saw him gone before 2004 was over.
Interim coach Terry Robiskie finished the year 1-4. Note: the playoff appearance during this time was the last the Browns have experienced to date.
Romeo Crennel
Between 2005 to 2008, Romeo Crennel worked hard to bring the Browns back to their former dominance.
He never achieved that goal – when he left in 2009, he had a record of just 24-40 and no playoff appearances.
Eric Mangini
Eric Mangini's was the head of the Browns for 2 years (2009-2011).
With a record of 10-22, it clearly did not go well for him.
However, this is not the worst head coach record in the team's history.
Pat Shurmur
In two years, Pat Shurmur had a record of 9-23, and the new Browns continued to struggle.
At the end of the 2012 season, he was out.
Rob Chudzinski
After just one season for the Browns (2013), Rob Chudzinski went 4-12 was fired.
Mike Pettine
By the time Mike Pettine inherited the Browns in 2014 (he lasted until 2015), the team had been struggling with years of irrelevance.
Pettine did little to change this with a 10-22 record.
Hue Jackson
Whether fairly or unfairly, Hue Jackson is likely to go down in history as the worst Cleveland coach of all time.
With a record of just 3-36-1 over his three years (2016-18), Hue did not finish 2018 season and his replacement, Gregg Williams, pulled off a 5-3 record.
And new coach, Freddie Kitchens, has yet to prove his mettle on the team.