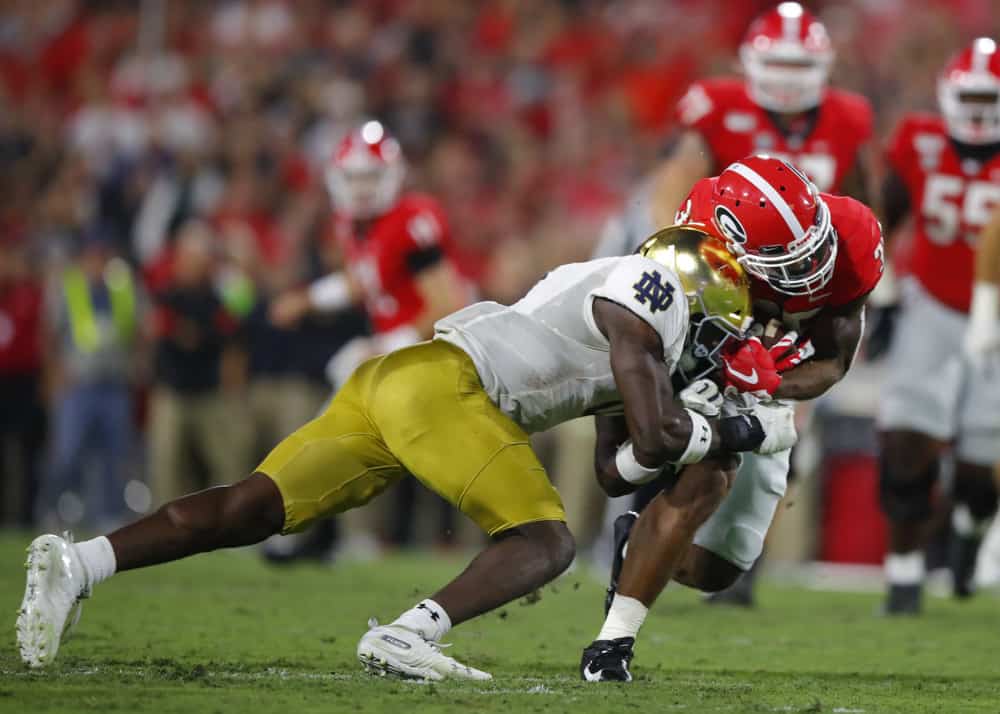 Andrew Berry and his Cleveland Browns scout team hit another homerun with the 2021 NFL Draft.
Three of their first five picks are considered bargains, if not steals, at their draft positions.
And the rest of the draft class is filled with players who could fill niches in the 2021 Browns game plan.
But there is a finite number of players who can be active each Sunday.
And only 11 can be on the field at the same time.
So if the 2021 Browns draft class is all it's cracked up to be, someone has to get out of their way.
Here are 3 Browns players who might see less playing time because of the new draft class.
1. Greedy Williams to Greg Newsome II
When Greedy Williams joined the Browns in 2019, he was expected to bookend Denzel Ward.
With a pair of lockdown man-to-man defenders, Cleveland's defense could take more chances.
But injuries and the lost season under Steve Wilks and Freddie Kitchens took the luster off Williams.
The 2019 season also exposed some concerns about Williams' ability in zone coverage.
Greedy Williams picks off Dwayne Haskins. pic.twitter.com/tlq03wu0vm

— NFL Update (@MySportsUpdate) August 9, 2019
Williams has not played for Joe Woods yet, but he might have already lost his starting role.
Greg Newsome II was not kidding when he said he was the best corner in the draft class.
And there are plenty of analysts who speak as glowingly of Newsome as they once did of Williams.
There is no incumbency working in Williams' favor, only a head-on competition for a role in 2021.
2. Mack Wilson to Jeremiah Owusu-Koramoah 
Mack Wilson and the rest of the Browns linebackers realize Owusu-Koramoah is the best player in the room.
They might have taken solace when commentators said JOK might be more of a safety.
But just about the entire Browns management team called him a linebacker.
Wilson comes off a subpar year anxious to show everyone he is the star Cleveland thought he was in another draft.
🚨 Pick six alert!

Mack Wilson takes it all the way back for the TD.#WASvsCLE

— PFF (@PFF) August 9, 2019
But the jury is still out on Sione Takitaki and Jacob Phillips, too.
And it isn't just a question of one or two linebackers fighting for a job.
Joe Woods is on record with plans to use nickel and dime defenses in most situations this season.
With only one or two linebackers on the field at a time, and versatility being the key, several could lose out.
3. JoJo Natson to Anthony Schwartz or Demetric Felton 
Andrew Berry surprised a lot of folks by drafting two wide receivers.
In Schwartz, Cleveland has the fastest man in the NFL, a world-class sprinter with the medals to prove it.
Felton is a running back who happens to run excellent routes and adjusts well to balls in the air.
If either of these rookies proves able to safely field kickoffs and punts, JoJo Natson could be out of a job.
Thank you JoJo Natson for the spark you provided our special teams during the super bowl run! Your passion was always over the top and we loved it. Best of luck elsewhere pic.twitter.com/2Fj35hML1X

— RAMS ON FILM (@RamsOnFilm) March 10, 2020
Schwartz is the more suspect, with questions about changing directions and slow hands.
But Felton seems like the Swiss Army Knife player Stefanski can get a lot out of.
It seems more likely he could provide a safe-enough return option to make the gameday roster.
JoJo Natson has never returned a kick for the Cleveland Browns, losing 2020 to injury.
But he could be saved if Stefanski's analytical mind feels pushing away a proven veteran is too risky.