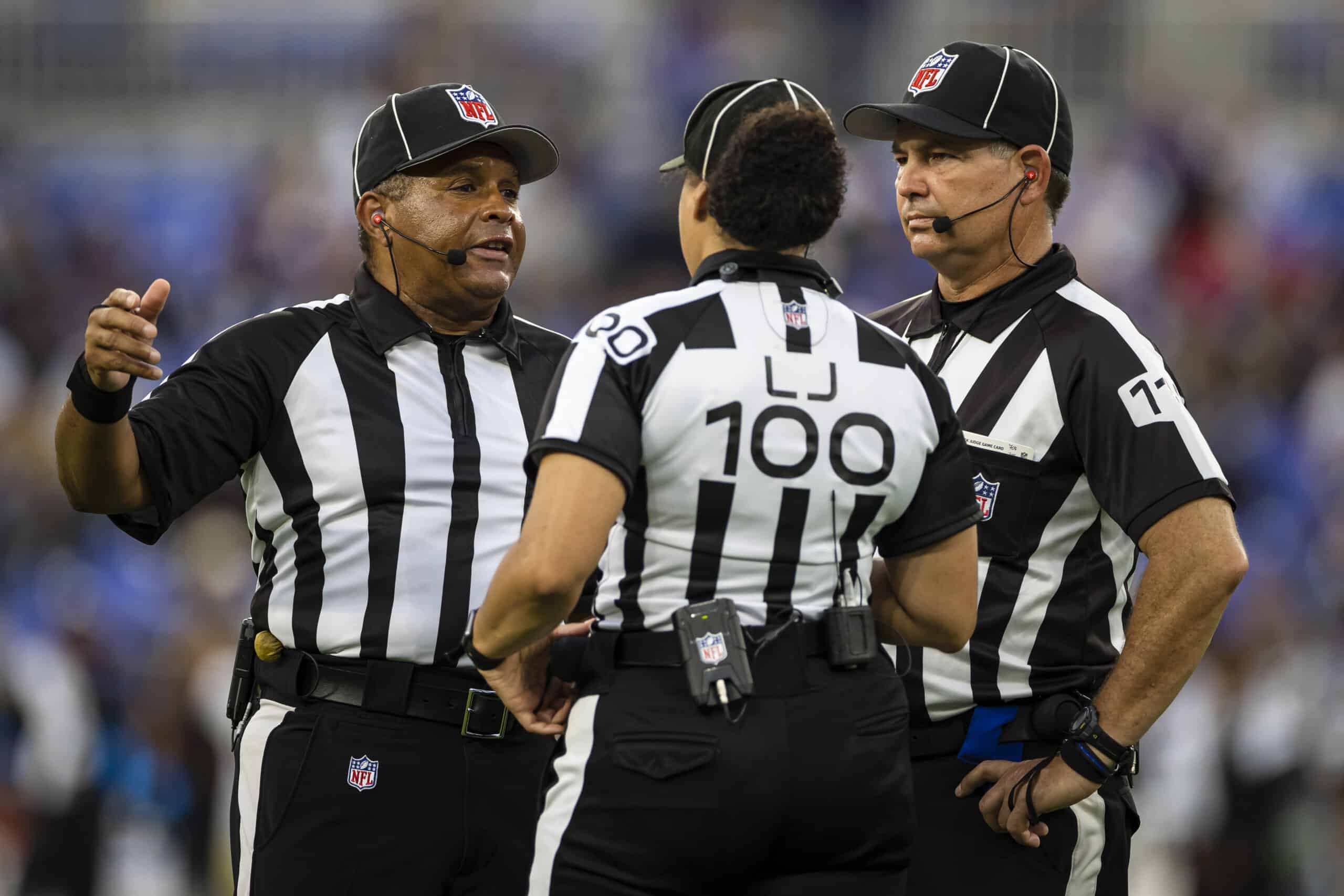 Andrew Berry added a lot of pieces to the Cleveland Browns roster this offseason.
But matching roles to their new players isn't the only thing concerning coordinators Alex Van Pelt and Joe Woods.
Each year, the NFL Competition Committee throws a monkey wrench or two into game plans.
#Browns HC Kevin Stefanski said, "We're full-steam ahead. Whatever the rules are, we'll play by them." Said team can't halt preparations for season.

— Marla Ridenour (@MRidenourABJ) April 2, 2020
This year is no exception, with several rule changes and a couple of points of emphasis likely to affect the game.
How much they affect the Browns is partly up to the officials, but mostly up to the coaching staff.
Fans will soon see how the NFL rule changes affect the Browns games.
1. Low Block Ban Helps The Running Game 
The biggest change to the 2021 NFL rules is a ban on low blocks outside of a newly created tight end box.
Cleveland's pulling offensive linemen no longer have to worry about getting cut down at the knees.
And they stand to win most high contact battles with smaller corners and maybe even linebackers.
Most rushing yards after contact per attempt in last 3 seasons

🔹 Derrick Henry – 4.1
🔹 Nick Chubb – 4.0 pic.twitter.com/aUirSRkp1d

— PFF Fantasy Football (@PFF_Fantasy) September 7, 2021
Most analysts predict teams will take advantage by running outside more.
Runners like Nick Chubb and Kareem Hunt can play off those blocks better.
And if the corner is still upright on contact, Cleveland's starters will power through a lot of those tackle attempts, too.
2. Defense Has To Deal With Low Block Ban, Too
While the offense looks forward to the new low block rules, the defense is probably less enthused.
Browns fans might remember Denzel Ward's famous slide-under-the-blocker-to-make-a-tackle-play.
That same effort this year could elicit a flag for low contact outside the tight end box.
Denzel Ward really SLID under a block to make a tackle 🤯 @denzelward @Browns pic.twitter.com/cfJtLz6Urd

— The Checkdown (@thecheckdown) October 26, 2020
The same play now requires Ward to either take on the blocker or scoot around him without low contact.
Either option gives the runner an advantage, especially in a one-on-one situation.
For that reason, linebackers and safeties have to be quick to respond to the situation.
3. Expect More Holding Calls This Season 
Officials threw fewer flags for holding last season than any in recent memory.
It was a noticeable change after years when even the most inconsequential grab resulted in a penalty.
While the rule is not changed, the comparison between 2020 and 2019 was discussed.
Scoring is way up in the NFL this season, and it's partly due to fewer penalties being called — particularly holding.

NFL offensive holding calls through Week 5 (last five years):

– 2020: 135
– 2019: 274
– 2018: 217
– 2017: 228
– 2016: 237

— Kendall Baker (@TheKendallBaker) October 15, 2020
And the result is that fans should expect something between those two extremes this season.
The key discussion point was "material restriction", or calling only the holds that affect the play.
This should eliminate the non-calls that adversely affected teams counting on their pass rush last year.
4. Taunting Is a Point of Emphasis
When the NFL clamped down on celebrations, it earned the moniker, the "No Fun League."
They have relaxed the celebration penalties since then, but remain adamantly against taunting.
Several coaches expressed support for a taunting emphasis, arguing that taunting leads to fighting.
The NFL used #Brownd WR Jarvis Landry as an example in the video they sent to all teams about taunting rules. https://t.co/LwjG2QhBzD

— Nick Pedone (@NickPedone12) August 10, 2021
That point is arguable, and several preseason taunting penalties were lambasted by players and fans.
When the NFL made a video explaining the new emphasis, they used Jarvis Landry as an example of flag-able offenses.
But the whole team has to be careful about reflexive gestures and words after big plays.
Some Other Minor Adjustments
With only 3 successful onside kicks in 2020, the league knows their recent rule changes need to be tweaked.
For now, they opted to limit the receiving team to 9 players up front but will continue with no running starts.
Fans will notice a change in players' numbers relative to their position, in response to expanded rosters.
I like this new 2021 NFL rule.

1 year experiment to try to make it easier to recover onside kicks where the receiving team on kickoffs will be limited to 9 players within 25 yards of the ball. In 2020 teams recovered only three of 67 onside kicks, the lowest rate since 2001.

— Jon Meck – Khash Money Stan (@BleedBadgerRed) April 22, 2021
It is more of an annoyance than anything else.
And finally, officials can now call upon the extra monitor official for his opinion on certain plays.
But this merely formalizes a practice that often occurs when officials huddle up to discuss a call.
Net Result On The Browns Game Plans
Kevin Stefanski will undoubtedly devise a way for Chubb and Hunt to take advantage of the new low block rules.
Joe Woods has more speed at all three levels of his defense, which might help attack other teams doing the same.
But it will be interesting to see how corners deal with the rule- whether they take on blockers or try to avoid them.
ALL of @MylesLGarrett's sacks this season (so far 😏) … pic.twitter.com/5Tskr4IMR4

— Cleveland Browns (@Browns) November 5, 2020
Meanwhile, the Browns pass rushers are ready to take it to opposing quarterbacks.
Offensive linemen knew officials weren't calling holding last year, but now they have to play fair again.
And that doesn't bode well for those facing Myles Garrett, Jadeveon Clowney, and the rest of the Browns rushers.