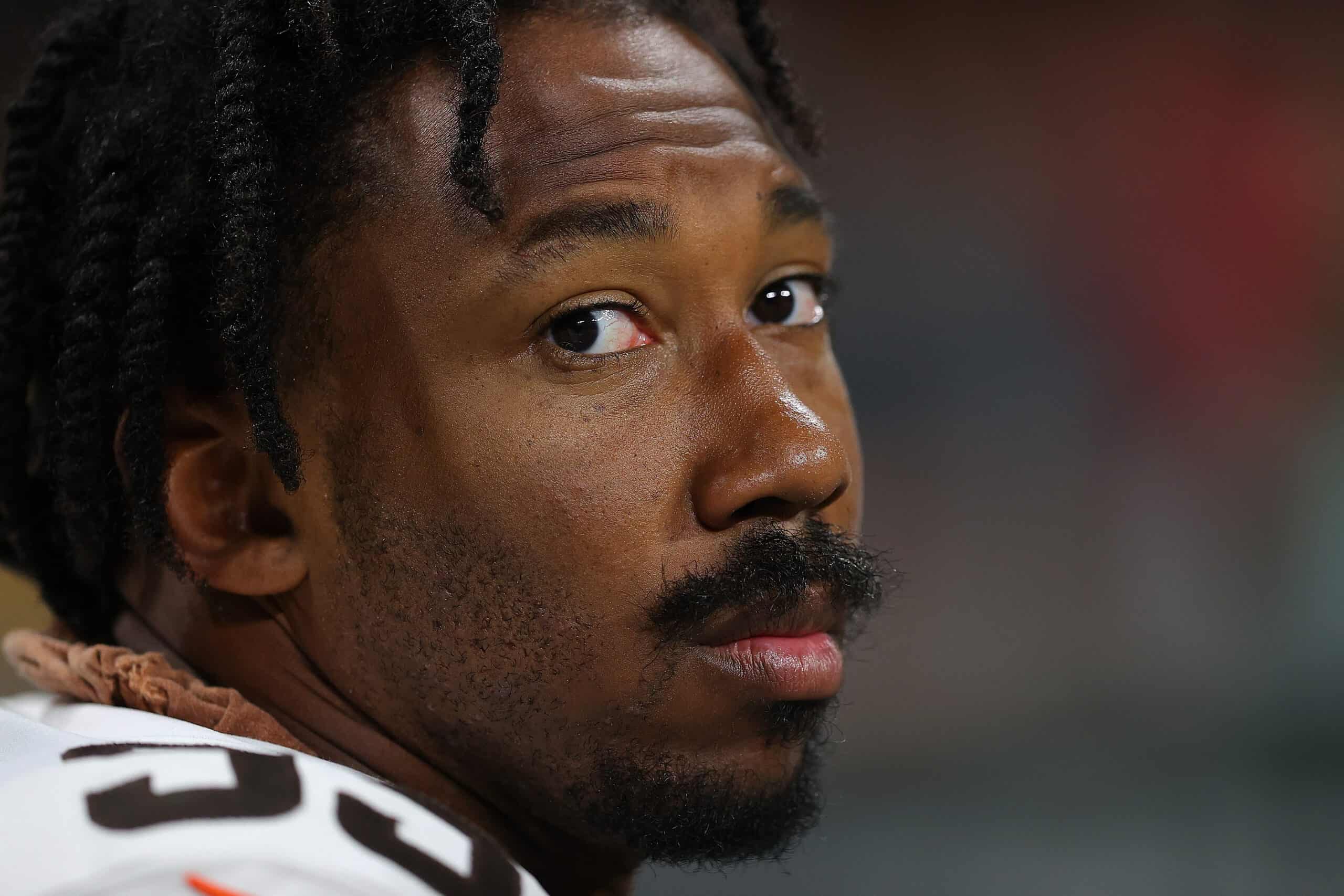 Because the Cleveland Browns open the 2021 season against the team that knocked them out of last year's playoffs, the Kansas City Chiefs, many have been reliving the good, bad, and ugly moments from that January game.
A new revelation from that game came from defensive end Myles Garrett.
Garrett revealed that he pulled an oblique muscle during the AFC Divisional playoff loss last season.
#Browns DE Myles Garrett revealed today that he pulled an oblique muscle during the AFC Divisional playoff loss to the #Chiefs & was still affected by COVID-19; feels he's back to being himself and 100% as this season kicks off

— Daryl Ruiter (@RuiterWrongFAN) September 10, 2021
Myles Garrett 
Given the athletic ability that Garrett was born with, many would take an injured Garrett over a healthy mortal man any day of the week.
We knew Garrett was dealing with long haul effects of COVID-19 that necessitated breathing treatments.
He talked about feeling winded on the field.
Myles Garrett admits he was operating at 50% after COVID-19 because of his asthma and how much it hurt to lose a shot at #NFL Defensive POY https://t.co/TVy7IPorWh

— Mary Kay Cabot (@MaryKayCabot) June 2, 2021
Compound that feeling with a pulled oblique muscle, and the man must have been living in misery during that game.
Yet he still managed to do his job better than most of his NFL peers.
Myles Garrett on the chase down 👀#WeWantMore #NFLPlayoffs

📺: #CLEvsKC on CBS
📱: NFL app // Yahoo Sports app: https://t.co/H7Zs8a2m4U pic.twitter.com/SG7TEKWXBI

— NFL (@NFL) January 17, 2021
What's Past Is Prologue
Garrett's recent revelation provides even more impetus for this 2021 Browns team to go into Arrowhead and beat the Chiefs.
There were many factors working against the Browns that day; bad penalty calls, big plays, and Garrett's issues.
All of that is in the past.
The Browns have a deeper and better roster in 2021.
We are treated to a playoff preview in Week 1 with a healthy Garrett.
That should scare the Chiefs incessantly especially when they look across the line of scrimmage and see that Jadeveon Clowney, Takk McKinley, John Johnson III, Troy Hill, Anthony Walker Jr. and more players have joined the retooled defense.
Coach Stefanski
.@Browns Coach Kevin Stefanski on preparing for KC: "As coaches we definitely have started that process in the spring…we've done a lot of work on them (Chiefs). With the players we really don't go there yet."

— ESPN Cleveland (@ESPNCleveland) August 6, 2021
The reigning NFL Coach of the Year has to be chomping at the bit to get to Arrowhead and have a do-over of sorts on that game.
Of course, he has picked apart the game film and knows what he wants to do the second time around.
We just cannot wait to see how Stefanski and the 2021 Browns with a healthy Myles Garrett compete against the AFC Champion Chiefs on Sunday afternoon.