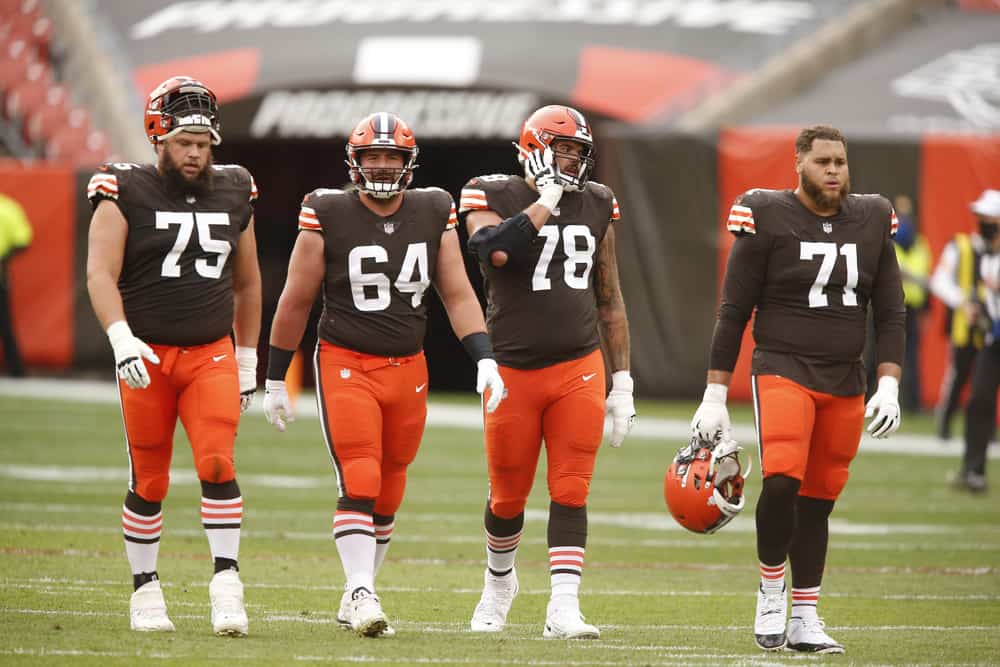 When it comes to offensive lines, it is not always the most skilled as much as the most familiar who perform best.
Continuity in personnel gels the individual players into a cohesive unit.
Adjustments become second nature over time and the line's success is measured in how little fans notice them.
That is what makes the Cleveland Browns' 2020 offensive line performance even more remarkable.
1. Cleveland Browns
2. Green Bay Packers
7. Indianapolis Colts @PFF_Linsey's final 2020 NFL offensive line rankings ⬇️

— PFF (@PFF) January 6, 2021
Kevin Stefanski's offense ran behind a rookie left tackle and a free agent right tackle.
Cleveland entered the season still looking for Kevin Zeitler's replacement at right guard.
Then they hired a new coach to take charge and told him he couldn't meet the players in person for months.
Despite all that, the Browns' offensive line ranked as the best in both run and pass blocking
So, now they can start to build the continuity that can make them even better.
Or they begin to rework themselves with new players, starting as early as next season.
Why Might The Offensive Line Start Changing?
Free agency and salary caps are the biggest threats to roster continuity, outside of injuries.
And Cleveland has a big free agent to address at the end of this season.
Wyatt Teller is by far the biggest success story in the Browns' 2020 offensive line makeover.
He posted one of Pro Football Focus's highest run-blocking scores ever recorded.
Wyatt Teller appreciation post! Throwback to when he blocked 3 guys on the same play. Blows my mind how he wasn't a Pro Bowler.

Video via @thecheckdown pic.twitter.com/gbaO3AhHq1

— Browns Dispatch (@brownsdispatch) February 5, 2021
And he held his own in pass-blocking, too, potentially making him the most attractive free-agent guard in 2022.
Cleveland's Andrew Berry is as adept at manipulating contracts as anybody and can pay Teller's price.
But the problem is not just the salary, it's the difference in the salary from one season to the next.
Teller could command $12 million/season over several years, compared to just over $2 million this year.
That would bring the price tag of Cleveland's starting five to $50 million.
Even with a minimum salary for 5 backups, the offensive line would use 27% of the proposed 2022 salary cap.
Teller Is The Key To The Browns 2022 line 
Wyatt Teller knows as well as anyone how continuity helps not just teams, but the individual players.
He earned a big payout, but a desire to come back to Cleveland might open hope of a home discount.
Even then, Berry has to be creative rewarding Teller, along with Baker Mayfield, Denzel Ward, and Nick Chubb.
After evaluating each position group, the Browns might decide the line is the most important position to deal with.
.@BaldyNFL LOVES this @Browns O-Line 😤 pic.twitter.com/DiH9UXUFIM

— NFL Total Access (@NFLTotalAccess) May 29, 2021
That's not saying Berry won't pay the other players, but giving each player their full due might prove difficult.
At least not without other re-calculations along the offensive line.
Jack Conklin ($6 million), JC Tretter ($8 million), and Joel Bitonio ($10 million) offer potential salary-cap relief in 2022.
This means Berry's decisions could hinge on the success of Drew Forbes, Nick Harris, or the other backups.
If Bill Callahan is more comfortable putting a young tackle or center into the mix, Tretter or Conklin could be moved.
Berry could then pay proper value to Teller with little impact on the offensive line budget.
Or… Working It Out For The Long Haul 
Cleveland's brain trust knows a dominant offensive line can anchor a dynasty.
Keeping the starting five together accelerates the Browns' Super Bowl aspirations.
JC Tretter might age out before the others, and joins Conklin and Bitonio in free agency in 2023.
Each player is among the top-ranked at his position, and matching the market on all of them will be tricky.
There was only one OL last season to play 1,000 snaps and allow ZERO QB hits.@Browns C J.C. Tretter

That's how you keep a clean pocket for @bakermayfield. pic.twitter.com/V4BdxjtLOm

— NFLonCBS (@NFLonCBS) May 26, 2021
But that won't stop Berry from trying, even as Bill Callahan grooms a young crop of replacements.
It is not unheard of that offensive linemen play into their 30s, but age might decide the line's future.
Tretter might be willing, but with an able Nick Harris and Javon Patterson also in the fold, he might lose out.
Jedrick Wills is on the cheap through 2024, and another young contract makes Teller more than affordable.
Flipping Tretter for Harris opens enough cap dollars to keep Bitonio and Conklin in the fold with Teller.
But it still necessitates a key change to the line in 2022.