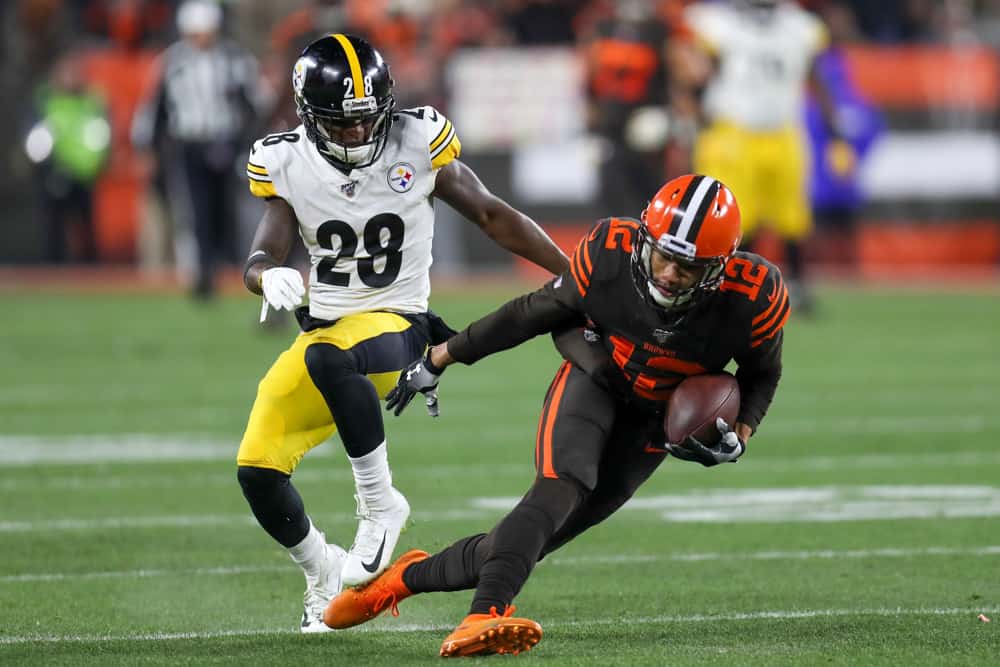 It is too early in the New Year to be Groundhog Day, but in some respects it is for the Cleveland Browns this weekend.
For the second weekend in a row, the Browns play the Steelers.
The location and time are changed; this week the Steelers host the Browns at Heinz Field on Sunday night.
Other aspects of this game that feel like Groundhog Day are the fact that COVID-19 continues to disrupt the Browns schedule and practices this week.
Last week, the Browns had less than 2 days of in-person practice to prepare.
Of course, the bad news that Coach Kevin Stefanski, arguably the NFL's Coach of the Year, has tested positive for COVID-19 sends shockwaves through the organization also.
Head Coach Kevin Stefanski testing positive for COVID-19 five days before the Browns' first playoff game since 2002 is the most Cleveland Browns thing that could've happened. Get well soon coach!

— Carmen Fuentes (@CarmenFuentesTV) January 5, 2021
There has been no indication that the game will be moved or rescheduled so here are the details for watching, streaming, and hearing it.
How To Watch Browns Vs Steelers
The game airs on NBC on Sunday Night Football at 8:15 pm EST on Sunday night, January 10, 2021.
Commentators for the game will be Al Michaels and Cris Collinsworth.
Michele Tafoya will report from the sidelines.
How To Listen to Browns Vs Steelers
The three flagship stations for Browns football are:
On satellite radio, the SiriusXM Browns broadcast station is Channel 388.
Outside of Cleveland, the Browns radio affiliates are:
Akron
WAKR – 1590 AM
Akron
WONE – 97.5 FM
Canton
WHBC-AM – 1480 AM
Canton
WHBC-FM – 94.1 FM
Columbus
WTOH – 98.9 FM
Corry (Pa.)
WWCB – 1370 AM
Dayton
WHIO-AM – 1290 AM
Dayton
WHIO-FM – 95.7 FM
Dayton
WZLR – 95.3 FM
Dover
WJER – 1450 AM
Erie (Pa.)
WPSE-AM – 1450 AM
Erie (Pa.)
WPSE-FM – 107.1 FM
Fostoria
WFOB – 1430 AM
Geneva
WKKY – 104.7 FM
Jamestown (N.Y.)
WQFX – 103.1 FM
Lima
WWSR – 93.1 FM
Mansfield
WRGM – 1440 AM
Mansfield
WVNO-FM – 97.3 FM
Marietta
WJAW – 100.9 FM
Norman (Okla.)
KREF – 1400 AM
Sandusky
WMJK – 100.9 FM
Tulsa (Okla.)
KAKC – 1300 AM
Uhrichsville
WBTC-AM – 1540 AM
Uhrichsville
WBTC-FM – 101.9 FM
Wooster
WQKT – 104.5 FM
Youngstown
WKST – 1200 AM
How To Live Stream Browns vs Steelers
Those interested in live streaming the game can access it on the following platforms:
Win Or Go Home – Again
Of course, the Browns defeated the Steelers last weekend to punch their first playoff ticket in 18 years.
But the Steelers rested many starters so the Browns will be facing a different team on Sunday night.
The Steelers will also face uncertainty because the Browns will have a new play caller and interim head coach.
Offensive coordinator Alex Van Pelt will be calling the plays in Stefanski's absence.
Special teams coach Mike Priefer will be the acting head coach.
The coaching ramifications of the latest COVID-19 outbreak are huge but so are the player ones.
We have placed G Joel Bitonio and WR KhaDarel Hodge on the Reserve/COVID-19 list.

We've also placed C Nick Harris (knee) and DE Olivier Vernon (Achilles) on injured reserve. pic.twitter.com/qHtn9ABQ3e

— Cleveland Browns (@Browns) January 5, 2021
Hopefully, there are no more positive tests or any close contacts that surface this week.
The Browns are certainly the underdog, not an unfamiliar position for this team.
They certainly will be playing hard to win it for Coach Stefanski and the other coaches and players.
It remains to be seen if the "next man up" mentality which has lifted this team to improbable heights all season can do it again for the most significant game in a generation for the franchise.