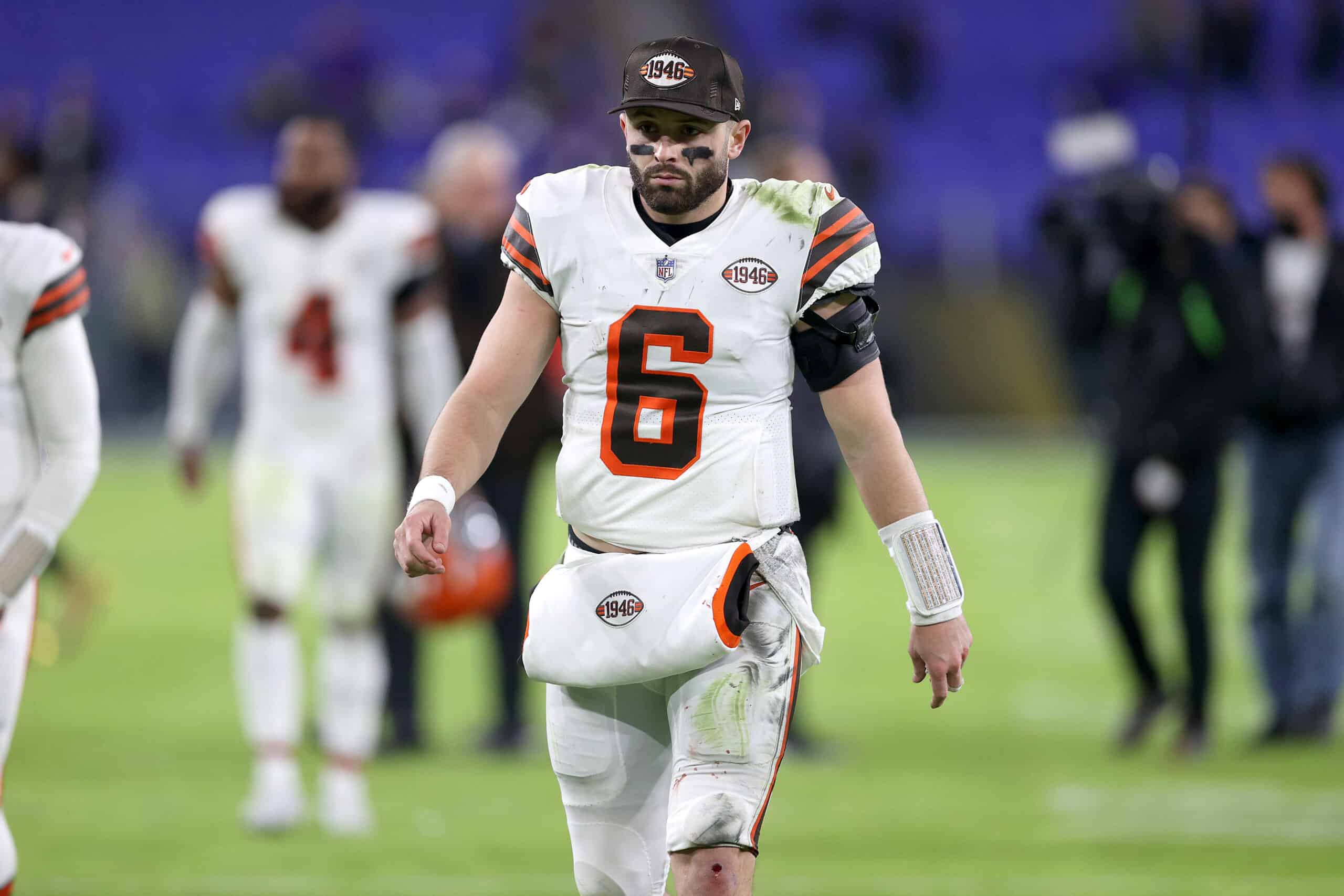 Someone put the word out ahead of the Cleveland Browns' Sunday Night Football matchup in Baltimore.
Multiple sources reported Baker Mayfield was "better than he has been in weeks", or a long time, or maybe ever.
Surely, all this talk about benching the feisty passer could be put to rest.
#Browns Baker Mayfield said he expects to play Sunday against the Ravens and expects to be in better in condition than in the past weeks. Said he had no major setbacks and feels good about the plan.

— Camryn Justice (@camijustice) November 22, 2021
But by the end of the Browns' first offensive possession, Mayfield was limping noticeably.
As the game went along, we saw him check to make sure his left arm was attached after a sack.
TV cameras captured the huge wad of tape protecting his wounded heel, and his knee was obviously an issue, too.
#Browns QB Baker Mayfield said he definitely felt better physically than he has in previous weeks

— Nate Ulrich (@ByNateUlrich) November 29, 2021
And as Mayfield struggled to escape the Ravens' pass rush, 2021's most popular question came up again.
Is it time for the Browns to bench Baker Mayfield?
Kevin Stefanski: Why Change QBs? 
Cleveland's playoff hopes took a big hit with their 16-10 loss to the Ravens.
Instead of entering their bye in the last wild card position, they are on the outside looking in.
To add insult to injury, they sit percentage points behind the Steelers in last place of the AFC North.
And they need Pittsburgh to win in Week 13 to keep the Ravens within shouting distance.
How can you tell me right now that a healthy Case Keenum wouldn't give the #Browns a better chance to win than Baker Mayfield.

— Noah Weiskopf (@BrownsWithNoah) November 29, 2021
Their wild card hopes involve bouncing over at least 3 other teams, all of who come off victories.
But Kevin Stefanski made it clear there is no quarterback change planned during the bye week
Cleveland still has multiple routes to get back into the playoff hunt, even if they need more help now.
And maybe Stefanski thinks benching Mayfield is conceding their playoff spot too early.
Should Mayfield Be Benched to Heal? 
Benching a quarterback is a big deal, especially for a quarterback about to seek a contract extension.
But there comes a time when the player's health has to take priority over his drive.
And Baker is a walking orthopedic study at this point, with shoulder, knee, heel, and groin injuries.
Not only is there a risk of worsening or lengthening the recovery time of the injuries Mayfield already has.
Case Keenum is currently running better on the sideline than Baker Mayfield is able to walk. Take it for what it is worth.

— Daryl Ruiter (@RuiterWrongFAN) November 21, 2021
There is also a risk that favoring or adapting mechanics in response will cause further injuries.
Who knows if his latest injuries would have happened if he was not already guarding his shoulder?
Stefanski might believe Mayfield gives his team the best chance to win.
But with the NFL's top rushing attack and a good defense, does he believe he has no chance with Case Keenum?
Would Benching Baker Rally The Team? 
Teammates are publicly supportive of Mayfield's efforts and appreciative of what he does to stay on the field.
But there is already evidence Mayfield is not the rallying leader he makes himself out to be.
And as defensive efforts like the one Cleveland mounted in Baltimore are wasted, players have to wonder.
At what point is the quarterback hurting the team, and their chances of making the playoffs?
#Browns JC Tretter on Baker Mayfield playing through injury: "Baker's fighting hard for us right now and we really appreciate that."

— Camryn Justice (@camijustice) November 22, 2021
During the Pittsburgh game, an already gimpy Mayfield took a hard, late hit out of bounds.
He bounced right up, ran to the sideline, and pumped his fists defiantly to rally the team.
But they didn't rally, and the punting unit was on the field after a short run and a dropped pass.
Perhaps a backs-against-the-wall, "cover the fort in our leader's absence" moment might work better?
What Is The Point Of Playing Mayfield? 
The second half of the equation is whether there is an advantage to sticking with Mayfield over Keenum.
That is not to argue who the better quarterback is at this point in their careers.
But this season was Mayfield's opportunity to win a big contract extension with another playoff berth.
More importantly, it was the chance for the team to determine if Mayfield can be their franchise quarterback.
Andrew Berry was asked about a potential Baker Mayfield extension: "Not gonna talk on that…" #Browns pic.twitter.com/cVRp4LTvxg

— Jake Trotter (@Jake_Trotter) April 23, 2021
But how can either side confidently evaluate decisions and skills without wondering how Mayfield's injuries affect him?
Mayfield did well to escape much of the Ravens' pressure Sunday, but he did not look fluid doing so.
And you have to wonder if the 2020 version of Mayfield wins that game 30-16.
If you believe he does, why bother to look at more of the wounded 2021 version of him?
Can We Expect To See Keenum Again? 
Kevin Stefanski seems set on running Mayfield out there as long as he can.
And until the Browns are mathematically eliminated from postseason play, Mayfield is likely to start for the Browns.
Questions about his devotion to Mayfield could taint Stefanski's reputation as a coaching guru.
Further injury or unexpected complications in his recovery will lead to more questions for both the player and coach.
#Browns head coach Kevin Stefanski said he would not bench Baker Mayfield after the team's Week 12 loss to the #Ravens. pic.twitter.com/GmrhAncB56

— NFL Rumors (@nflrums) November 29, 2021
Mayfield will already be the subject of debate and rumors regarding his health and contract status.
And that, in turn, can affect the attractiveness of the Browns to free agents.
As for Keenum, this could be a chance for his last hurrah.
He is one of very few Browns players who offer potential salary-cap relief for the 2022 season.