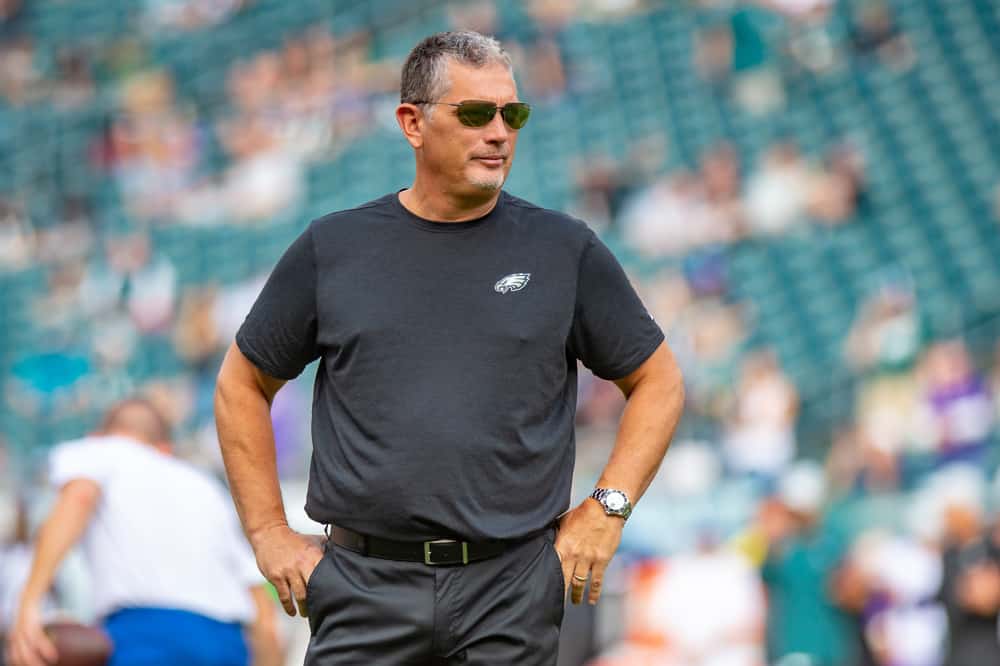 Yesterday, Eagles defensive coordinator Jim Schwartz interviewed for the head coaching position with the Cleveland Browns.
Schwartz is the sixth candidate to be interviewed for the position.
He has been in Cleveland before, serving as a scout for a few years in the mid-1990s.
Schwartz's name in the search originated on Monday when the Browns requested to interview him.
The Eagles lost at home to the Seattle Seahawks in the NFC Wild Card round, allowing their coordinators and staff to be interviewed by other teams.
Questions have been raised about whether Schwartz is a legitimate candidate for Cleveland's head coaching position.
Why He Is
Browsing through Twitter and other social media outlets, Schwartz does not appear to be a fan favorite for the head coaching vacancy.
Jim Schwartz to the browns????????????????

Did they not see what he did on the Lions as a head coach?

coordinator ..okay
not a head coach

— Dopamine (@Nudibelle) January 9, 2020
The last time I check. jim schwartz did not have a winning record as a head coach. So why is he so sought after ? @Foxworth24 @bomani_jones @mspears96

— Clarence Dickson (@Clayd28) January 9, 2020
Guys like Josh McDaniels and Kevin Stefanski have sort of stolen the spotlight for marquee names in the search.
However, fans should not discredit Schwartz.
He has previous head coaching experience in the NFL for starters.
Schwartz was the head coach of the Detroit Lions from 2009-2013.
His experience in Detroit, however, was not exactly successful.
He amassed a 29-52 record during his time there and managed just one postseason appearance where he fell in the Wild Card round.
Despite the failures there, many believe he is still perfectly suitable for another NFL head coaching position.
That includes Eagles head coach Doug Pederson.
In a press conference on Wednesday, Pederson had this to say on the prospect of Schwartz head coaching in the league once again.
"I think he'd make a tremendous head coach again with his leadership and what he has brought and how I've been able to lean on him and his experiences as a former head coach."
According to Mary Kay Cabot of Cleveland.com, Schwartz is also big on analytically sound football.
Given that a problem with the previous regime in Cleveland was a split on analytics and a more old-school football approach, that should bode well for Schwartz.
At least in the eyes of Paul DePodesta, anyways.
Schwartz has led a tremendous defensive unit in Philadelphia while being their defensive coordinator.
Jim Schwartz will reportedly interview with Browns tomorrow

In his 4 years as Eagles DC in regular season/playoffs:

16.1 points/game at home- FEWEST in NFL

20.4 points/game –
5th fewest in NFL pic.twitter.com/IYoSEIfb47

— John Clark (@JClarkNBCS) January 7, 2020
They were the third-best unit against the run this year and were top ten overall defensively.
Why He's Not
The aforementioned record in Detroit should not be ignored, however. Winning just 29 games in five seasons is not exactly ideal.
His first season in 2009 with the Lions was especially terrible, leading his team to a lousy 2-14 campaign.
He did get the Lions to the playoffs in 2011, their first postseason appearance since 1999.
However, they did get bounced in the first round to the Saints.
The next season they went just 4-12.
This does not directly impact Schwartz, but former Lions coaches typically do not find themselves in the same position elsewhere.
No ex-Lions coach has found another head coaching job since Buddy Parker in 1956 when he became head coach of the Steelers.
Jim is also a bit older than some of the other top candidates as well.
As mentioned, there seems to be a feeling that Stefanski and McDaniels are the two top targets.
Schwartz is 53 years old while Stefanski and McDaniels are 37 and 43 respectively.
It's not the most dramatic difference, but it matters.
If the Browns strike gold with this next hire, they will want to keep him around for a long time, most likely a 20-plus years kind of thing.
Hiring someone under 50 may serve the team better in that regard.
Final Thoughts
With Schwartz having failed in the NFL before, it's fair to have doubts and concerns about putting him back on the saddle.
Still, Doug Pederson is a well-thought of head coach and has a ringing endorsement for Jim.
If the interview with Cleveland went well for Schwartz, you could see him back with the Browns.