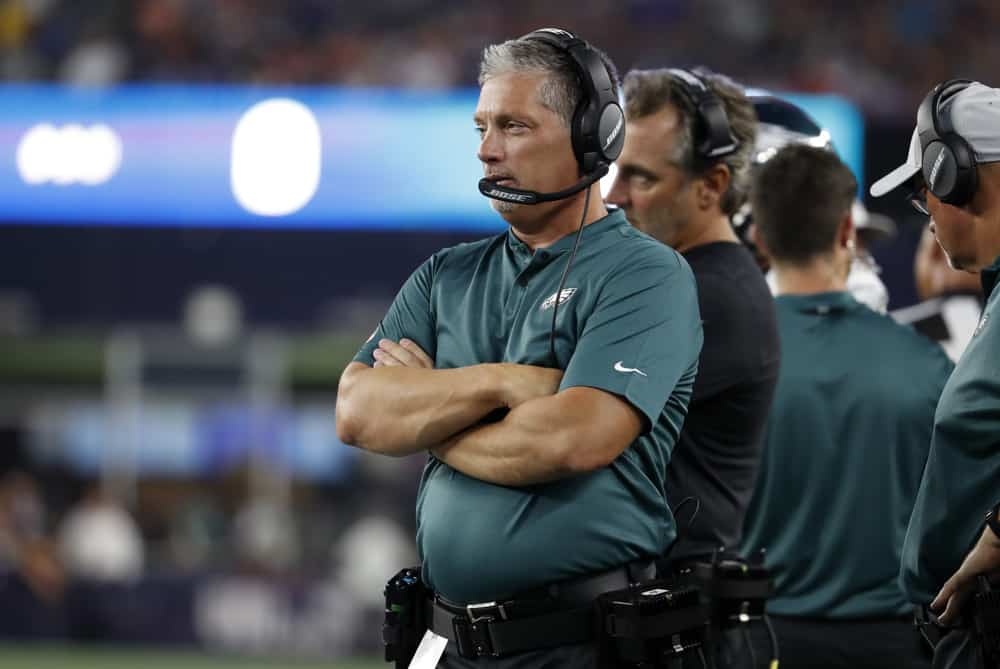 The Cleveland Browns have now turned their attention towards a defensive-minded coach.
According to NFL Network's Tom Pelissero, the Browns requested an interview with Philadelphia Eagles defensive coordinator Jim Schwartz.
The #Browns have requested an interview with #Eagles DC Jim Schwartz for their head coaching job, per source.

— Tom Pelissero (@TomPelissero) January 7, 2020

There was has been no immediate word whether the Eagles have or plan to grant Schwartz permission to meet with the Browns.
Schwartz has been the only defensive coordinator under coach Doug Pederson and helped the team win a Super Bowl in 2018.

The Early Going

Jim Schwartz is a native of Baltimore Maryland where he attended Mount Saint Joseph High School.
At the all-male catholic school, Schwartz finished as a four-year letterman playing linebacker.
He then attended Georgetown University, where he earned his degree in economics.
Schwartz then coached linebackers as a graduate assistant at Maryland in 1989.
Following that, he coached at Minnesota (1990) as a grad assistant, North Carolina Central (1991) as a secondary coach, and Colgate (1992) as a linebackers coach.
Getting Into The NFL
Jim Schwartz joined Bill Belichick's staff in 1993 as a personal scout.
He provided the Browns with research for Belichick before games, a position he held until 1995.
He moved with the Baltimore Ravens to coach the linebackers and held that position from 1996 to 1998.
Schwartz got his first coordinator position with the Tennessee Titans.
He started as a defensive assistant (1999), moved up to linebackers coach (2000), and started as the defensive coordinator in 2001.
Moving Up The Ranks
Schwartz served as the defensive coordinator for the Titans from 2001 to 2008.
During that time, he was considered for numerous head coaching openings, including the San Francisco 49ers job in 2005 that went to Mike Nolan.
Schwartz was nearly hired by the Washington Redskins in 2008, but he was passed over then as well.
Schwartz finally picked up his first head coaching job in 2009 when the Detroit Lions tabbed "the defensive mastermind" that led Albert Haynesworth to stardom.
Leaving Detroit Behind
The first couple of seasons were in the midst of a rebuild.
Schwartz finished with a 2-14 record in 2009 that grew to a 6-10 record in 2010.
In 2011, the Lions qualified for the playoffs for the first time since 1999 before losing to the New Orleans Saints in the first round.
The 2012 season dropped miserably to a 4-12 record and he was fired after 2013 when the team dropped from 6-3 to 7-9 on the season.
From Buffalo To Philly
Schwartz spent just one season as the defensive coordinator with the Bills.
Statistically, the Bills went 4-0 against NFC opponents and the Bills defense led the league in sacks.
It was a festive season, which included Schwartz being carried off by Bills' players after the team defeated Detroit 17-14.
Despite finishing with a winning record (9-7) for the first time in ten years, head coach Doug Marrone resigned.
Rex Ryan took over and decided to bring in his brother Rex to run the defense, which left Schwartz looking for new work.
Schwartz could have been the defensive coordinator in Miami in 2015, but he opted to take the season off.
In 2016, Pederson hired Schwartz and he has not looked back.
The Eagles defense ranked 30th in yards allowed and 28th in points allowed before his arrival.
In his first season, the Eagles defense jumped to 13th and 12th respectively.
In the last four years, the Eagles have had just two Pro Bowl-caliber players in Fletcher Cox and Malcolm Jenkins.
Despite this, the Eagles have allowed the 7th-fewest points in four years and average 17.0 points allowed per game in five of six postseason appearances.
Final Thoughts
The Browns have been linked to like an offensive-minded coach after dismissing Freddie Kitchens.
Defensive coordinator Steve Wilks did a nice job leading the defense as the Browns finished 11th in the league in total defense.
It does not seem like the Browns would pair a defensive-minded coach with someone that is patrolling that area with skill.
Plus, Schwartz is coming off a season where the Eagles finished 22nd in the league in total defense.
He is also coming off a tough playoff loss to the Seahawks that saw some question his play calling.
Under Jim Schwartz, the Eagles normally rely on a 4-man rush to generate pressure, but blitzed Russell Wilson at the two highest rates in a game since 2016:

Week 12: 61% blitz rate
Wild Card: 55% blitz rate

PHI Defense (Tonight): 10 of 12 pressures came on blitzes

— Next Gen Stats (@NextGenStats) January 6, 2020
The Eagles were injury-riddled last season, but the Browns appear to be looking at all options.