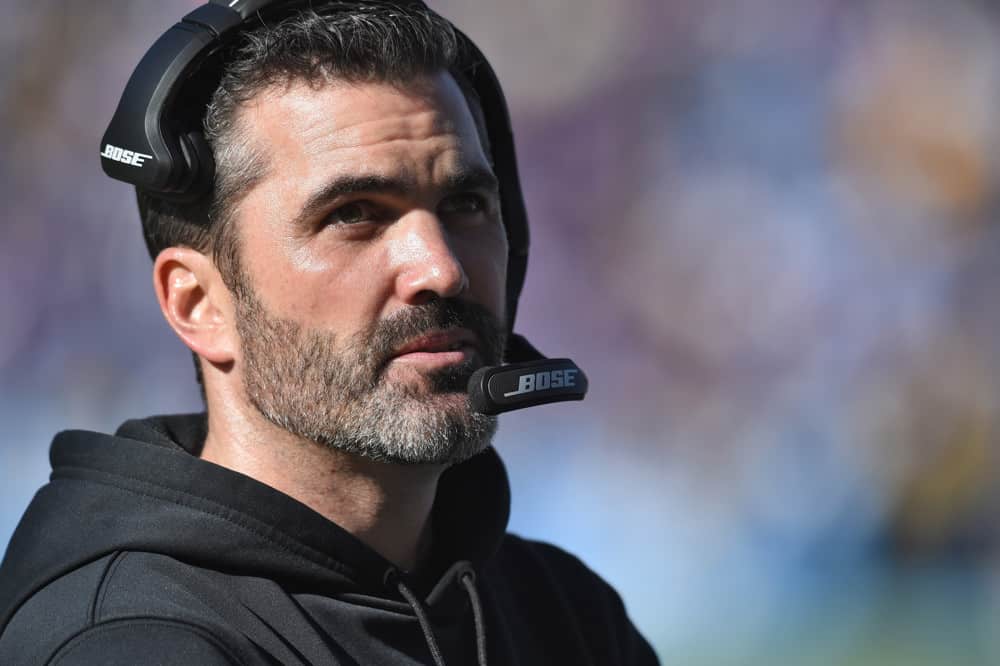 To Cleveland Browns fans, the name Kevin Stefanski should sound familiar.
His name surfaced around the Browns in early 2019 when they began their head coaching search.
The offensive coordinator for the Minnesota Vikings led the franchise to the league's eight-best scoring offense in his first season as a coordinator.
Before electing to hire the now fired Freddie Kitchens, Stefanski was a finalist after interviewing with the team twice.
Now, Stefanski is set to again interview with the Browns in 2020.
The job title for Paul DePodesta — #Browns chief strategy officer — has not changed, but after a few days of mixed messages to candidates from the organization, DePodesta is now the one running the head coach hiring process for the Haslams, source said. Should be more directed.

— Ian Rapoport (@RapSheet) January 1, 2020
Kevin Stefanski Was A Finalist Last Year
When Stefanski was in the running last year, he was interviewed by a panel that included Chief Strategy Officer Paul DePodesta.
It was reported that Stefanski was the first choice of DePodesta to become the Browns head coach before John Dorsey opted to hire Freddie Kitchens instead.
This time around, Stefanski will be interviewed again by the man who is reportedly leading the Browns coaching search.
This is what many wanted. Curious to see how this goes.

Seemingly a huge benefit for Kevin Stefanski https://t.co/OshLdgNbam

— Pete Smith (@_PeteSmith_) January 1, 2020
Kirk Cousins Has Thrived Under Stefanski
Stefanski has enjoyed great success this past season with the help of former Denver Broncos head coach Gary Kubiak.
In his first season with Vikings quarterback Kirk Cousins, Stefanski helped lead Cousins to a career-high in passer rating (107.4).
Cousins was fourth in the league in passer rating, as well as eighth in touchdowns (26),
It was also the least amount of interceptions in a season (6) since 2012 for Cousins.
It should come as no shock that when Stefanski was not hired by the Browns in 2019, Cousins was ecstatic.
.@KirkCousins8 is glad to have Kevin Stefanski back running the offense in 2019. pic.twitter.com/U5sa47Tg58

— Minnesota Vikings (@Vikings) January 10, 2019
The 13-year Vikings Run
Stefanski has been associated with the NFL in some capacity since 2005.
Before joining the NFL ranks, Stefanski was a two-time All-Ivy selection at the University of Pennsylvania.
After spending his first year in the league as an operations intern with the Philadelphia Eagles in 2005, Stefanski joined Brad Childress' coaching staff in 2006 and has not looked back.
Stefanski has held the role of assistant to the head coach (2006-2008), assistant quarterbacks coach (2009-2013), tight ends coach (2014-2015), running backs coach (2016), quarterbacks coach (2017-2018), interim offensive coordinator (2018), and the official offensive coordinator this past season.
Other Teams Are Interested 
Given his rise through the coaching ranks, it makes perfect sense that other teams in the league would be interested.
In addition to the Browns, keep an eye on the Panthers as an option for Kevin Stefanski as a head coach; I'm told Carolina could have some interest in the Vikings offensive coordinator.

— Ben Goessling (@GoesslingStrib) December 30, 2019
Stefanski Would Have Talent Right Away
On paper, the Browns have a juggernaut of an offense in the works.
The Browns have the former Offensive Rookie of the Year (Baker Mayfield), the league's second-leading rusher (Nick Chubb), Former league-leading rusher Kareem Hunt, and two 1,000-yard receivers (Odell Beckham Jr. and Jarvis Landry).
Despite all this talent on paper, the Browns finished 22nd in the league in scoring offense and total yards per game.
With Kitchens out the door, Stefanski will have another shot to take over, but will the Browns tell him "thanks, but no thanks" a second time?
We will find out soon enough.