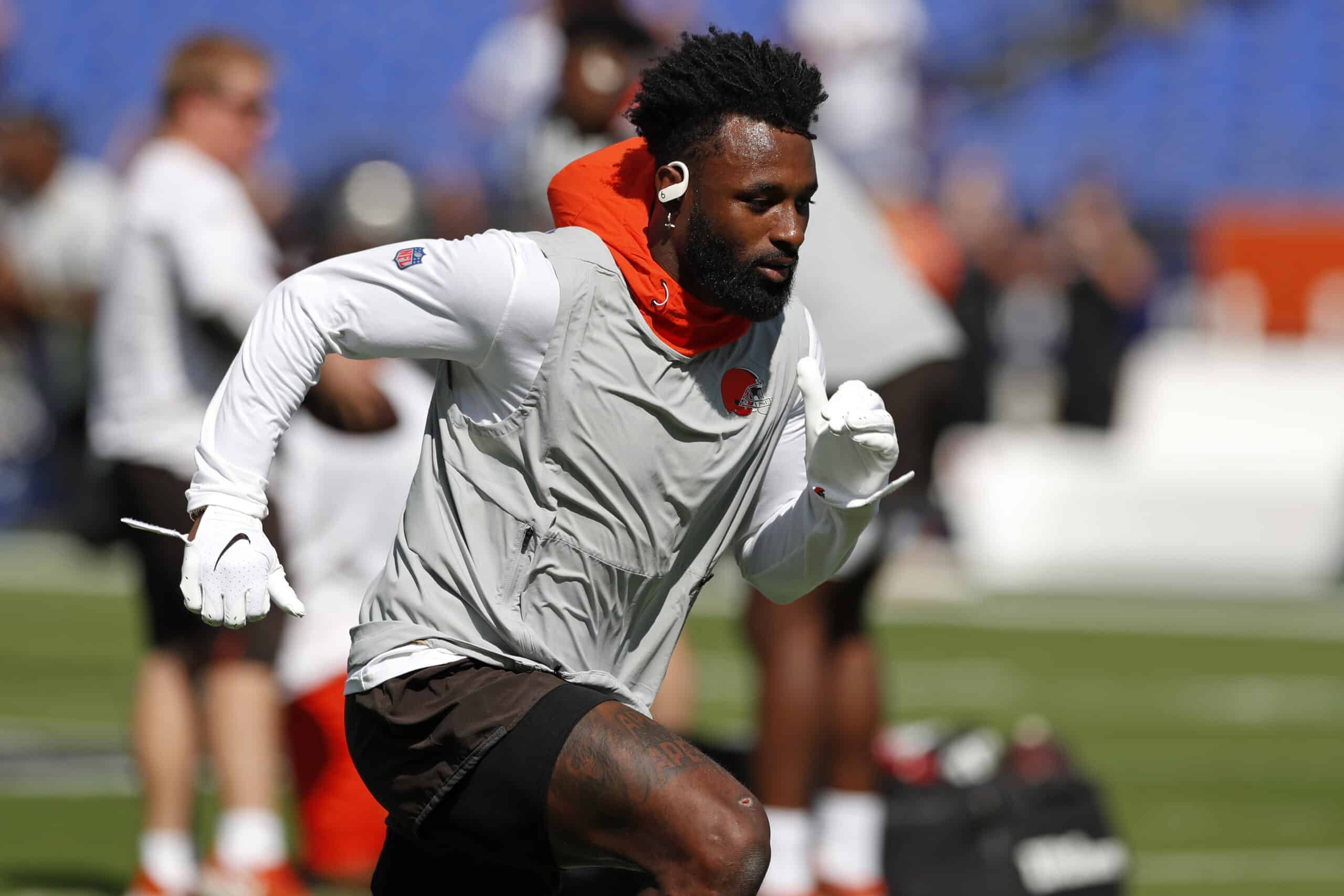 Just because NFL athletes aren't at volunteer workouts in the summer doesn't mean they aren't busting their tail getting ready for the season.
Jarvis Landry's first episode of "Just Juice" highlights that exact point.
The docuseries created by the Cleveland Browns receiver showcases some of the workouts that he went through alongside Baker Mayfield and others at Lake Travis High School, Mayfield's alma mater.
The event, dubbed "Camp Mayfield", has Browns fans excited over seeing their favorite guys attacking the summer grind together.
So, what all were the guys getting into down in that Texas heat?
Let's take a look.
Offensive Firepower
The offensive talent on screen within the first two minutes of the video is a bit crazy.
Landry and Mayfield enter the facility, where Kareem Hunt, David Njoku, and others are stretching and awaiting the start of the day.
At about the 2:30 mark, Landry instructs the camera to focus in on Hunt's calf muscles, which shame those of any ordinary man.
Seriously, they are insane.
After that, the work begins.
Landry goes through some basic route running while talking through routes with some of the other receivers there.
Then it's to the weight room, where Njoku appears with Rashard Higgins and Donovan Peoples-Jones.
Sports performance coach Mo Wells (who's worked with the likes of Leonard Fournette and Ja Morant before) then outlines what looks like a pretty rigorous workout that made me tired just looking at it.
Watching NFL athletes go to work in a weight room is a quick reminder of just how strong these guys are.
Not only that, but the intensity in which they go through their workouts is impressive on its own.
#Browns Myles Garrett is lifting a lot of weight. I don't think I would want to be under center looking across the line of scrimmage against this specimen. pic.twitter.com/8webpQ8V9R

— Kyle Kelly (@ByKyleKelly) July 2, 2019
Odell Beckham Jr. joins the bunch in the video as the guys make their way onto a boat for some fun on the water.
It's truly the dream most of us have when we're eight years old with NFL dreams.
A rewarding day of workouts followed by a ride on the lake?
Sign me up.
Away From Berea Still an Issue?
It's basically a summer tradition at this point for some fans to get upset with players missing voluntary workouts.
The rest of Landry's video is more of the same as mentioned, just workouts and trips to the lake.
In terms of keeping players happy, letting them hold workout camps like this seems very beneficial.
Not only are they surrounded by other high-level athletes and trainers, but they get to do so while on a vacation (of sorts).
Developing off-season chemistry with teammates is still important.
That's exactly why "Camp Mayfield" should be a non-issue for the Browns and their fans.
Almost the entire receiver room (plus Njoku) was down at Lake Travis getting in work and having fun together.
Is that not the goal of those voluntary workouts anyways?
The most encouraging part of the first episode is watching OBJ move as well as he does.
He's running routes, soaring to catch football's at their peak, and exploding after the catch.
"You see I can still… ahh", says Beckham Jr. as he mimics a foot plant for a route. "And then, you can't really do it, so now you waiting to get to six months, now you can run, now you're trying to cut and you're like 'oh, hold on'… man I feel like one foot was the hardest, I was really, every day, fighting".
.@obj looking SPEEDY in his ACL recovery 🤯 @ESPNNFL pic.twitter.com/KOgBH49dxT

— SportsCenter (@SportsCenter) June 23, 2021
If anyone had doubts about Odell not taking his recovery seriously away from the team, the first episode of "Just Juice" should be enough to please them.
More Juice
The debut episode of Landry's docuseries is already nearing 11,000 views on YouTube.
If there's anything football fans love in the summer, it's video content.
There will be more on the way from Landry in the second episode, which he claims will drop in about a week!