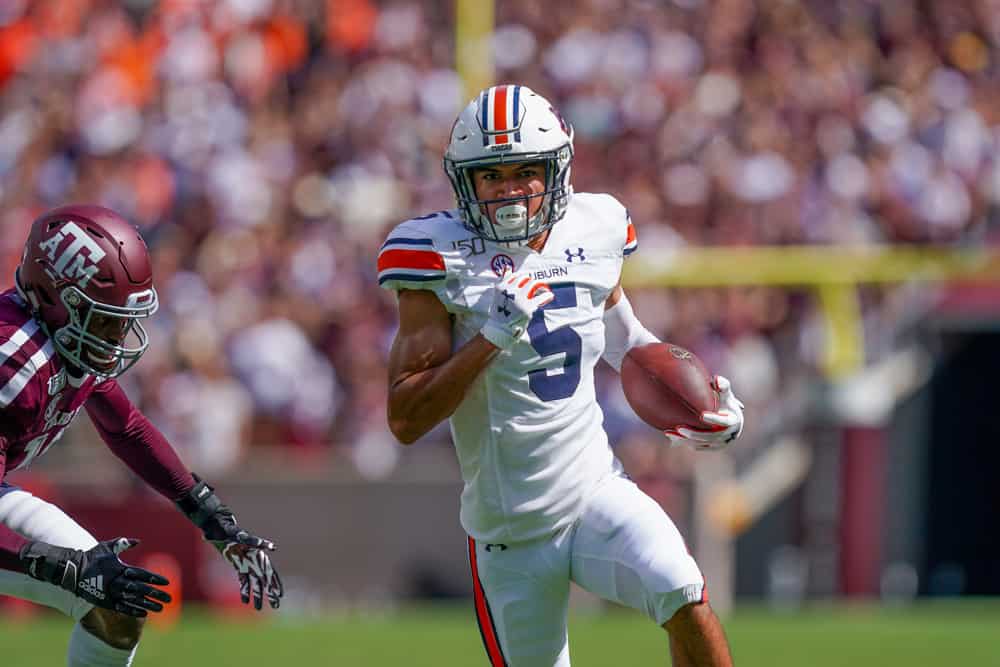 Much has been said about the speed of the newest Cleveland Browns wide receiver and former Auburn star Anthony Schwartz.
Known as a track superstar and a football player, some are concerned about his ball handling and general skills in the wide receiver position.
Of his three seasons, 2020 was his finest at Auburn; however, he still only had 6 career receiving touchdowns (along with 7 rushing touchdowns).
So there are naturally questions about the 20-year-old Schwartz.
While Jarvis Landry may not have all the answers, he has lent his assistance to Anthony Schwartz by working out with him in the offseason.
They were working out together at the House of Athletes in Florida before the draft so they did not know they would be future teammates.
Jarvis Landry is an excellent mentor for Schwartz.
Here is where Landry can tutor Schwartz.
Route Running
#Browns Anthony Schwartz said working with Jarvis Landry will be great for him and helping him get to the next level.

Also called Jarvis one of the "instrumental players in changing everything" in Cleveland.

— Camryn Justice (@camijustice) May 14, 2021
There is no doubt that Schwartz can run, but route running in the NFL is a different beast.
Landry is arguably the best on the Browns roster at route running so he is an excellent resource for him.
Schwartz talked about Landry's influence giving him a "jumpstart".
"Now that we're on the same team, he can kind of walk me through what to expect and he can take his time and walk me through the top of the routes and everything that comes with route running and being a successful receiver in the NFL. It's been great to learn all of that from him. He's taken me under his wing.''
Work Ethic
Jarvis Landry is one of the hardest working players on the Browns.
He takes nothing for granted, and he is known for his desire to teach as he took a similar role with last year's rookie Donovan Peoples-Jones.
About Landry's work ethic, Schwartz said:
"He's very knowledgeable of the game. He's happy to explain everything to me. He's always giving me pointers. He is always correcting everything I need to do. I really appreciate it from him."
Landry, 28, has also told Schwartz about one of his biggest regrets in his early years.
#Browns Jarvis Landry and Anthony Schwartz running together this morning (J.bush__/Ig) pic.twitter.com/yKckuhOs0e

— Brad Stainbrook (@BrownsByBrad) May 10, 2021
That is taking care of his body to hopefully avoid injuries; Landry had offseason hip surgery in 2020 and has dealt with his share of minor injuries in his career.
Here is how Landry talked with Schwartz about this.
"He said, if he could go back, that's the one thing he'd do is just invest more in his body and taking care of it because that can take you a long way.''
Schwartz is grateful for everything that Landry has imparted on him.
Anthony Schwartz says mentorship from Jarvis Landry 'is going to do a lot for me'

📰 » https://t.co/RAAwCKo5Kb pic.twitter.com/kgafGeNcBv

— Cleveland Browns (@Browns) May 14, 2021
"Working out with a five-time Pro Bowler, a guy of his caliber, not everyone gets to do that. I'm in a blessed opportunity where I get to work at the same facility as him (House of Athlete) and I got to know him a little bit more. I feel like learning from him is going to do a lot for me moving forward and it's going to help me get a jumpstart on really probably the rest of the rookies out there.''