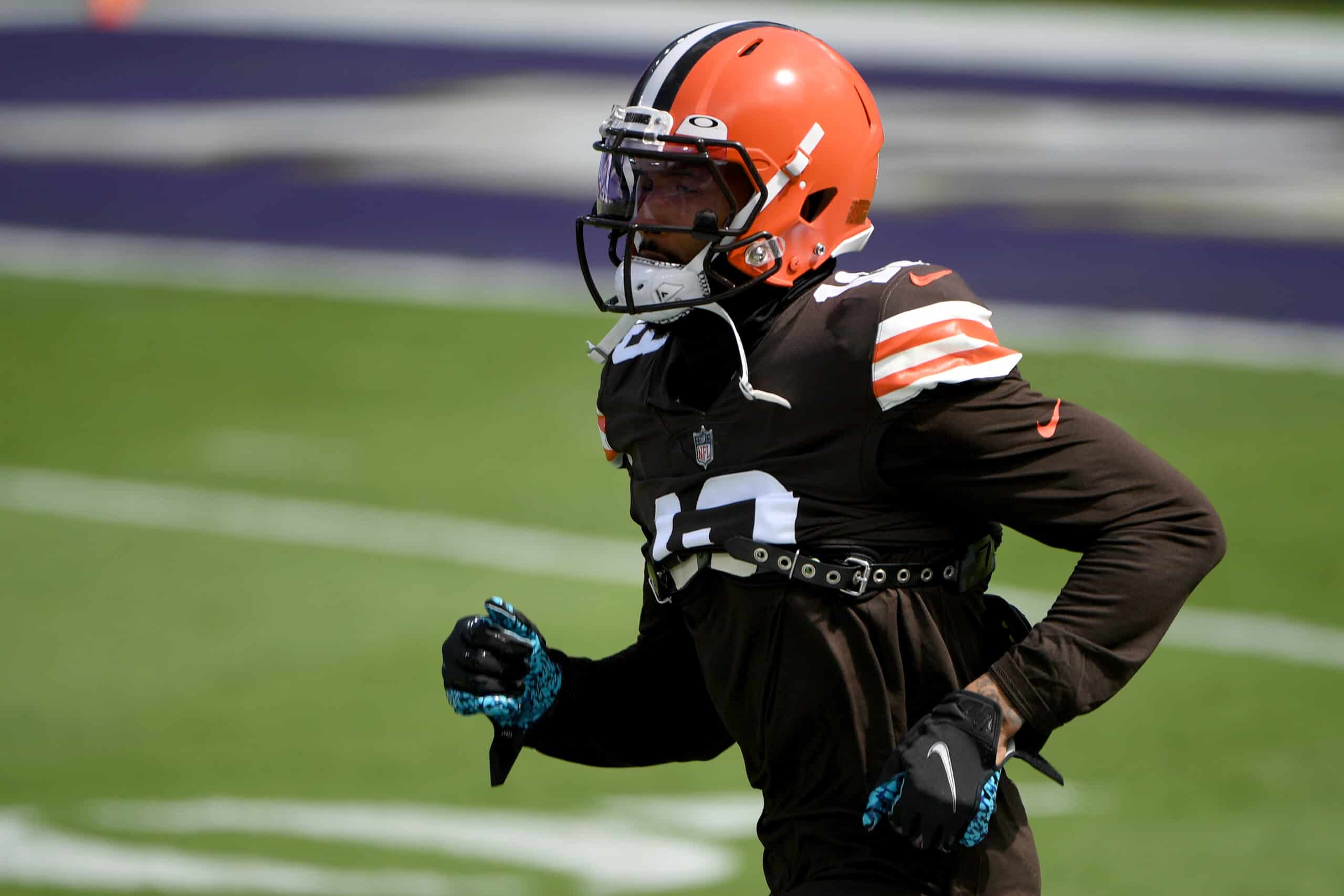 Yesterday at Jarvis Landry's Celebrity Softball Game, Landry could not resist smiling from ear-to-ear as he spoke about his Cleveland Browns teammate and good friend Odell Beckham Jr.
#Browns Jarvis Landry said OBJ looks great in his recovery pic.twitter.com/r5PCWBeFxN

— Fred Greetham (@FredGreetham) June 12, 2021
"Man, he looked amazing. I can't wait for you guys to to see him. I can't wait for him to get back out there. He'll be around today. He's in fantastic shape and he's ready to go. He's only what, 6 1/2 months and he's already doing some things that will blow your mind away.''
Landry is clearly excited for OBJ to return to the field in September, less than one year after suffering the ACL injury that ended his 2020 season in October 2020.
OBJ Recovery
For his part, OBJ has been lying low since his injury.
He hasn't said much on social media, but we occasionally have seen him working out and rehabbing.
3 weeks removed from ACL surgery & @obj is working on getting that quad to fire! 🦵🔥 pic.twitter.com/kAOLynEvtL

— ACL Recovery Club (@ACLrecoveryCLUB) December 1, 2020
Landry may be biased, but he is not wrong.
OBJ already back to doing one-handed catches as he rehabs from ACL surgery (via his IG) #browns pic.twitter.com/6ZAYVzvVrU

— Jake Trotter (@Jake_Trotter) December 4, 2020
From what we have seen, he looks great.
Getting Back To Football
OBJ was at Baker Mayfield's Austin home early last week working out with other tight ends and receivers.
BAKER MAYFIELD AND OBJ WORKING OUT IN TEXAS!!!!!

Via: @logansnfl pic.twitter.com/Z7ZRwrxEEH

— Cleveland Sports Talk (@CLEsportsTalk) June 10, 2021
The footwork and ability to cut are evident.
"He ran a post route, sticking off the same injured leg and exploding out of it, then going up, jumping off that same leg and making a catch, doing his thing — what he does with one hand. You sit back and you're like, 'Wait. He's even better than he was last year.' So it's going to be amazing to see as time [goes on] and the further he gets away from surgery how much better he's going to get."
This is great news and gives us even more to look forward to as the Browns begin mandatory minicamp on June 15.
OBJ's Future With The Browns
Many suggested that OBJ would not be back with the Browns after he suffered that season-ending injury.
Those voices continued to amplify as the Browns marched to the playoffs without him.
GM Andrew Berry and Coach Kevin Stefanski never waivered.
They always spoke about being eager to get a healthy OBJ back on the field.
In the second year of Stefanski's coaching tenure with an offense largely remained intact from free agency, now is the time for OBJ to shine with the Browns.
OBJ is not the only one in a "prove it" year.
Mayfield also is; he knows the fifth year option has been exercised for the 2022 season, but his longevity with the Browns is dependent upon what happens in 2021.
With the huge expectations placed upon the Browns offense, everyone will need to step up and make big plays especially OBJ and his friend Landry.