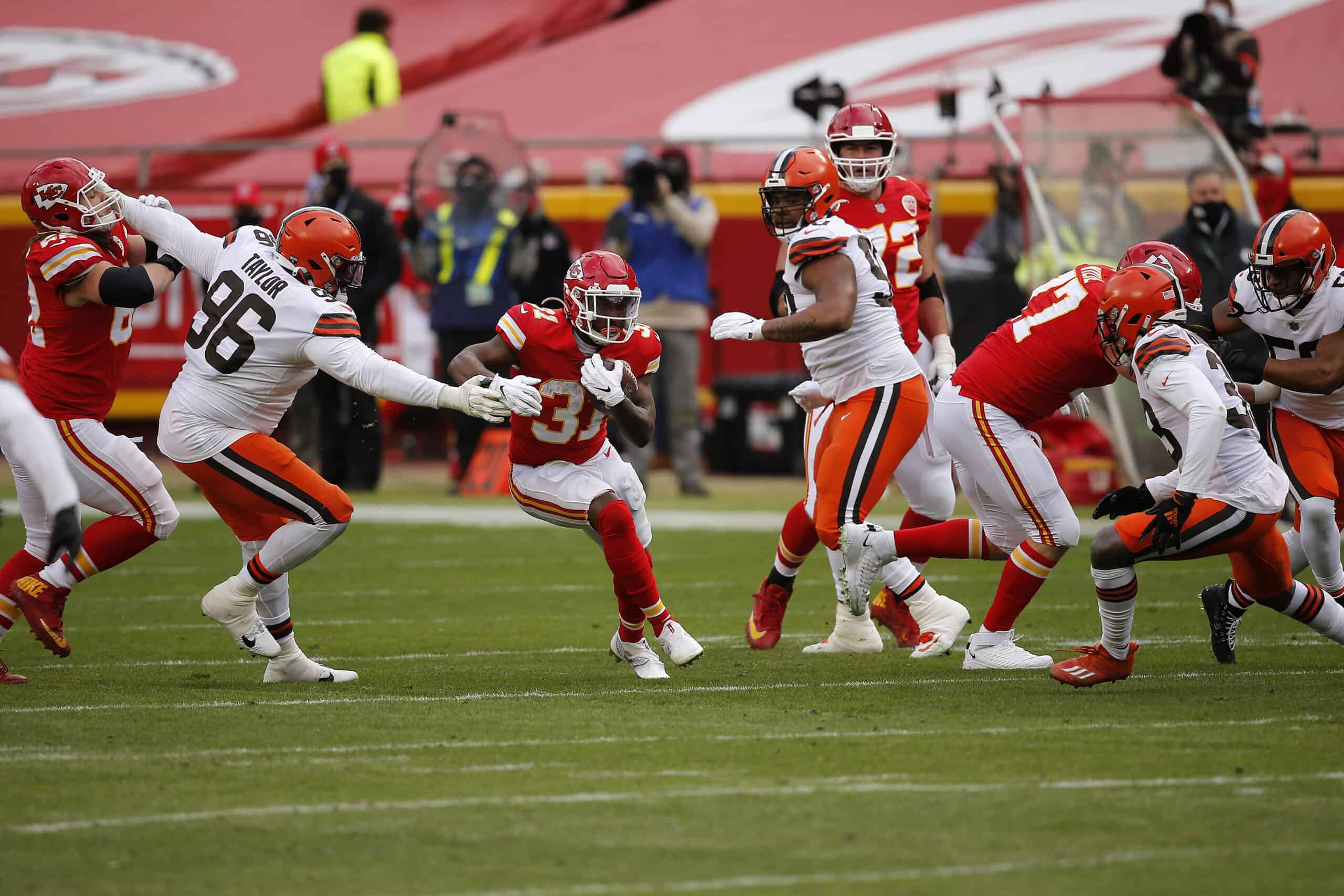 Andrew Berry is the first to admit the Cleveland Browns' defensive roster was not optimal last season.
How else can he explain the 8 or 9 new starters on the unit this season?
It's not like Berry didn't try to give Joe Woods some tools.
The top-4 graded #Browns on defense in the 2020 regular season:

Myles Garrett – 87.7
Olivier Vernon – 74.2
Ronnie Harrison – 74.0
Denzel Ward – 72.9 pic.twitter.com/qSMKidFrdC

— PFF CLE Browns (@PFF_Browns) January 15, 2021
Despite the narrative of an offensive mindset, Cleveland added 5 free agents and 3 draft picks on defense.
Unfortunately, injuries and other complications left the defense undermanned anyway.
Some players played more than expected and somewhat out of position as Woods adjusted on the fly.
The Browns still wound up ranked a respectable 12th in total points allowed and 16th in total yards.
Our defense came up clutch in big moments this season 💪

Which was your #1 defensive play in 2020? pic.twitter.com/25aHGPkHuc

— Cleveland Browns (@Browns) February 17, 2021
Considering the circumstances, it was a better showing than expected.
Cleveland's defense ranked 26th in penalties, another indication coaching was not the issue.
But we're still going to point out 3 things Joe Woods must do better in 2021.
Woods Has To Keep Defense Fresh Late in Games 
Cleveland won 11 regular-season games last year and the wild card.
But some of those games were more exciting than they needed to be.
Fatigue appeared to be a factor in many games, and the stats bear it out.
Cleveland gave up 4.8 and 5.8 points on average in the first and third quarters.
They gave up 6.25 in the second, and the NFL's 4th-worst 9.25 average fourth-quarter points.
Is this revamped #Browns defense now a top 10 unit in the NFL? 👀

Cleveland's PFF Draft Grade: 🅰️ ➕ pic.twitter.com/2JJzgvVNbA

— PFF (@PFF) May 2, 2021
Only 5 of their 38 sacks came in the fourth and quarterbacks averaged a full yard more per attempt.
Cleveland's defense also gave up a whopping 5.39 rushing yards per carry in the fourth, tied for the worst mark.
Woods already alluded to expanding the defensive front rotation in a preseason press briefing.
He went with 4 edge rushers and 4 inside linemen all year and has the bodies to go with 5 at each position.
Versatility among some of his new secondary players will help with substitutions. too.
Woods Has To Take More Chances 
Roster limitations probably played a part in Joe Woods' risk-taking mentality.
He needed all hands on deck against the pass to make up for a lack of speed and coverage ability.
Cleveland fielded a solid defensive line led by Myles Garrett and Sheldon Richardson.
But Woods needed to count on them too much to create a pass rush.
Cleveland's defense blitzed at a lower rate than any other team in the NFL.
John Johnson III 'making my presence felt' as a vocal leader of our new-look defense

📰 » https://t.co/hYv9kBxgJz pic.twitter.com/lxFCanOnW5

— Cleveland Browns (@Browns) June 9, 2021
And no matter how good your front four is, offenses can adjust to a four-man rush.
Only 5.5 of the Browns' 38 sacks came from the linebackers or safeties.
With more reliable tools to work with, throwing an extra player into the pass rush presents less risk.
We expect Woods will keep offenses guessing by blitzing more.
And even though Myles Garrett in coverage isn't optimal, Woods can disguise his rush more often, too.
Woods Needs To Instill Some Road Rage 
Cleveland's 2020 overall defensive rankings were fairly average.
But there were a few sub-categories that showed significant weaknesses.
The passing defense was far worse than the rushing defense, for example.
And even though the Browns' 5-3 road record looks close to their 6-2 home record, it's not because of the defense.
Cleveland ranked 14th in points allowed at home with 22.75 points per game.
Anthony Walker is performing 'as advertised' as a new leader on our defense.

📰 » https://t.co/mJWYov1NZg pic.twitter.com/3vrFlVM8CR

— Cleveland Browns (@Browns) June 3, 2021
But on the road, they gave up a 30th-ranked 29.63 points per game.
That kind of effort won't support a winning road record in 2021.
Cleveland's road schedule is brutal, headlined by Kansas City, Green Bay, and the LA Chargers.
Comparing their home and away opponents, it makes sense the defense will allow more road points.
But they have to play better than they did on the road last year for Cleveland to improve their won-loss record.