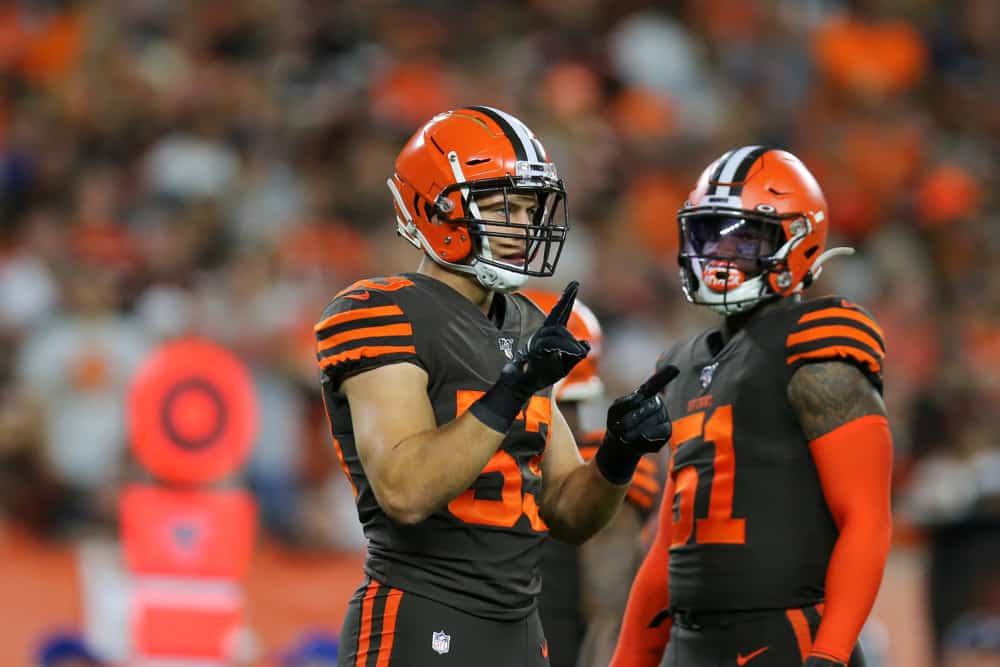 Linebacker Joe Schobert is in the final year of his rookie contract.
The fourth-year linebacker is due to become an unrestricted free agent in March unless the Browns offer him a contract extension.
"I let my agent handle all this kind of stuff, but my understanding is we haven't gotten any offers," Schobert told media members on Monday.
"My No. 1 priority is to play the season out and do the best of my abilities and control what I can control,'' said Schubert, the Browns starting middle linebacker. "I can't really control what's going on, what's being said upstairs to my agent and them. I trust my agent. He's going to do what's best for me. I trust the Browns are going to do what's best for the organization. In my perfect world, yeah, I'd be in Cleveland.''
LB Joe Schobert at the podium. https://t.co/nezbJvsjE2

— Cleveland Browns (@Browns) December 9, 2019
Schobert, 26, is due to make $2.183 million this season, including a bonus already reached, according to Spotrac.
The Browns drafted Schobert out of Wisconsin with a fourth-round draft pick in 2016.
The Carolina Panthers signed linebacker Shaq Thompson to a four-year, $54.2 million contract extension on Saturday.
The deal has a $16 million signing bonus and $28 million of the contract is guaranteed
The Panthers drafted Thompson with the 25th pick of the 2015 NFL Draft.
Because of his Schobert's higher statistical output this season, he could make even more than Thompson.
As of Tuesday, Schobert ranks ninth in the NFL with 110 tackles (76 solo).
He is tied for fourth in the league with four interceptions and has nine passes defended, six tackles for a loss, two sacks, two forced fumbles, and one fumble recovery.
Thompson has 103 tackles (71 solo), no interceptions, 12 passes defended, 10 tackles for a loss, three sacks, no forced fumbles, and no fumble recoveries.
"My agent texted me after that contract came out, but obviously playing as a linebacker in the NFL you like to see stuff like that, especially when you're in that similar situation," Schobert said. "But it's a different scenario, different teams."
Schobert is hoping to get selected to the Pro Bowl, after making it in 2017, but missing it last season. In 2018, Schobert missed three games with a hamstring injury.
"Going to the Pro Bowl was great. It was a paid vacation," Schobert said. "Had a lot of fun down there with family, always want to go back any opportunity I can."
This season's Pro Bowl is set for Jan. 26 in Orlando, Florida.
While fan voting ends Thursday, NFL players and coaches are set to vote Friday.
The league will announce the Pro Bowl rosters during a live NFL Network special on Dec. 18.