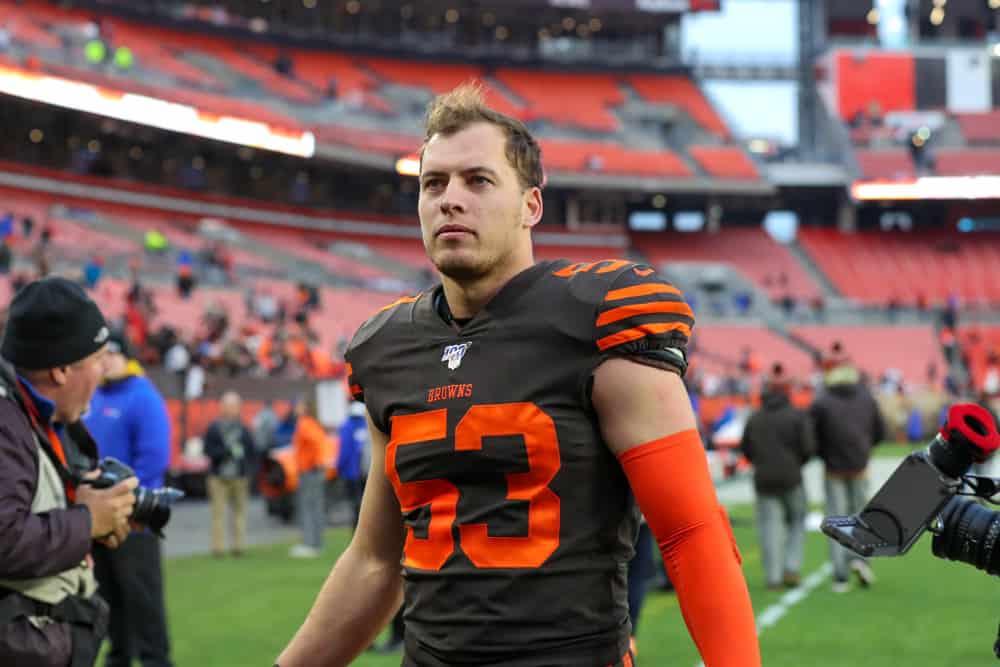 Joe Schobert's free agency has been a hot topic of discussion this offseason.
Before the new regime change, there were reports that the Browns were willing to let Schobert walk in free agency without a deal.
It's been reported that the #Browns and LB Joe Schobert haven't had much discussion about a new contract.

With him likely set to hit the free agent market, PFN Insider @AllbrightNFL is hearing that the Denver Broncos are one team that would be intrigued.https://t.co/a5xropgCnB

— Pro Football Network (@PFN365) December 18, 2019
But, with new management at the helm, it appears that the Browns interest in resigning Schobert could be changing.
Schobert, during an interview with SiriusXM NFL Radio on Friday, provided an update on where things currently stand between him and the team.
#Browns LB Joe Schobert discussed his approach to free agency in Cleveland and Myles Garrett being reinstated…

"If both sides can reach can an agreement that would be great. I would love that but you never know."

👇AUDIO👇 pic.twitter.com/m9YaXphoLg

— SiriusXM NFL Radio (@SiriusXMNFL) February 14, 2020
"If both sides can reach and agreement, then that would be great," said Schobert

"I'd love that. But you never know. As of now, I really haven't heard of anything. But like I said, there's a month to go, and they're probably busy over there figuring stuff out for themselves with a whole new staff and everything."
Schobert mentioned that he hasn't spoken with new head coach Kevin Stefanski, but has had contact with new GM Andrew Berry.
An important note is that Berry was with the Browns front office when they selected Schobert in the 4th round of the 2016 draft.
Welcome to the #DawgPound, Joe Schobert!

👊: https://t.co/dSfUXPAS1I#BrownsDraft pic.twitter.com/29K7PxDvnE

— Cleveland Browns (@Browns) April 30, 2016
Schobert also mentioned that Berry told him he would be reaching out to his agent in the "next couple week."
Schobert expects that his future will be discussed during the upcoming NFL combine in Indianapolis.
"At the end of the day, football's a business," Schobert said of his current situation, "and they're gonna make the best business decision that they think, and as a player, you have to make the best decision for yourself and your family's longevity."
As far as cap space, Schobert has been a real bargain for the Browns in his first 4 seasons, earning $4,278,956 over those years.
When you look at the current pay scale for linebackers on overthecap, you can expect Schobert to demand around $10-12 million per year.
The Browns currently have $49 million in cap space, but will have to make smart decisions with Myles Garrett and Baker Mayfield entering their final year of rookie deals.
If the Browns chose to franchise tag Schobert, according to overthecap, it would cost them around $16,266,000.
NFL teams have until March 10 to place franchise tags on players.
If Schobert would receive a tag, the Browns would have until July 15th at 4 p.m. ET to comes to terms on a long term deal before the 2020 season.
It is likely that Schobert will not be short of suitors on the open market.
According to Pro Football Network's NFL Insider Benjamin Allbright, one team that will most likely be interested is the Denver Broncos.
They are looking to make upgrades on their roster at all positions under second-year coach Vic Fangio.