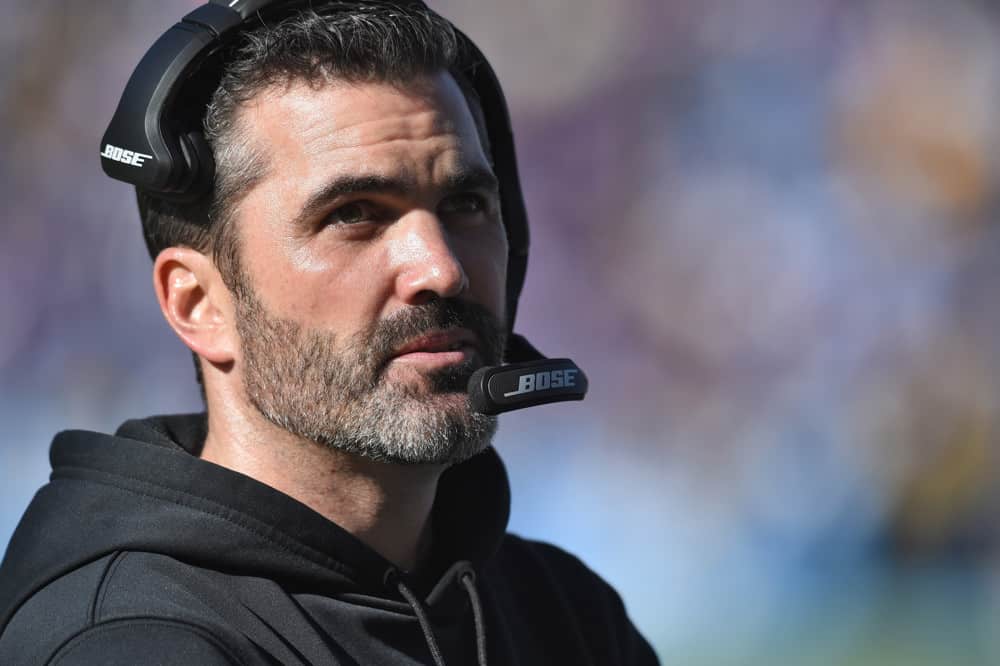 The Cleveland Browns have a whole new coaching staff under the leadership of head coach Kevin Stefanski.
The first-year head coach has surrounded himself with individuals he trusts, along with a few holdovers from Freddie Kitchens' staff.
A new staff means new names with plenty of experience in the league.
Browns fans may want to assign early grades based on the reputation of those hired.
The following sections do just that as we grade all of Stefanski's hires so far.
Starting with the offensive coaches.
Offensive Coaches
Stefanski is at the top of the offensive staff in 2020.
He will likely call his own plays and will have the final say in what the unit does every Sunday.
He has, however, brought in a coordinator and a full staff filled with experience throughout the NFL and college ranks.
Kitchens failed to embrace his staff and that doomed him in his only season with the team.
It will be up to Stefanski to trust his guys and lean on them and their experience in his first season as a head coach in the NFL.
Offensive coordinator: Alex Van Pelt
Van Pelt comes over from the Cincinnati Bengals after two years with the team.
That tenure did not go great, but the best mark on his resume comes from his time in Green Bay.
Van Pelt was the Packers running backs coach from 2012-2013.
He then moved up to quarterbacks coach in 2014 and held that job through the 2017 season.
His contract was then let to expire, so he was not fired from the job.
Interesting….
Aaron Rodgers clearly not happy with QB coach Alex Van Pelt not being retained in Green Bay. The Packers never conferred with Aaron. Van Pelt now with #Bengals @GolicAndWingo

— Lance McAlister (@LanceMcAlister) February 1, 2018
Van Pelt gained experience in the OC role when he was surprisingly promoted in 2009 with the Buffalo Bills after the original OC, Tuck Schonert, was fired after the preseason.
Stefanski will be the main man leading the offense.
But Van Pelt comes in with plenty of experience and worked with one of the best in Aaron Rodgers.
His struggles in Cincinnati can be chalked up to that team being an overall disaster.
Grade: B+
Offensive assistant: T.C. McCartney
McCartney comes to the Browns after one year with the Denver Broncos as the quarterbacks coach.
He was actually with the Browns as an assistant in 2014 when Kyle Shanahan was running the offense.
From #Browns: head coach Kevin Stefanski on hiring TC McCartney as an offensive assistant pic.twitter.com/P8mhGvIyWe

— Nate Ulrich (@ByNateUlrich) February 13, 2020
His role is "assistant" so it is hard to gauge exactly what he will be doing.
The 30-year-old does not need to be rushed into any major role and may actually be receiving a favor from Stefanski by not being given too much responsibility after a tough year in Denver.
Grade: B
Running backs/run game coordinator: Stump Mitchell
Mitchell is one of the few individuals to survive the purge after Kitchens was fired.
He joined the Browns last season as the running backs coach and oversaw a position group that was one of the best in football.
The only problem was his guys were held back by confusing play-calling.
Mitchell has been a running backs coach for most of his coaching career and even has head coaching experience in the college ranks.
He was the head guy at both Morgan State and Southern in the past.
Retaining Mitchell was a smart move on Stefanski's part.
He helped develop Nick Chubb into an elite running back and also seemed to get Kareem Hunt back into a proper mindset when it came to Sundays.
Grade: A
Offensive line: Bill Callahan
This may be the best addition of all.
.@RossTuckerNFL on @BullandFox re: #Browns HC Kevin Stefanski hiring Bill Callahan: "Gigantic. He is, w/out any question, a top 5 offensive line coach in the NFL. (His) track record of success is extremely impressive. There should be much rejoicing in Cleveland about this hire."

— Keith Britton (@KeithBritton86) January 21, 2020
Bill Callahan is widely respected for his abilities to coach an offensive line.
He comes over from Washington, where he served as the line coach since 2015.
Callahan was the offensive coordinator in Dallas before that.
The veteran has been coaching since 1980 when he got his start at Illinois.
Since then he has coached around the country and was a head coach with the Oakland Raiders in the NFL and at Nebraska in the college ranks.
.@damienwoody on @BullandFox: "ai can't even imagine what Nick Chubb will be able to do next year. I think Browns fans should be ecstatic that they got Bill Callahan on the staff. He's gonna whip this offensive line into a unit the dawg pound will be happy about." #Browns

— Keith Britton (@KeithBritton86) January 20, 2020
This is of course another Browns move that looks great on paper.
But it never hurts to grab a coach with experience and stick him with a position he is known for improving wherever he goes.
Grade: A+
Tight ends: Drew Petzing
Petzing is another member of this staff who has worked with the Browns in the past.
The 32-year-old was a football operations intern back in 2013.
After that brief experience he headed to Minnesota where he started as an assistant and rose his way up to wide receivers coach last season.
Stefanski clearly liked what he saw in Petzing and brought him over to work with the tight ends this year.
From the #Browns: Kevin Stefanski on hiring Drew Petzing as tight ends coach pic.twitter.com/DDlQMxeQyC

— Nate Ulrich (@ByNateUlrich) February 3, 2020
Rising from intern to a full member of the coaching staff shows how respected Petzing already is at such a young age.
His first order of business should be to get in touch with David Njoku, given the front office doesn't move the young tight end.
A fresh start under Petzing could do wonders for Njoku after a year filled with injuries and surprise benchings.
Given his track record of those he worked with in Minnesota, it is hard to knock this hiring.
Grade: B
Wide receivers/pass game coordinator: Chad O'Shea
O'Shea joins the Browns after one year as the offensive coordinator in Miami.
He was fired from that role even after he and Ryan Fitzpatrick somehow managed to lead the team to five wins in a year when losing was the goal.
Before that tough job, O'Shea was the wide receivers coach with the New England Patriots from 2009-2018.
That is his most notable job and he now joins the Browns focusing on just the receiving position once again.
He joins a team filled with elite talent at the position and his top task will be to keep the big personalities in check if things get tough at any point during the season.
His time with the Patriots should help O'Shea get a proper message across when needed.
The only knock against O'Shea is the fact he was fired after one year in Miami.
That could mean there is something wrong fans are not aware of at this point.
Grade: B-
Defensive Coaches
Steve Wilks never stood a chance after taking over for Gregg Williams.
He struggled on a staff that was doomed from the start.
The defense now gets a fresh start under the leadership of a coach who just got done preparing for a Super Bowl.
Defensive coordinator: Joe Woods
It took a long time but Joe Woods was finally named the new defensive coordinator after the conclusion of the Super Bowl.
He spent one season with the San Francisco 49ers as the defensive backs coach.
Before that he was in Denver and served as the defensive coordinator from 2017-2018.
A lot of the attention for the success of the 49ers defense went to Robert Saleh.
Yet Woods was a key part of that unit as well and it is hard to argue with the hiring of someone who worked with one of the best defenses in the NFL.
His Stefanski connection comes from the fact Woods was the defensive backs coach in Minnesota from 2006-2013.
.@AlbertBreer tells @BullandFox three #Browns players, in particular, that should view Joe Woods' hiring as DC as "great news": Myles Garrett, Larry Ogunjobi and Denzel Ward

— Keith Britton (@KeithBritton86) February 10, 2020
The buzzword some fans always cling to is whether the defense will run a 3-4 or a 4-3 base.
Woods mentioned it will be a 4-3, but defenses are dynamic in modern times and don't stick to one look.
His speciality is with the defensive backs.
But he will now face the tough task of improving a run defense that was among the worst in the NFL last season.
Getting Myles Garrett back will help a ton.
Not having John Dorsey cut depth guys on defense will also be a change that should help Woods after it affected Steve Wilks in 2019.
Woods has been a part of great defenses in both Denver in San Francisco.
That makes the initial grade high, though things are never as easy in Cleveland.
Grade: A-
Defensive line: Chris Kiffin
Kiffin also comes over from the 49ers, where he served as a pass rush specialist the past two seasons.
In case you were wondering, he is the younger brother of Lane Kiffin.
The 38-year-old got to work with top defensive linemen in San Francisco and he worked with a group that dominated opposing offensive lines.
Kiffin comes to Cleveland to work with the likes of Myles Garrett, Larry Ogunjobi, Sheldon Richardson and Olivier Vernon.
It is not the same talent that is out in the Bay Area, but it is a group capable of dominating if given the proper guidance and freedom to try new things.
The only knock against Kiffin is that he may have gotten some jobs because of his last name.
The problem with such a criticism is that nepotism is not rare in the coaching ranks.
A fair criticism against him is that the talent on the 49ers may be more to thank for the team's success rather than his coaching.
Grade: B-
Linebackers: Jason Tarver
Tarver joins the Browns after two years in the college ranks as the defensive coordinator at Vanderbilt.
He has spent a majority of his coaching career with the 49ers, just in different stints.
Tarver was also the defensive coordinator with the Oakland Raiders from 2012-2014.
It is impossible to make a comparison between his numbers at Vanderbilt and try to project how he will do with the linebackers in Cleveland.
The coach faces one of the toughest tasks of anyone on the staff by working with the linebackers.
Dorsey never seemed too impressed with what he had and fans are still waiting to see if Christian Kirksey and Joe Schobert will be back in 2020.
Both seemed to be on their way out, but that could change with Andrew Berry running the front office.
That is especially true for Schobert after he was brought in when Berry was here the first time around.
Tarver will have to wait just like the fans to see who he will be coaching in 2020.
Grade: B
Defensive backs: Jeff Howard
Howard comes to the Browns after spending seven seasons with the Vikings in a variety of different roles.
He did work with Woods for a season as well.
"I love defensive back play because I feel like it's a very challenging position … You've got to be a dog to be out there and play."

Meet our new pass game coordinator/DBs coach Jeff Howard » https://t.co/a3G99jfRnc pic.twitter.com/entfAUyL0G

— Cleveland Browns (@Browns) February 11, 2020
Howard rose the ranks just like Stefanski, just on the other side of the ball.
The young coach worked with the defensive backs for two seasons in Minnesota and now has the same role with the Browns.
The best news for him is that he is on a staff led by a man in Woods who has plenty of experience coaching defensive backs.
That should set up Howard for success as he is not being brought in with insane expectations.
He also has some talented players to work with in Denzel Ward and Greedy Williams, if both can stay healthy.
One thing of note is that this is Howard's first year of not being an assistant at a position group.
He is leading the defensive backs room and it will be interesting to see how he does if the group faces adversity.
Until then, it is too soon to offer up a high grade.
He has to earn that respect in the league.
Grade: C+
Special Teams Coaches
Stefanski kept things simple with the special teams staff in 2020.
The lack of turnover means the unit actually had success last year and there was no need to bring in new voices this time around.
Special teams coordinator: Mike Priefer
Priefer is another member of Kitchens' staff to survive the mass firing.
He returns for his second season with the Browns as the special teams coordinator.
This continues his long career of working in that role.
Priefer got hired as the special teams coordinator with the Kansas City Chiefs in 2006.
He held that job for three seasons before assuming the same role with the Denver Broncos from 2009-2010.
That was followed by his Stefanski connection when he was the special teams coordinator with the Vikings from 2011-2018 before jumping ship to join the Browns.
He did find success with his new team in 2019 and avoiding turnover at the role was a smart move on Stefanski's part.
#Browns Mike Priefer completely turned around the special teams unit in his first year with the team. Team special-teams grade and ranks:

2019: 73.5 (12th)
2018: 49.3 (30th)

— PFF CLE Browns (@PFF_Browns) January 6, 2020
A good special teams coach is often unnoticed because things are going so smooth.
In fact, it is best if the coach is never mentioned during a broadcast.
Too many mentions means the special teams unit is struggling and a change must be made.
Stefanski likes what he saw and Priefer's experience in the league speaks for itself.
Grade: A-
Special teams assistant: Doug Colman
Colman is the final coach retained by the Browns this offseason.
There was no real need to fire him given the success of the unit in 2019.
Thus, Colman stays and continues to work with Priefer on a unit that actually saw success last season under Freddie Kitchens.
A fun fact about Colman is that he spent the 2000 season with the Browns as a player.
Hopefully the team finishes a bit better in 2020 than it did back in that brutal 2000 season.
Grade: B+
Conclusion
It is hard to go in and assign a low grade to any of the new coaches this season.
Stefanski only retained those who led successful units.
The new faces in town either come from teams that saw success in 2019, or they have plenty of experience like Callahan.
The lowest grade on this list was a C+ given to Jeff Howard, the new defensive backs coach.
That grade is due to his inexperience leading a position group.
Even then, some may view C+ as a solid grade when looking at young coaches with little experience.
The most important man in the entire building is still Kevin Stefanski.
"I was just so fortunate to bounce around and very early on understood this is what I want to do."

Kevin Stefanski joins Best Podcast Available to discuss his coaching journey, draft prep and more.

Listen now » https://t.co/fX6r0Zlba4
Watch now » https://t.co/jjnD3hpzzH pic.twitter.com/hDYAUb7VHo

— Cleveland Browns (@Browns) February 7, 2020
Everyone will answer to him and if he falters, the whole team suffers.
Browns fans are far too familiar with that reality.
The overwhelming positive to this point is that he has surrounded himself with coaches he trusts.
He has not been put in awkward arrangements and was not forced to work with someone he doesn't like.
Letting the coach pick his staff, with some input from the front office, is something the Browns have failed to do for so long.
Once again, grading a coaching staff in February is like grading a draft class as soon as the event is over.
It is based on speculation and a lot of optimism goes into most of the grading.
The only difference is that prior NFL experience can be looked at when grading coaches.
Keeping things optimistic is also important when being a Browns fan.
Giving the staff marks of D and F will only serve to cause even more frustration when cheering for this franchise that has had countless coaches who deserved such low grades.
Be sure to share your thoughts and your own personal grades in the comments section below.