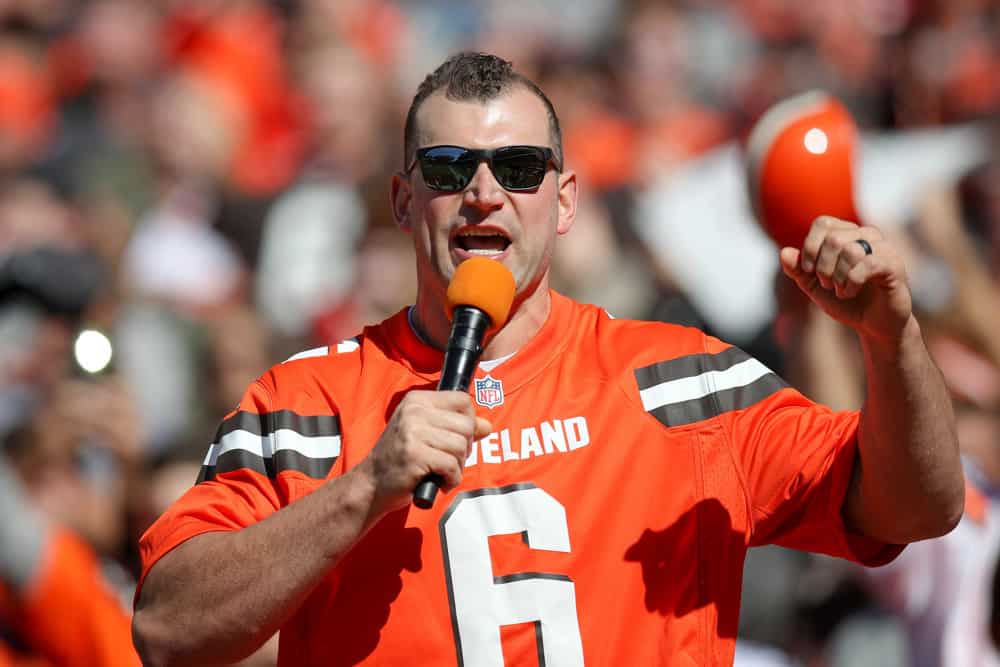 The Cleveland Browns have searched for the successor to Joe Thomas since 2017.
The Browns could draft a left tackle with the 10th overall pick of the 2020 NFL Draft, which is scheduled to start April 23.
Thomas — who now serves as an analyst for the NFL Network — told Cleveland.com's Scott Patsko he thinks Iowa's Tristan Wirfs is the best-run blocker among the tackles in this year's draft.
However, Thomas said Louisville's Mekhi Becton and Alabama's Jedrick Wills are skilled pass blockers.
"I would say, guys that are ready from day one, to be dominant in the run game, Wirfs would be the first guy," Thomas told the publication. "But if you're going to ask a guy to drop back and pass block, which still happens and you still want that skill, then a guy like Mekhi Becton or Jedrick Wills would possibly, maybe, suit that bill just slightly more. But really I think the Browns are in such a great position because they need a left tackle. There's four, maybe five of them who all could do a great job."
Wills played right tackle in college.
Georgia's Andrew Thomas is also expected to be a first-round pick.
Whoever the Browns decide to start at left tackle, he'll have Pro Bowler Joel Bitonio next to him at left guard.
Thomas said he believes Bitonio's presence will have a bigger impact than new Browns offensive line coach Bill Callahan, who has coached in the NFL for 22 years.
"It's a bigger deal playing next to a guy like Joel because that's more rare," Thomas said. "You've got (a Pro Bowl) guard who's been in the system before who can help bring you along and teach you, which is more valuable than any coach I've ever been around. Having great mentors to teach you how to prepare, how to study at practice, how to run the plays, who's going to sit next to you every single day in the meetings.

"Because there's only one or two coaches in an offensive line room and there's usually 15 guys. And as much as they want to spend individual time with everybody, it's like a tutoring situation at school when you've got a guy like Joel sitting right next to you."
Thomas said rookie left tackles have plenty to learn.
"You have to be able to process 1,000 things that are happening at one time and be able to decide the right technique to use. And have the reaction between what your eyes are seeing and what your hands and feet need to do," Thomas said. "Some guys, they can see what's happening, they can process it fast enough, but they can't tell their body to react as quickly as they need to because it's all happening almost instantaneously. So somewhere there's a disconnect with some guys. They are great at reacting, but they're not great at seeing the defense and processing the defense fast enough. You have to have both to be able to play the position."
Earlier this offseason, the Browns signed free agent offensive tackle Jack Conklin to a three-year, $42 million contract.
Conklin is expected to start at right tackle for Cleveland.
The Browns also restructured the contract of Chris Hubbard, who will likely serve as the team's swing tackle.
Hubbard could also compete for starting right guard position with Wyatt Teller and Drew Forbes.