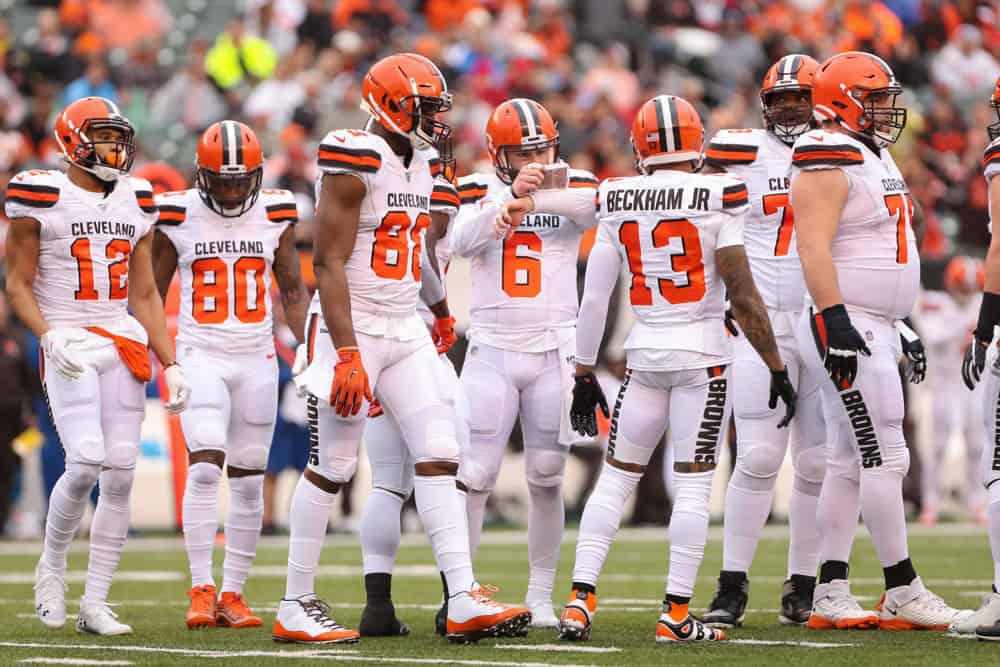 In terms of free agents, the Cleveland Browns have been the busiest.
With an upgraded roster, fans are hopeful that the Browns can snap a 17-year playoff drought.
Once the shine wears off from the free agency period, and we enter training camp, there will be some questions.
These questions will likely need to be answered in preparation for the 2020 season.
#1: Who Will Play Left Tackle?
This has been a well-documented question facing the Browns team.
Since Greg Robinson left through free agency, or a cop car for that matter, the Browns have a glaring hole at the position.
With the No. 10 overall pick, the Browns have been linked to taking an offensive lineman.
The Browns have been linked to either Georgia's Andrew Thomas or Iowa's Tristan Wirfs.
Wirfs spent the majority of college at right tackle but has the ability to play left tackle.
His former coach, Kirk Ferentz, believes that he can hold down the fort at left tackle.
🚨𝐁𝐑𝐈𝐃𝐆𝐄'𝐒 𝐁𝐑𝐄𝐀𝐊𝐃𝐎𝐖𝐍𝐒
2020 #ɴꜰʟᴅʀᴀꜰᴛ ᴘʀᴏꜱᴘᴇᴄᴛꜱ
OT Tristan Wirfs (@TristanWirfs74) @HawkeyeFootball
Well put together OT who moves like a basketball player on the field. Smooth in pass pro w/ solid punch. Dominant in weight room. 1st rd #BrawlNetwork pic.twitter.com/XpGDlLGMgf

— Bridge (@BridgesFootball) March 30, 2020
As for Thomas, he is currently ranked as one of the highest prospects, and also primarily played at right tackle.
In some rankings, Thomas is ranked the No. 15 overall player, while Wirfs is ranked No. 9.
Either way, the Browns need a left tackle and fast.
#2: Who Is The Team's Third Receiver?
For now, the depth chart says Damion Ratley.
For the future, it could very well be running back Kareem Hunt.
Hunt's duties in the rushing game are marginalized with Nick Chubb holding down the position.
However, Hunt has the ability to make plays in the receiving game and finished last season with 37 receptions.
The problem is that a majority of those plays came on short passes, or screenplays.
Kareem Hunt's TD reception yesterday was a build off of the shovel pass TD last week where he hurdled a guy. Same formation and action. Andy Reid is a savage. We'll be breaking it down on the @ArrowheadPride YouTube page this week. pic.twitter.com/Kf9ecWS0Gb

— Kent Swanson (@kent_swanson) November 5, 2018
Ratley had just 200 yards receiving last season and will be 25 years old this season.
He has plenty of upside and we could see an improvement now that Rashard Higgins is most likely gone.
Somebody has to be a dependent No. 3 receiver or the Browns need to go sign a veteran.
#3: Are The Browns Content With Their Pass Rushers?
Myles Garrett, Chad Thomas, and Olivier Vernon lead the depth chart at the defensive end position.
On the market, Minnesota Vikings defensive end Everson Griffen and Seattle Seahawks defensive end Jadeveon Clowney is still on the market.
Clowney recently lowered his asking price, so the Browns could be interested.
The Browns appear to be all-in on winning from next season to the future.
Signing either former Pro Bowl pass rusher would solidify that.
Everson Griffen joins in, earning sack number 8 on the season.

That's 5 for the #Vikings defense today. pic.twitter.com/MYlGUp2T2s

— Sean Borman (@SeanBormanNFL) December 8, 2019