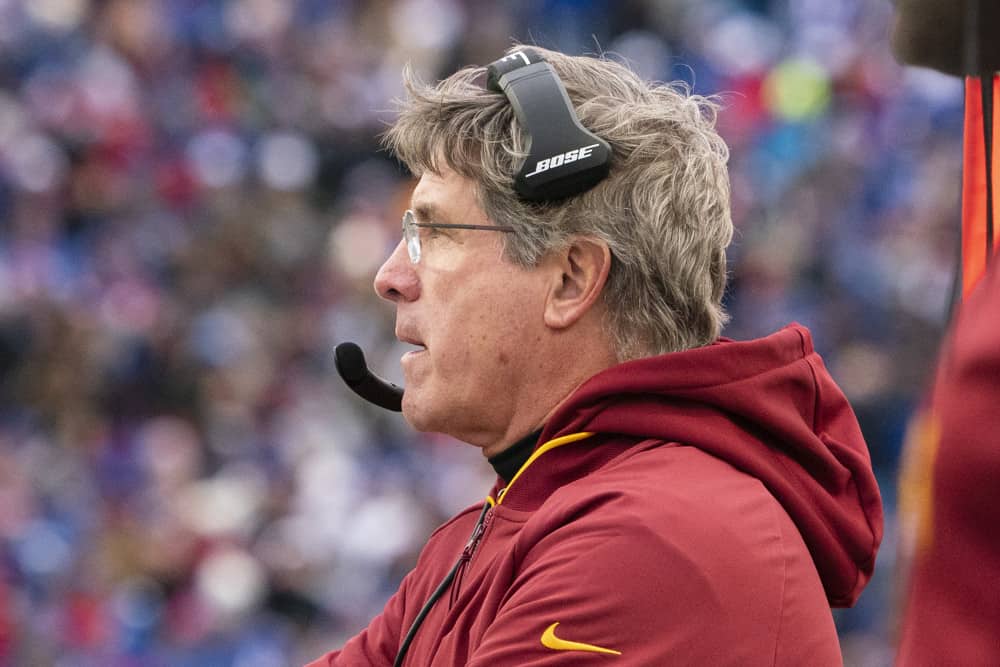 When Kevin Stefanski was hired by the Cleveland Browns as their new head coach, he made a commitment to help turn around the franchise's fortunes.
Repairing frayed relationships was first on the agenda when Stefanski met with Cleveland stars Baker Mayfield, Odell Beckham Jr., and Jarvis Landry.
Next on the docket was bringing in good coaches with solid backgrounds that could reverse the competitive slide from the 2019 season.
Probably the biggest coaching hire Stefanski made was bringing former Redskins offensive line coach Bill Callahan to Cleveland.
This hire alone brought heaps of praise from Browns players, fellow NFL personnel, and the media.
This tells me everything I need to know about @browns new OL coach Bill Callahan… https://t.co/ENhmvWxXnD

— Joe Thomas (@joethomas73) March 17, 2020
Callahan's Resume
With 21 years of NFL coaching experience, Callahan will be a god-send to Stefanski and his staff.
Stefanski echoed as much when Callahan was hired.
"I can't do this thing alone," Stefanski said. "I know that, so I need really good people around me. To have somebody in the office next to me who's been a head coach in college, a head coach in the pros, has seen a lot of the obstacles that come up in the course of a day for a head coach is huge. I can pop in next door and ask him his opinion on a bunch of things and that can inform my decisions moving forward on things big and small."
Callahan's coaching career has spanned five decades, including stints as a college coach.
He began his NFL coaching career in Philadelphia in 1995 as their offensive line coach.
The Eagles offensive line improved dramatically under Callahan's tutelage.
The team also saw a huge jump in offensive productivity from 1995 to 1996.
In '95 the team ranked 21st in the league in points scored offensively.
The next season, the team jumped to 9th in the league overall.
Callahan moved on to the Oakland Raiders in 1998.
Oakland dramatically improved in offensive production as well after his arrival.
In Callahan's first year with the club, the team ranked 22nd offensively.
By his third year, 2000, the team jumped to 3rd in the league overall.
While serving as the head coach of the Raiders in 2002, the team made it to Super Bowl 37, losing the game to former Raiders head coach Jon Gruden and the Tampa Bay Bucs.
That 2002 season saw the Raiders score 450 points and rank 2nd in the league in offensive production.
After a down season in 2003, Callahan was let go by the Raiders. In 2004, he was named the head coach at the University of Nebraska, where he lasted two-and-a-half seasons.
Beginning in 2008, Callahan traversed the country as an NFL offensive line coach and assistant head coach.
His first stop was with the Jets from 2008-2011.
During his time in New York, three of the linemen he coached, Nick Mangold, Alan Faneca, and D'Brickashaw Ferguson were named to the Pro Bowl after the 2008 and 2009 seasons.
The Jets also set a franchise record for rushing yards in 2009 and led the league in yards per attempt with 4.5 the same year.
At the completion of the '09 season, Callahan was named assistant coach of the year by NFL writer Peter King.
Callahan then had a three-year layover with the Dallas Cowboys from 2012-2014, where he mentored stalwarts such as Zack Martin, Tyron Smith, and Travis Frederick.
All three were named to the 2014 All-Pro Team.
Aye shoutout to Bill Callahan, offensive line coach for Washington. Obviously it helps to acquire the talent but He helped to mold that Dallas line into what it was at its peak. Seems like he's done a good job in Washington as well. pic.twitter.com/uNDDSSphLt

— Mathias Bourke (@Orfeu_Negro_) March 14, 2019

Once again, the offensive production of his team resoundingly improved with Callahan's help.
During his first year in Dallas, the team ranked 15th in the NFL in offense.
By the time he left after the 2014 season, the team was ranked fifth offensively in the NFL.
Most recently he served as assistant head coach and offensive line coach with the Redskins.
After the 'Skins began the 2019 season 0-5, then head coach Jay Gruden was fired and Callahan stepped in to serve as interim head coach for the remainder of the season.
The team ended the season under Callahan with a 3-8 record.
His days with Washington ended when the team hired former Carolina Panthers head coach Ron Rivera to be their new head coach.
How can Callahan Help the Browns Offensive Line?
It is plainly evident that Callahan has been a boon for most every team he has coached for.
Even in Washington, where the team regressed offensively each year he was with the team, he was lauded for his work with the offensive line.
In January, Damien Woody, a former NFL offensive lineman who was coached by Callahan, attested to the coach's ability to transform the position.
"You don't necessarily have to be the strongest," Woody said. "It's about your hands, your feet and your leverage. Bill Callahan is just a master technician in drilling these things down day after day after day and he is relentless in that. He will not stop. He'll continue to do it every day, and to me, that's what makes him special."

"He doesn't let off of the little things and he's player-friendly. What I mean by that is the things the offensive line does well, he's going to stick with it. The things that the guys on that unit don't do well, he's going to throw it out. He's going to put his guys in the best position to be successful."
Might be the best hire the #Browns have made this offseason https://t.co/JKSpsWS3aP

— Damien Woody (@damienwoody) January 20, 2020

The Browns will enter the 2020 season with a largely retooled offensive line.
Tackle Greg Robinson is gone after his marijuana possession arrest in February.
Chris Hubbard, last year's starter at right tackle, will be replaced by newly signed free agent Jack Conklin.
The team has a Pro Bowl guard in Joel Bitonio and a serviceable center in J.C. Tretter.
Cleveland also has the 10th pick in next month's draft and everyone in the world believes the team will select a new left tackle.
With Callahan's ability to teach the position, this unit should see a dramatic improvement in 2020.
#Browns name Scott Peters assistant offensive line coach. Peters on working with OL coach Bill Callahan: pic.twitter.com/1kjCzAl4WM

— Nate Ulrich (@ByNateUlrich) February 13, 2020

In 2019, the Browns offensive line ranked 23rd in the league according to Pro Football Focus.
Quarterback Baker Mayfield spent most of the season running for his life.
After only being sacked 25 times as a rookie, Mayfield was thrown to the turf a whopping 40 times in '19.
Callahan will do his part to right the ship in 2020 and he is eager to get to work.
"There's a burden. There's a challenge," Callahan said after being hired. "There's a responsibility to do great things. There's the fun of bringing and developing a lineman from the time that he's a young player through his infancy in the NFL to helping them achieve a Pro Bowl status … It's great to see that type of development in a player. That's what I enjoy coaching the most. To see that improvement. To see guys have success."