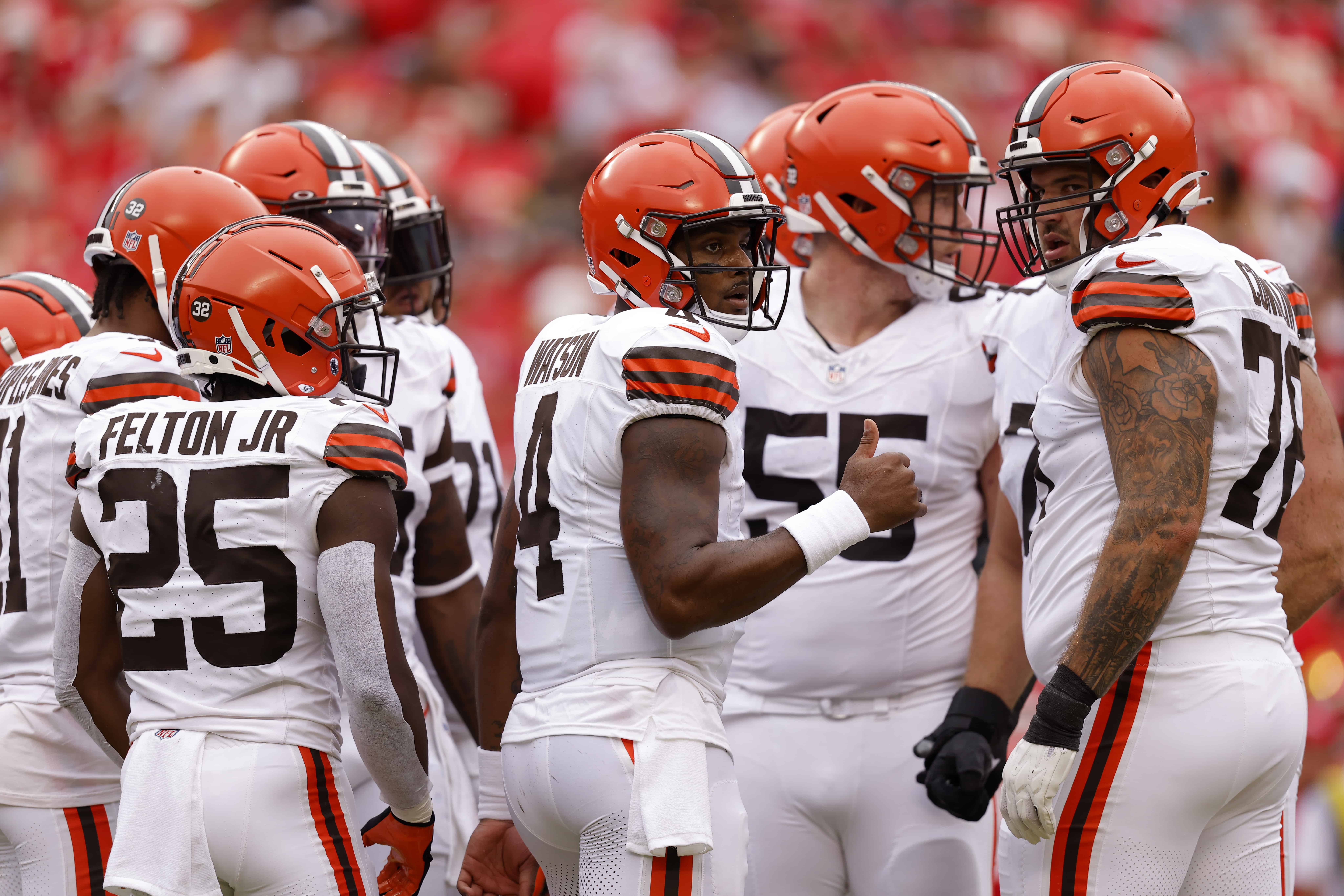 Deshaun Watson runs the Cleveland Browns offense and with it, takes on role of blame-taker for its woes.
And when he rolled off a list of factors working against the unit, Watson was met with some skepticism.
But at least one prominent Browns veteran agrees that his quarterback is not completely at fault.
All-Pro guard Joel Bitonio backed Watson up regarding communication issues, as posted by Hayden Grove.
Joel Bitonio said Deshaun Watson's comments on the communication being somewhat of an issue for the offense is true.

Said to the Browns panicked a little bit after the pick 6 to start the game.#Browns pic.twitter.com/CgRHYuKk4x

— Hayden Grove (@H_Grove) September 21, 2023
Bitonio cited the loss of veteran Jack Conklin as a challenge to the offensive line.
While he credits rookie Dawand Jones for fighting and doing what he can to excel, Jones is still developing.
More notably, Bitonio admitted the offense panicked a bit after the opening-play pick-6.
And he admitted that the sideline mood was that the Browns were losing when they were up by three late in the game.
Bitonio believes the offense will learn from how it reacted to adversity in the Pittsburgh game.
The unit will regroup, reassess, and move on to the next gameplan with that experience filed away.
He also noted how well the Browns defense is playing.
Bitonio understands that if Jim Schwartz's unit keeps things up, the offense has more time to figure things out.
#Browns HC Kevin Stefanski on offensive line/protection in pass game: "We, obviously, didn't do enough there and protecting. It's multi-faceted. It's play calls, it's technique."

— 92.3 The Fan (@923TheFan) September 19, 2023
In retrospect, there was no need for the offense to panic as the defense forced turnovers and stifled the Steelers.
And that might convince Kevin Stefanski and Watson to stick to the ground to protect leads.
Next time, maybe they'll be conservative and trust the defense to hold for another chance.