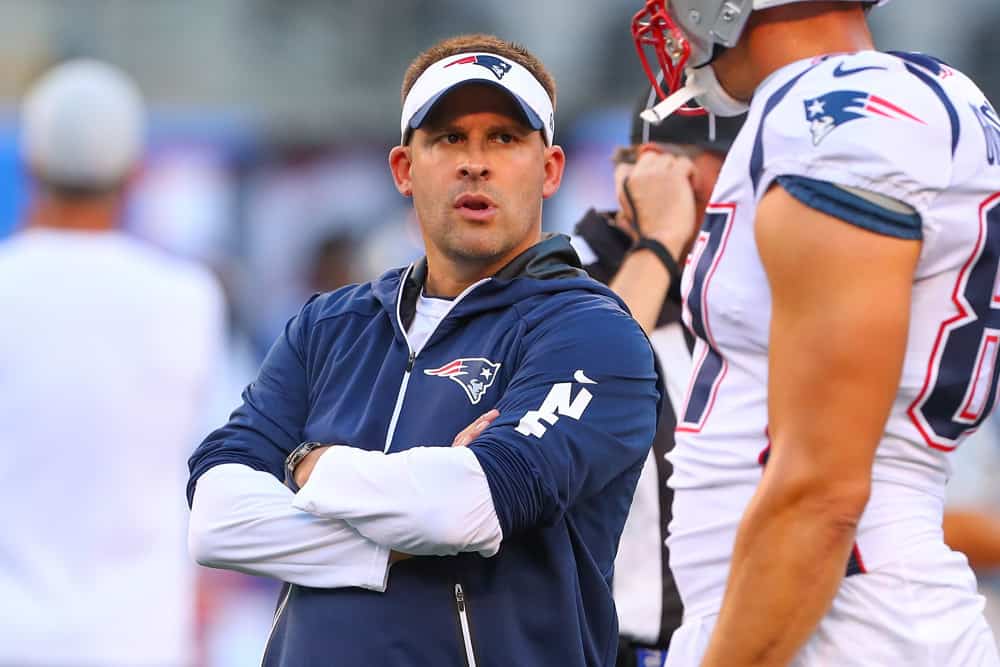 Josh McDaniels will meet with Jimmy Haslam and the rest of the Browns' head coach search committee today (Friday).
New England's offensive coordinator is the eighth, and probably the last candidate to interview for Freddie Kitchens' former position.
McDaniels is considered the front-runner for the post.
Josh McDaniels now has best odds to be Browns' next head coachhttps://t.co/yizXtytw29 pic.twitter.com/8a4zj7d1TH

— Ben Axelrod (@BenAxelrod) January 3, 2020
If there is a co-favorite, it is the Vikings' offensive coordinator Kevin Stefanski.
Cleveland's committee traveled to Minnesota Thursday to interview Stefanski as he prepares his charges for Saturday's playoff game against San Francisco.
San Francisco's defensive coordinator, Robert Saleh met with the team last weekend.
Shortly after interviewing Saleh, the Browns added a second defensive coordinator to the coaching search.
Philadelphia's Jim Schwartz was in Cleveland Wednesday to meet with the team.
Offensive coordinators Brian Daboll (Buffalo), Eric Bienemy (Kansas City), and Greg Roman (Baltimore), already interviewed for the position.
Former Packers head coach Mike McCarthy also spoke with Cleveland before accepting the Dallas Cowboys' offer.
Advantage: Saleh?
Cleveland released no details of any interviews to date.
The closest they came to canceling future meetings was when word leaked about Robert Saleh's strong showing.
While much of the talk has centered around Josh McDaniels and Kevin Stefanski, sources tell PFN that 49ers defensive coordinator Robert Saleh is considered a darkhorse candidate for the #Browns head coach position.https://t.co/hywrkqq4zA

— Pro Football Network (@PFN365) January 8, 2020
Saleh has many of the attributes of ex-interim coach Greg Williams.
His personality and track record speak for themselves.
But it was some innovative ideas about staffing and play calling that made him stand out.
Despite reports of Haslam being enamored of Saleh, each of the candidates interviewed after him are more likely to win the job.
Advantage: Schwartz?
Jim Schwartz was a late add-on to the candidate list.
Schwartz is another defensive coordinator players and peers speak highly of.
#Eagles DC Jim Schwartz is a serious #Browns HC candidate; Doug Pederson says he'll be a 'tremendous head coach' again; other coach search news and notes https://t.co/14LzayCHEM

— Mary Kay Cabot (@MaryKayCabot) January 9, 2020
He checks a lot of boxes for the search committee.
That includes the importance of discipline in his coaching technique.
Schwartz is a firm believer in analytics and player accountability.
He helped guide the Eagles to their Super Bowl LII victory in 2018.
Schwartz has head coaching experience with the Detroit Lions.
Critics are quick to point at his 29-51 record in five seasons with the Lions.
Fans note how Schwartz took an 0-16 team and put them in the playoffs three years later.
Advantage: Stefanski?
Kevin Stefanski was Paul DePodesta's choice as head coach last season.
Former general manager John Dorsey was also high on Stefanski, although he preferred Freddie Kitchens.
Stefanski was the only candidate besides Kitchens brought back for a second interview.
Browns interview 'next great offensive coach' Kevin Stefanski for head coaching vacancy https://t.co/gAfWYtdHNO

— News-Herald preps (@NHPreps) January 9, 2020
Since then, Stefanski coordinated the Vikings' offense to the playoffs.
Minnesota scored the eight most points in the NFL.
They were the sixth-best rushing team with 133 yards-per-game.
Stefanski's offense ranked only 22nd in passing, but that is not reflective of its ability.
Quarterback Kirk Cousins boasted the 4th-highest completion percentage and 4th best quarterback rating.
Advantage: McDaniels?
Having the last interview might be an advantage given Jimmy Haslam's reputation for remembering his last conversation first.
But Josh McDaniels came into the search as the odds-on favorite if he wants the job.
McDaniels was quoted as calling the Browns his "dream job" this week.
Expect change if the Browns hire Josh McDaniels as head coach. https://t.co/zeFbIOx0qQ

— Akron Beacon Journal (@beaconjournal) January 9, 2020
Much has been made about McDaniels' coaching of Tom Brady off and on since 2004.
While offensive coordinator in New England in 2007, the team set records for points (589) and touchdowns (75).
McDaniels' best work might have been coaching Matt Cassell to an 11-5 record in 2008.
McDaniels also has head coaching experience in Denver.
He was fired before the end of his second season with an 11-19 record.
But it still checks an important box.
Intangibles in play
Leadership, player accountability, discipline, and respect of the players are things Haslam says candidates must provide.
Each candidate coached a well-discipline unit this season.
We say this each time. Head Coach/GM search is always critical. This one is much more urgent. The talent on this roster is greater than its been for any previous searches. The right coach can win now. It is paramount to the organizations future they get this one right. #browns

— Jay Crawford (@JaycrawfordCLE) January 3, 2020
McDaniels and Schwartz have head-coaching experience.
Reports surfaced this week that the Browns created a soft deadline of this weekend to nail down their next coach.
That puts Saleh and Stefanski at a disadvantage since their teams are still alive in the playoffs.
The winner of Saturday's NFC playoff game could see their coordinator eliminated from contention.
Josh McDaniels' Ohio roots are something Jimmy Haslam finds desirable.
Haslam's tendency to disregard advice limits any advantage Stefanski has from DePodesta's assessment of 2019.
McDaniels reportedly has someone in mind to bring with him from New England as the general manager.
Saleh's "innovative" staffing ideas might indicate he has a plan, too.
When to Expect News
As mentioned, Cleveland's self-imposed deadline is this weekend.
Browns are aiming to have a coach by this Saturday, per @adamschefter 👀

They've got interviews lined up with Jim Schwartz, Kevin Stefanski, Josh McDaniels, Eric Bieniemy, Greg Roman and Robert Saleh. pic.twitter.com/NCURhjaMBo

— B/R Gridiron (@brgridiron) January 7, 2020
If McDaniels is truly the Haslam choice and has a good interview, a Saturday morning or even Friday night announcement is possible.
Analytics and discipline could make Schwartz the head coach by Saturday, too.
No announcement before Saturday afternoon increases the odds of Kevin Stefanski or Robert Saleh winning the job.
Playoff coaches are not allowed to finalize a deal with another team until their current squad is eliminated.
If there is still no announcement come Monday, the candidate with a team in play for the Super Bowl Championship is the frontrunner.
With the only open head coaching position available, Cleveland is not worried about losing out on a candidate.
But they would do well to name the coach quickly so they can give the next general manager enough time to prepare for the NFL draft.