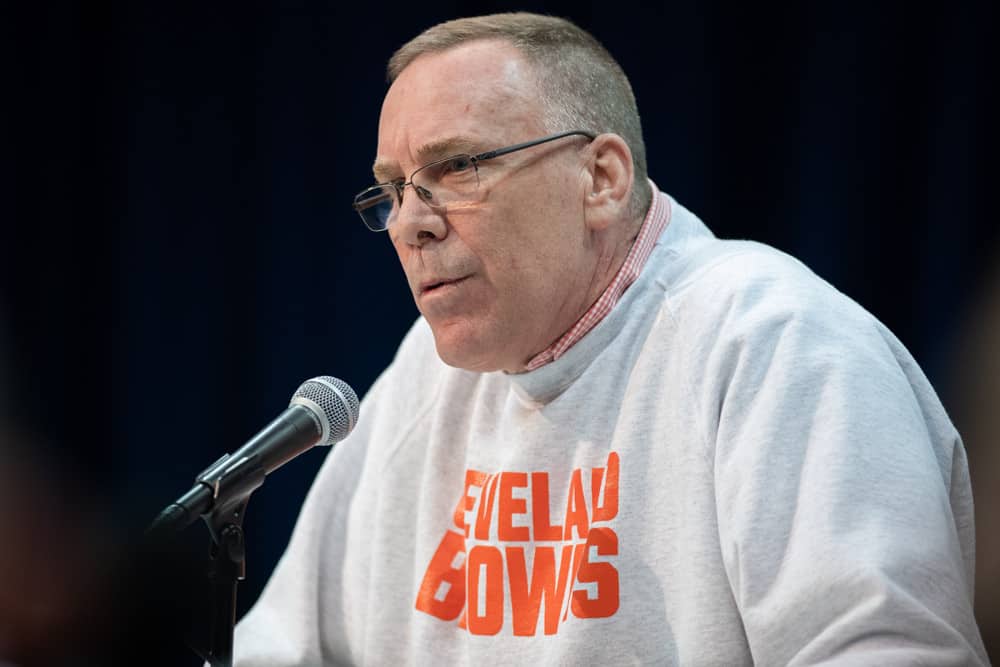 Former Cleveland Browns general manager John Dorsey has entered the revived Myles Garrett and Mason Rudolph saga.
While many are still questioning Garrett's claim, Garrett has always said that he spoke of the racial slur immediately following the game.
With In-text messages to the Akron Beacon Journal's Nate Ulrich, Dorsey backed up Garrett's claim that he told the executive, coaches, and Browns defensive tackle Larry Ogunjobi that Rudolph used the slur immediately after the brawl, writing "it's the truth."
After the incident on Nov 21, Dorsey released a statement about the incident.
As we've consistently stated, our organizational support for Myles will continue. He is a man of high character and unquestionable integrity. He was open and honest with us about the incident from the start. He has taken accountability for his actions on Thursday night and this situation will not define him. As an organization, our focus going forward remains on the task-at-hand, which is preparing for the Miami Dolphins.
Garrett also posted the following tweet in regards to the incident:
— Myles "Flash" Garrett ⚡️ (@MylesLGarrett) November 22, 2019
Garrett told reporters after the game that "they've just got to go look for it; I'm not going to comment on it" when asked if Rudolph said something to him. The accusation became public Nov. 20 after Garrett made it in his appeal hearing with the NFL.
The NFL investigated Garrett's claim, but said they found no evidence of it.
"We looked into it and found no such evidence," NFL spokesman Brian McCarthy said.
The league also released the following statement after their investigation per Mike Florio of PFT:
"We checked with the officiating crew, including the ref who was on top of the play and the ensuing aftermath," NFL V.P. of communications Brian McCarthy told PFT via email. "No player on either team came forward to say they heard him say it on the field. There was also no indication of any players saying they heard him say it in their postgame comments."
Garrett addressed the incident once again in an interview with ESPN's Outside The Lines reiterating his racial slur claim.

After the interview, Rudolph's lawyer published a statement on Twitter where he opened the possibility that they might be suing Garrett for defamation of character.
— Younger & Associates/QB Limited (@YoungerAssoc) February 15, 2020
"Mr. Garrett maliciously uses this false allegation to coax sympathy, hoping to be excused for what clearly is inexcusable behavior," Younger writes. "Despite other players and the referee being in the immediate vicinity, there are zero corroborating witnesses — as confirmed by the NFL. Although Mr. Rudolph had hoped to move forward, it is Mr. Garrett who has decided to utter this defamatory statement — in California. He is now exposed to legal liability."
Rudolph also called Garrett's claim "1000% False" and a "Bold-Faced Lie."
1000% False.

Bold-Faced Lie.

I did not, have not, and would not utter a racial-slur.

This is a disgusting and reckless attempt to assassinate my character. https://t.co/mZcEcC0tCl

— Mason Rudolph (@Rudolph2Mason) February 15, 2020
On Monday, Steelers head coach Mike Tomlin appeared on Espn's First Take to defend his quarterback.
Mike Tomlin: "It's been a lot of negativity around Mason Rudolph. He got fined $50,000 for essentially getting beat up. His reputation has been tarnished because of the allegations." pic.twitter.com/skECyGxJ4b

— First Take (@FirstTake) February 17, 2020