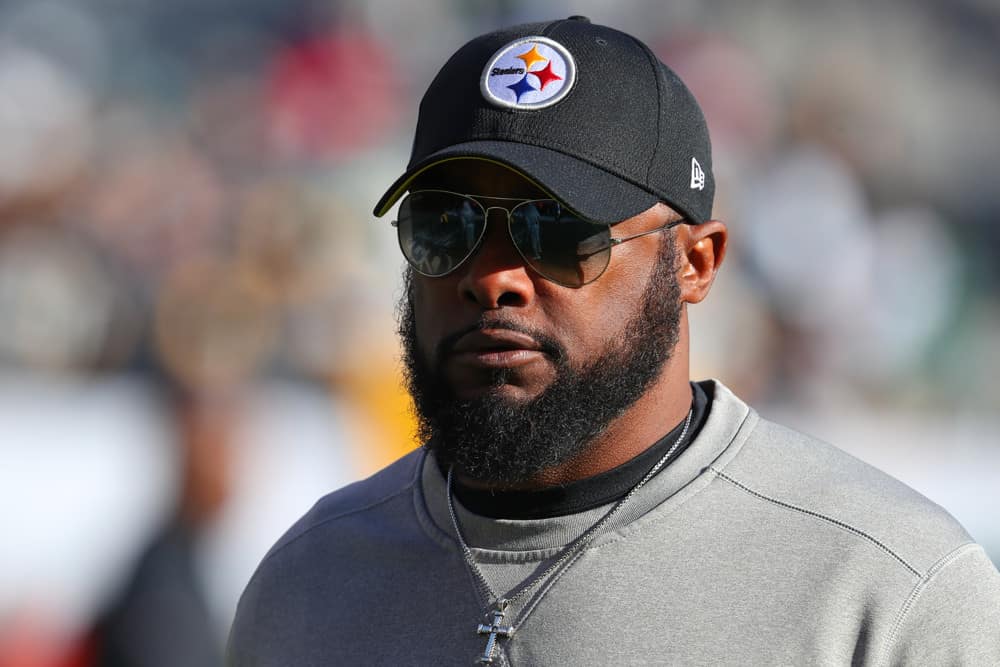 Seeing Pittsburgh Steelers head coach Mike Tomlin in the media at this time is a rarity.
Of course, that means this is a big deal.
The Myles Garrett-Mason Rudolph saga took another step on Monday when the Steelers coach appeared on ESPN's First Take.
Tomlin issued a statement over the weekend regarding Garrett's accusations and Rudolph's response.
Let's break it down.
The Backstory
The Browns defensive end was suspended for the final six games of the season for his actions at the end of 21-7 victory.
After an altercation with Rudolph on the ground, Garrett tore his helmet off and used it as a blunt object to strike the quarterback's head.
It took fans back to situations like "Malice in the Palace" in terms of egregious things we have ever seen in a game.
This is all ugly pic.twitter.com/9WQzcjZCCj

— CJ Fogler (@cjzero) November 15, 2019
Garrett and Rudolph Trade Barbs
When Garrett was reinstated, he sat down with ESPN's Mina Kimes and claimed that Rudolph called him a racial slur.
It was the second time that Garrett made this accusation at Rudolph.
Rudolph took to Twitter to refute those claims.
1000% False.

Bold-Faced Lie.

I did not, have not, and would not utter a racial-slur.

This is a disgusting and reckless attempt to assassinate my character. https://t.co/mZcEcC0tCl

— Mason Rudolph (@Rudolph2Mason) February 15, 2020
Tomlin's Initial Statement
After Rudolph responded, Tomlin issued a statement that was picked up by NFL Network's Ian Rapoport.
This is incredibly special because Tomlin is typically quiet during the offseason.
A strong statement from #Steelers coach Mike Tomlin in support of QB Mason Rudolph, in response to the Myles Garrett interview with @OTLonESPN. Tomlin cites many conversations and interactions and says he received no indication of anything racial. pic.twitter.com/je6kVOjL0I

— Ian Rapoport (@RapSheet) February 15, 2020
Appearance On First Take
Tomlin had a lot to say, which we will get to in a minute.
The highlight of the conversation is when Tomlin said that Garrett's accusations "tarnished" Rudolph's reputation in the league.
"These accusations are serious," Tomlin said. "Not only in terms of Mason Rudolph's character but his professional pursuits . . . It's been a lot of negativity around Mason Rudolph. He got fined $50,000 for essentially getting beat up. His reputation was tarnished for the allegations."
You can see Tomlin elaborate more on his response down below.
Mike Tomlin: "It's been a lot of negativity around Mason Rudolph. He got fined $50,000 for essentially getting beat up. His reputation has been tarnished because of the allegations." pic.twitter.com/skECyGxJ4b

— First Take (@FirstTake) February 17, 2020
In another segment, Tomlin was critical of ESPN for following the interview with a panel discussion.
He called the discussion a "he said, he said," debate without "any mention of the investigation that yielded no substantial evidence against Rudolph."
Final Thoughts
First, the first meeting between the Browns and Steelers in 2020 will be must-watch television.
Next, this is a perfect example of a head coach sticking up for one of his players.
Who knows the ramifications of what could transpire in the future.
Players on each respective team could be quick to defend their teammates in future situations.
For now, we may never know the full truth.